Join us for Math Week! Come together as a community to engage all families for 5 nights with delightful math games and stories - all on your own time and from the comfort of your own home. ¡Únase a nosotros para la Semana de las Matemáticas! Únase como comunidad para involucrar a todas las familias por 5 noches con deliciosos juegos de matemáticas e historias, todo en su propio tiempo y desde la comodidad de su propia casa.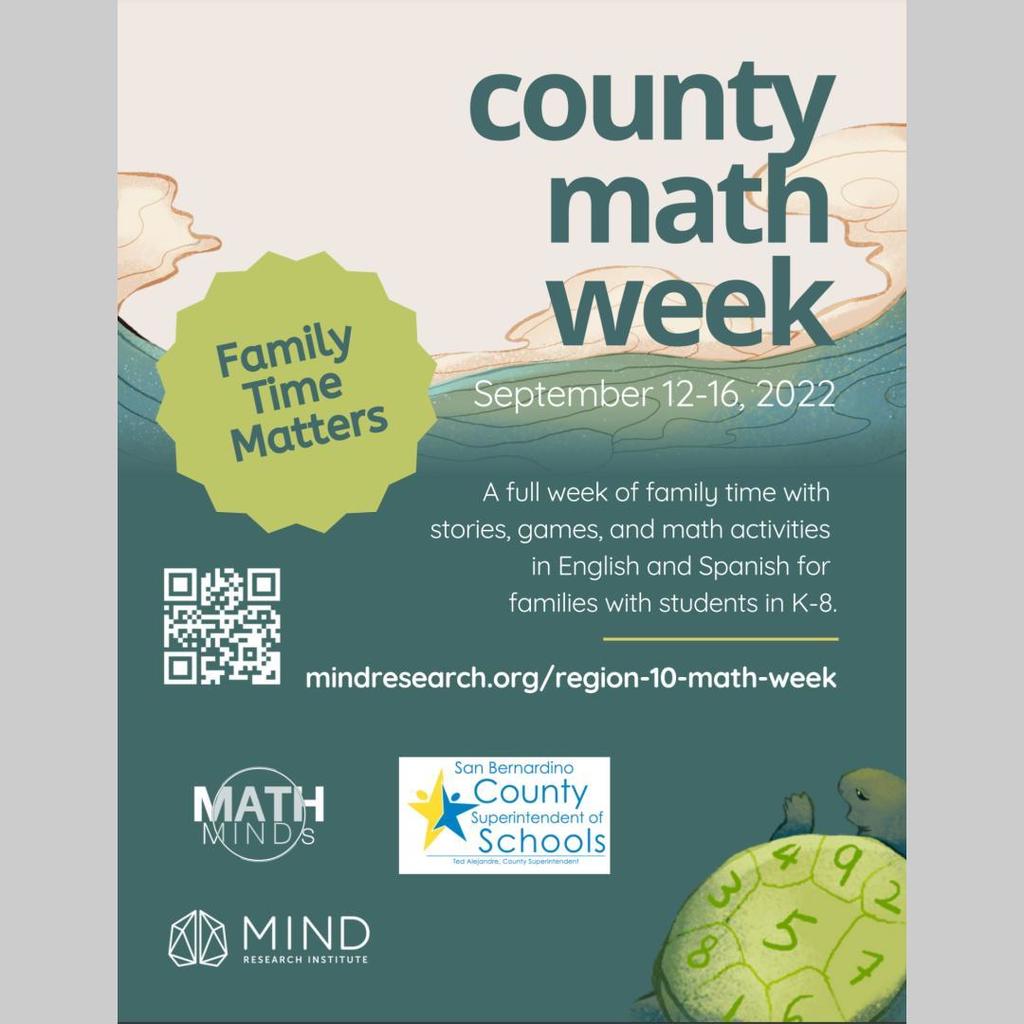 Picture day is next week! Parents, here is the order form. For any questions regarding the purchase of school pictures, please contact School House Photo. #soarteal #wearesultana ¡El día de la foto es la próxima semana! Padres, aquí está el formulario de pedido. Si tiene alguna pregunta sobre la compra de fotografías escolares, comuníquese con School House Photo.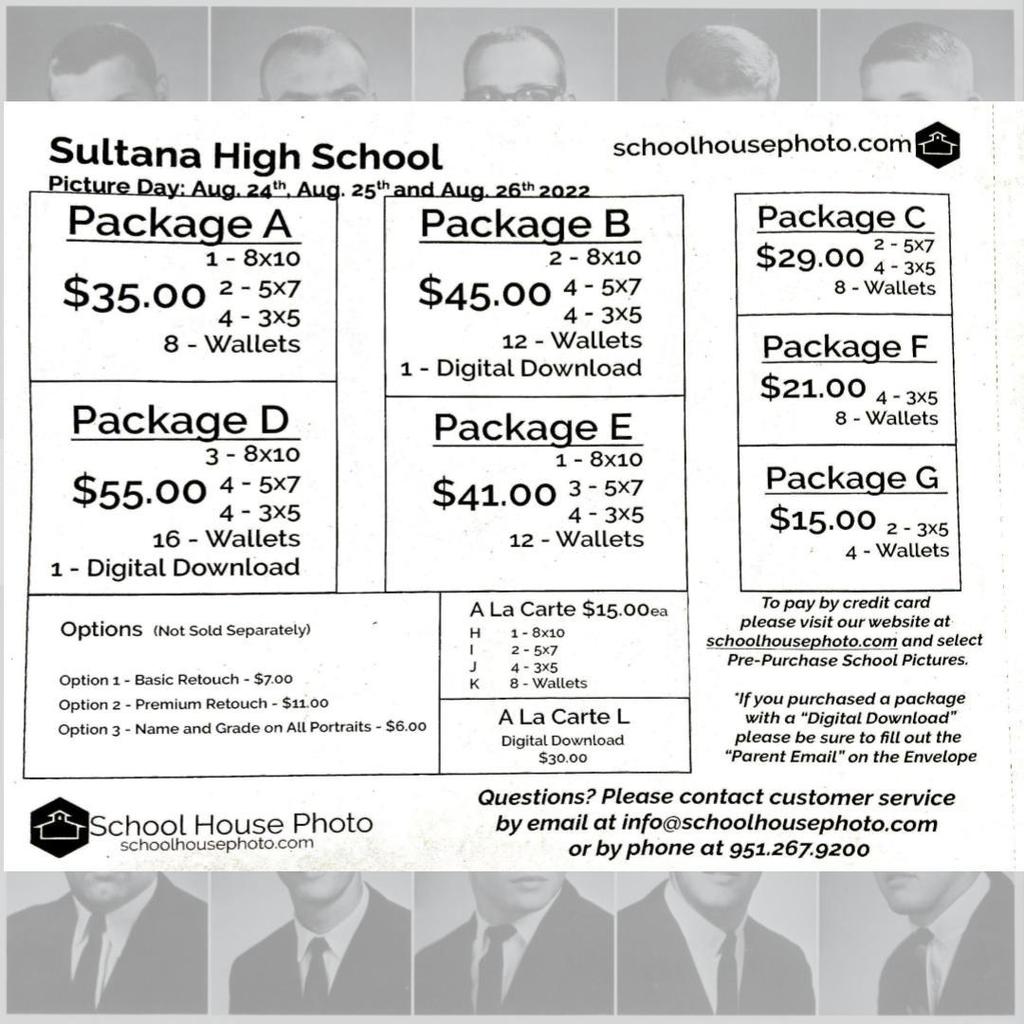 Our first Senior Event of the school year is right around the corner! Mark your calendars, see you on the football field at 5:30am on 8/26! ¡Nuestro primer Evento Senior del año escolar está a la vuelta de la esquina! ¡Marquen sus calendarios, nos vemos en el campo de fútbol a las 5:30 am el 26/8!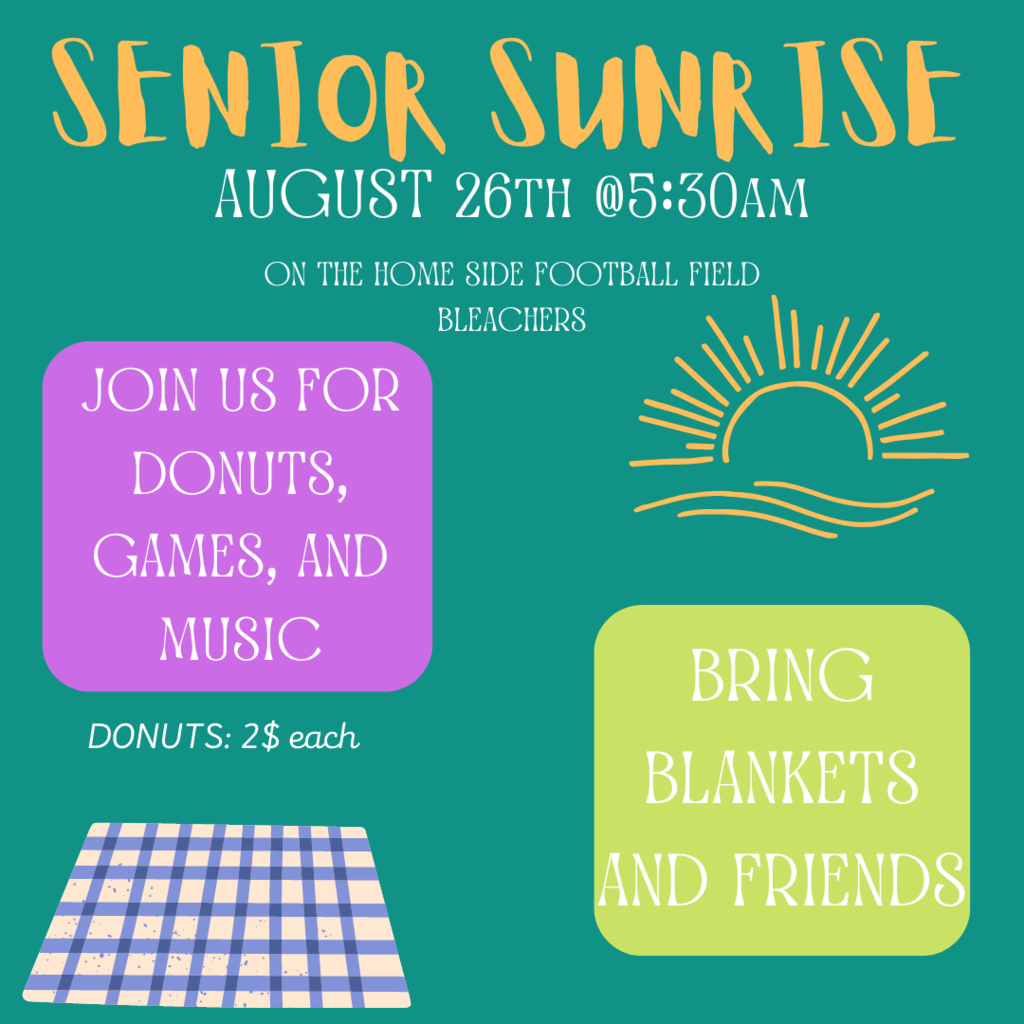 Seniors! Let your voice be heard! Vote for your favorite Senior Shirt design NOW on your activities google classroom! Voting ends 8/19 Seniors! ¡Deja que se escuche tu voz! ¡Vota por tu diseño favorito de camiseta para adultos mayores AHORA en tu aula de Google de actividades!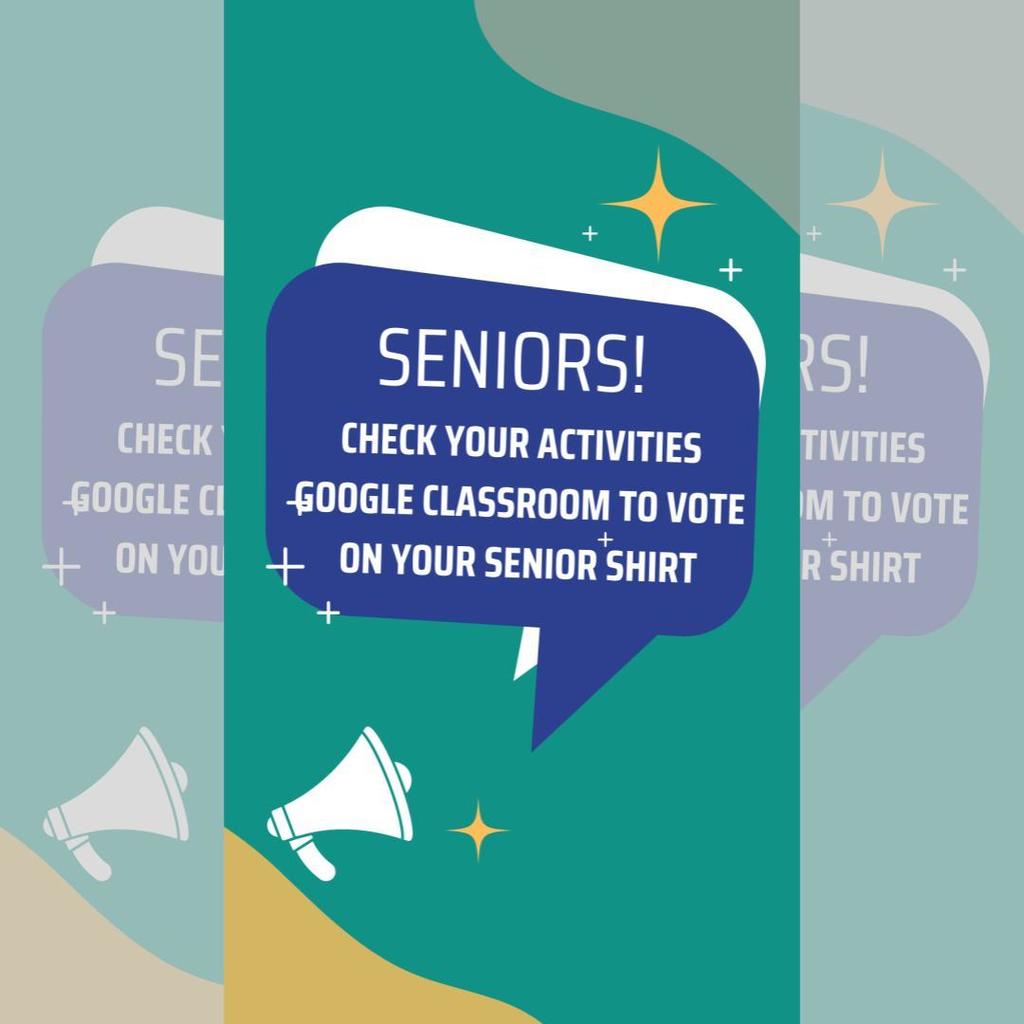 Sultans! Don't miss today's FIRST home game! Come on out and support your Lady Sultans as they take on the Silverado Hawks! Freshmen @ 4, JV @ 5, and Varsity @ 6PM. Sultanes! ¡No te pierdas el PRIMER partido en casa de hoy! ¡Ven y apoya a tus Lady Sultans mientras se enfrentan a los Silverado Hawks! Estudiantes de primer año @ 4, JV @ 5 y Varsity @ 6PM.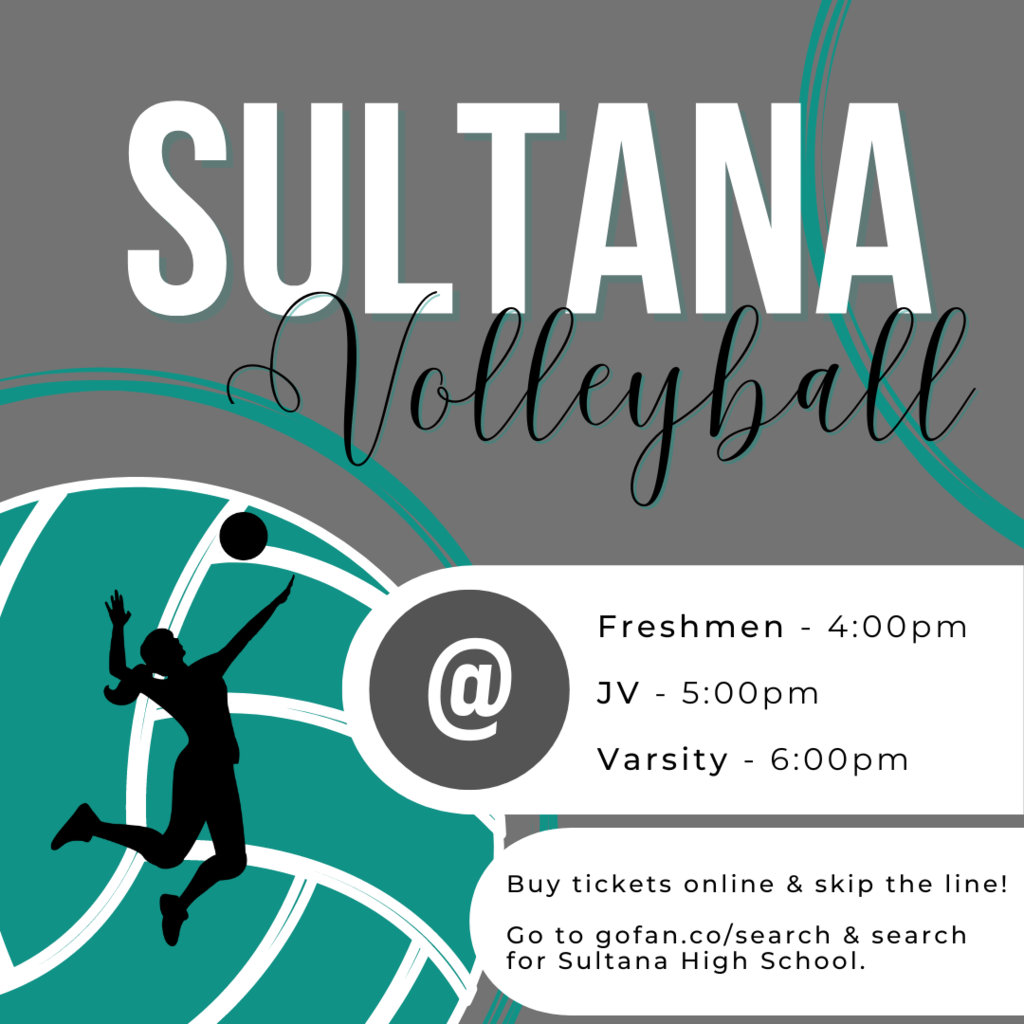 The Affordable Connectivity Program (ACP) is a new federal program that helps low income families afford the cost of having internet service at home. More information about the program can be found here:
https://5il.co/1fy5h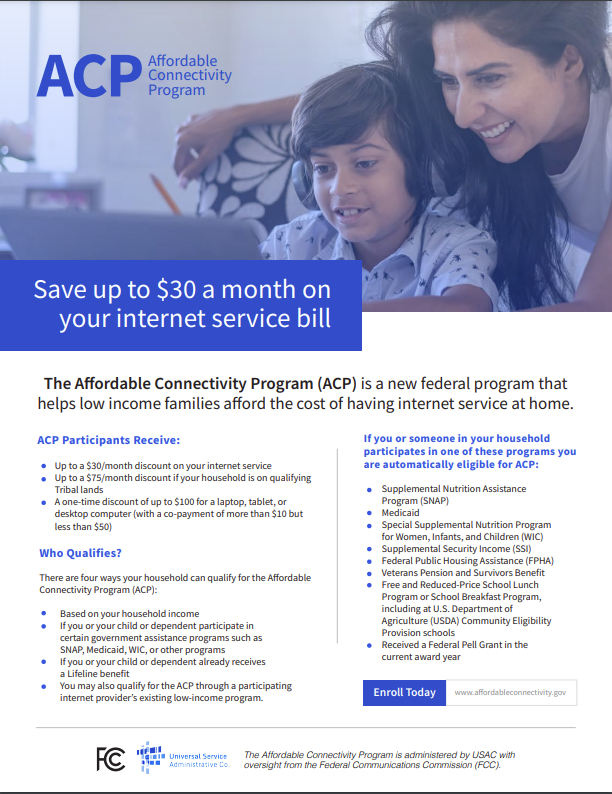 Picture Day is right around the corner! Photo packages with pricing will be passed out in your students' 4th period in the coming days. For pricing questions, please contact School House Photo! ¡El día de la fotografía está a la vuelta de la esquina! Los paquetes de fotos con precios se repartirán en el cuarto período de sus estudiantes en los próximos días. Si tiene preguntas sobre precios, comuníquese con School House Photo.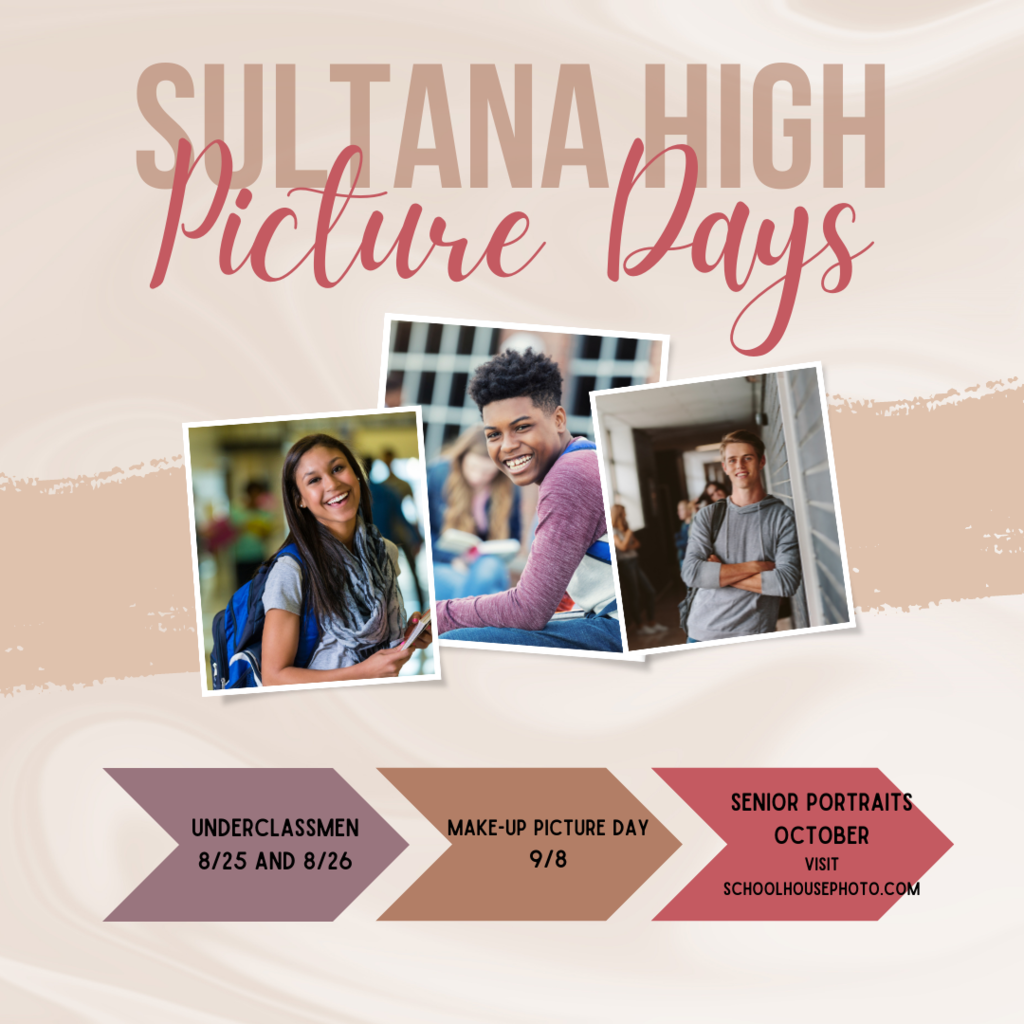 Hey Sultans! An eSports class is being offered during 7th period. Students will be learning about video game production and eSports, and will be competing in tournaments throughout the year. If you are interested in this opportunity, please go to the counseling office to sign up. Act quickly, as seats will be offered on a first-come, first-served basis! ¡Hola Sultanes! Se ofrece una clase de eSports de lunes a viernes durante el séptimo período. Los estudiantes aprenderán sobre la producción de videojuegos y los deportes electrónicos, y competirán en torneos durante todo el año. Si está interesado en esta oportunidad, vaya a la oficina de consejería para inscribirse.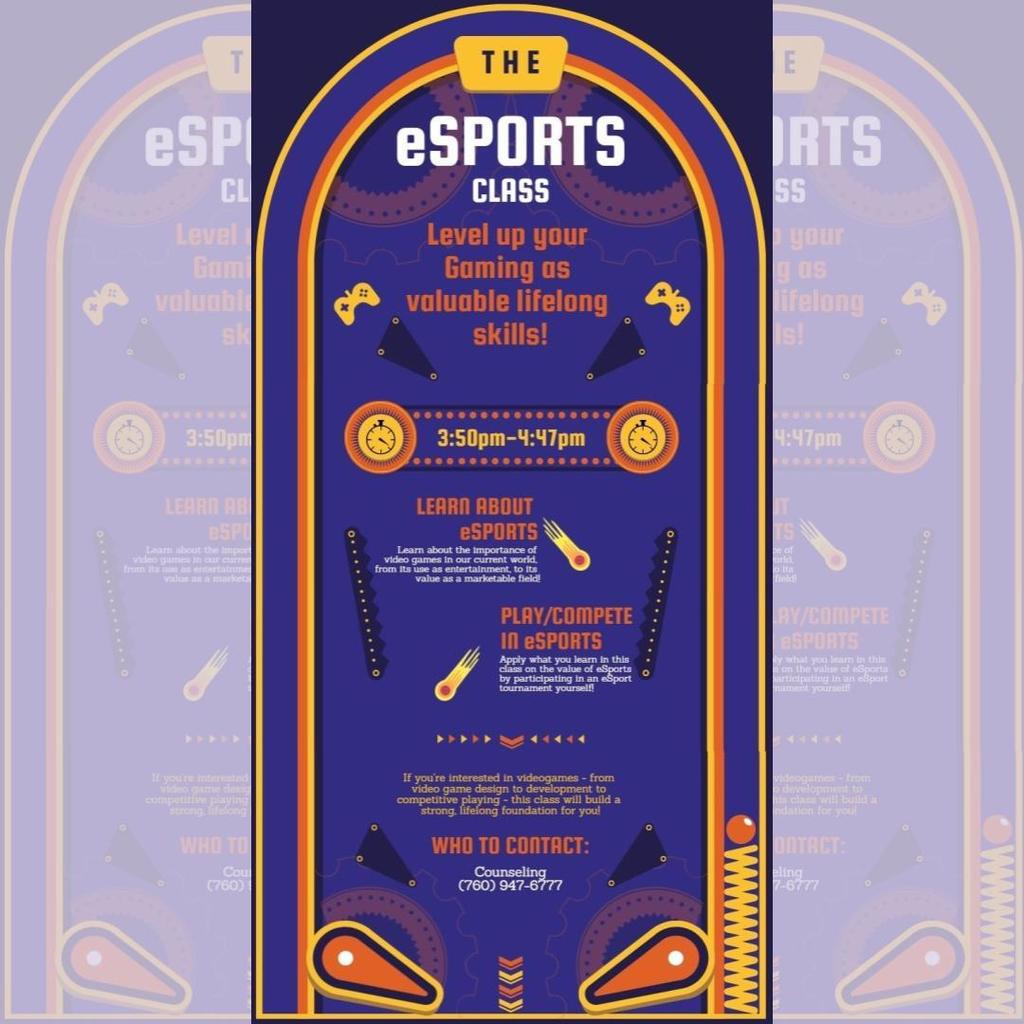 Attention all educators: HUSD is hosting an Ed-Tech workshop on Saturday, August 20th, 2022 9am-1pm at Hesperia Junior High School. If you are interested in attending please RSVP by 5pm on Thursday Aug 18th. Go to
https://bit.ly/3JJXtFz
to RSVP for the event.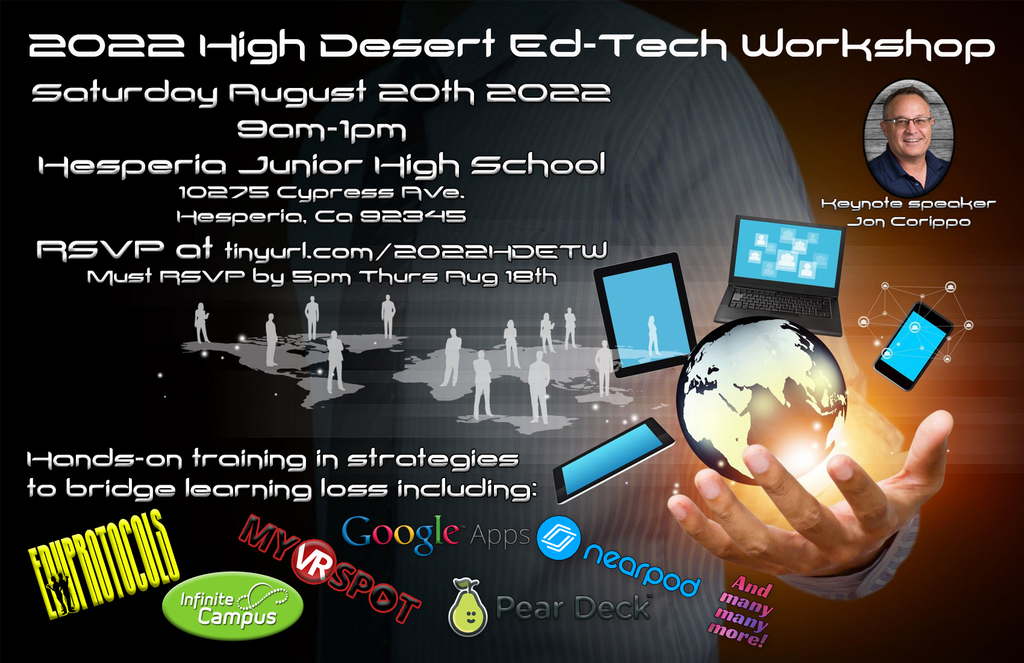 Join us for our first Drama Club meeting of the 22/23 school year. This Wednesday, August 10 at lunch in room H801. Come see what we are all about and get information about our fall production "Radium Girls." Radium Girls Auditions are this Thursday, August 11 in room H801. See Mrs. Kirk for more information about auditions. Únase a nosotros para nuestra primera reunión del Club de Drama del año escolar 22/23. Este miércoles 10 de agosto en el almuerzo en el salón H801. Venga a ver de qué se trata y obtenga información sobre nuestra producción de otoño "Radium Girls". Las audiciones de Radium Girls son este jueves 11 de agosto en la sala H801. Consulte a la Sra. Kirk para obtener más información sobre las audiciones.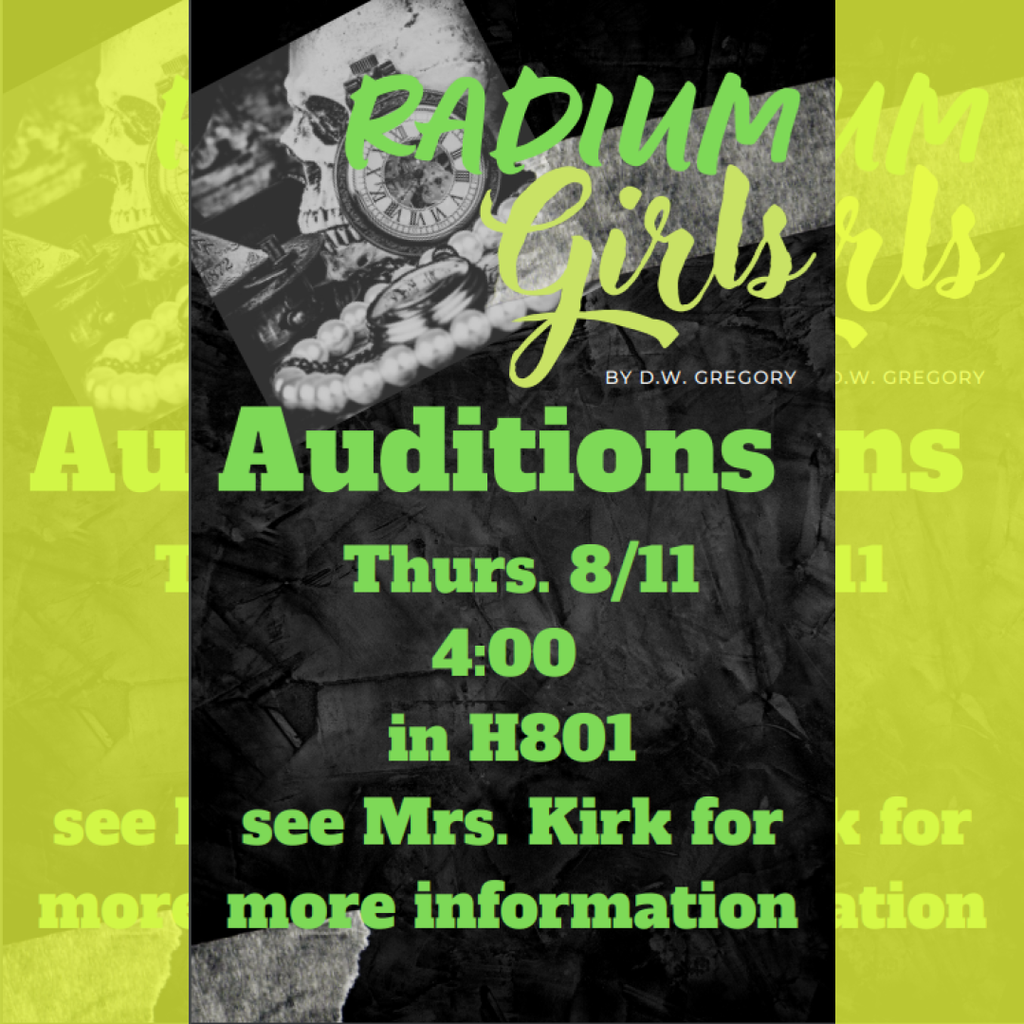 Hey Sultans! Don't miss out on these opportunities to get involved here at Sultana! Make your time here count! #tealtakeoff #wearesultana ¡Hola Sultanes! ¡No se pierda estas oportunidades de involucrarse aquí en Sultana! ¡Haz que tu tiempo aquí cuente!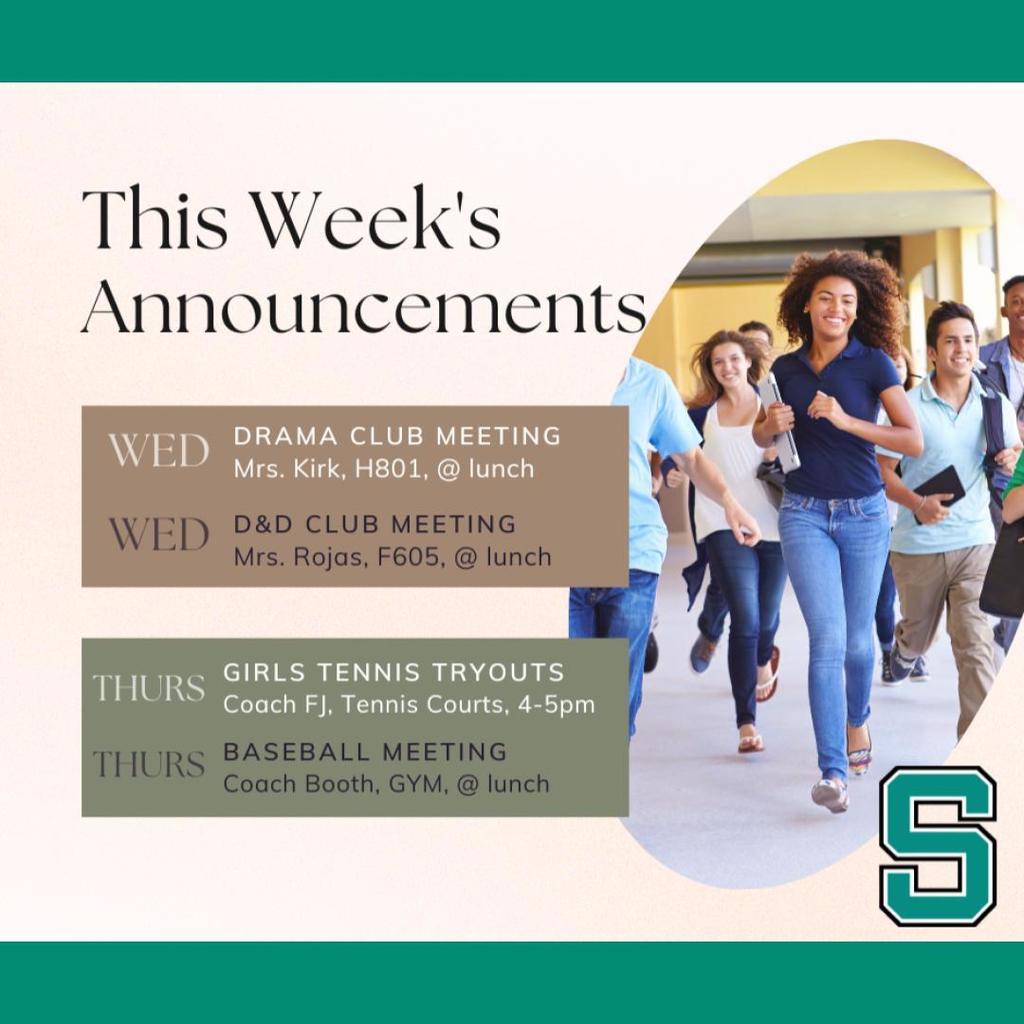 Attention Sultana Families! For student and staff safety purposes, the Student/Staff Lot (under the solar panels) has been designated a "Parking Only" area with no drop-off for students and staff. The gates are locked to exit to minimize unnecessary traffic and minimize issues in the parking lot. The large teal entrance gates will remain closed through the end of the day. Please view the graphic to determine drop off/ pick up locations on campus. ¡Atención Familias Sultanas! Para fines de seguridad de los estudiantes y el personal, el lote para estudiantes y personal (debajo de los paneles solares) ha sido designado como un área de "solo estacionamiento" sin dejar a los estudiantes ni al personal. Las puertas están bloqueadas para salir para minimizar el tráfico innecesario y minimizar los problemas en el estacionamiento. Las grandes puertas de entrada verde azulado permanecerán cerradas hasta el final del día. Por favor, vea el gráfico para determinar los lugares de entrega y recogida en el campus.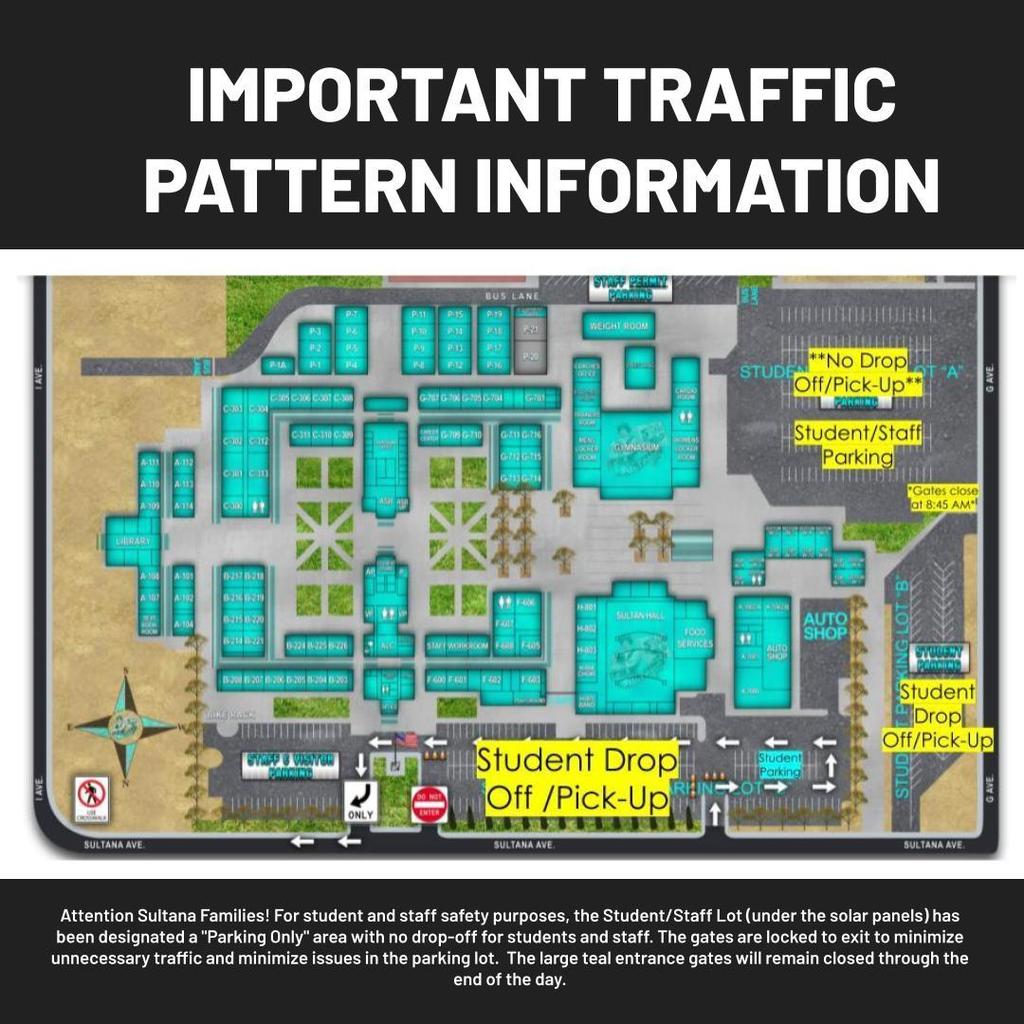 HUSD would like to cordially invite you to our inaugural African American Parent Advisory Committee Kick-Off Event. This will be an outdoor event that takes place at the district office on August 13th, 2022, 10 AM - 1 PM. The purpose of this event is to intentionally engage our African American parents, families and community members. A successful event will result in an overabundance of strong connections with families that will serve as a springboard to a rich and productive African American Parent Advisory Committee beginning in the 22-23 school year and beyond. We will have vendors, music, raffles, food and fun! HUSD desea invitarlo cordialmente a nuestro evento inaugural del Comité Asesor de Padres Afroamericanos. Este será un evento al aire libre que tendrá lugar en la oficina del distrito el 13 de agosto de 2022, de 10 a. m. a 1 p. m. El propósito de este evento es involucrar intencionalmente a nuestros padres, familias y miembros de la comunidad afroamericanos. Un evento exitoso dará como resultado una sobreabundancia de conexiones sólidas con las familias que servirán como trampolín para un Comité Asesor de Padres Afroamericanos rico y productivo a partir del año escolar 22-23 y más allá. ¡Tendremos vendedores, música, rifas, comida y diversión!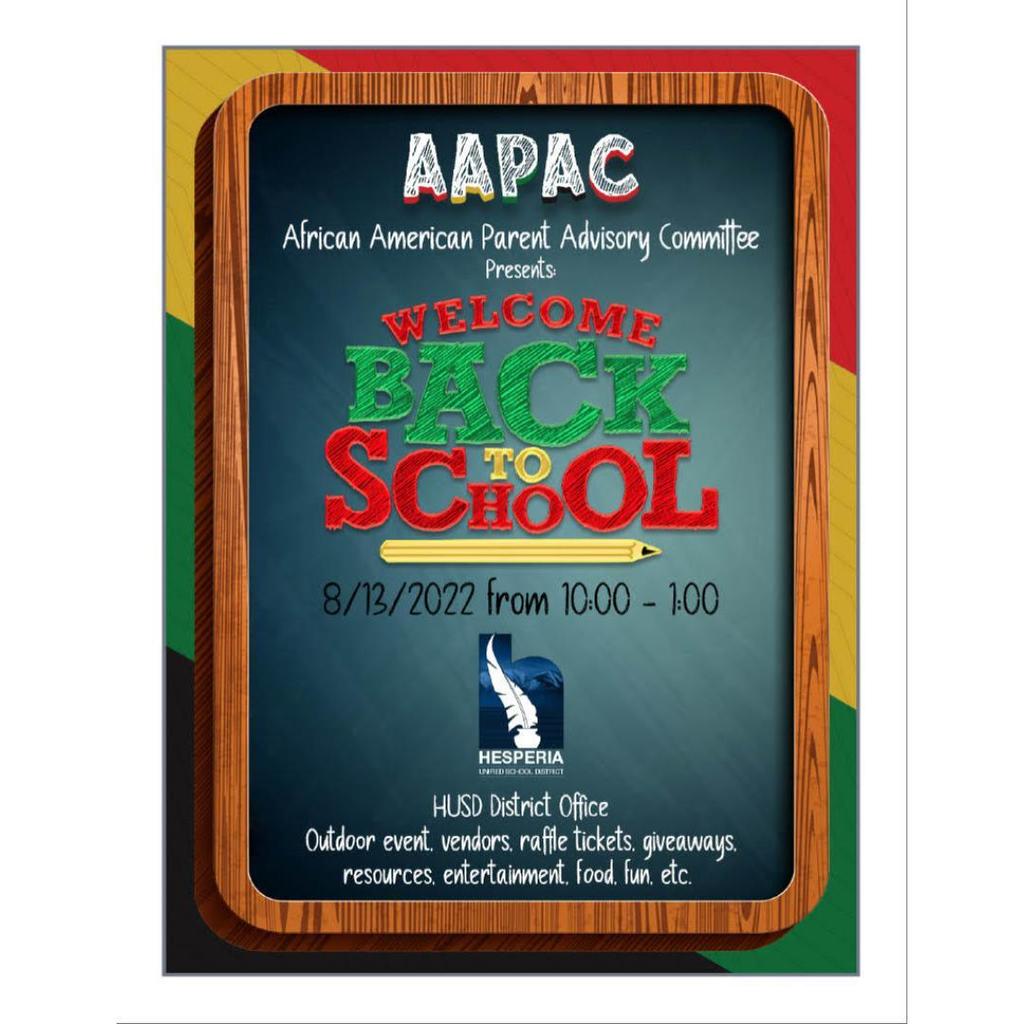 ATTENTION SULTANS! Please make sure you check out this IMPORTANT information regarding the schedule for the first two days of school. If you have late arrival, you will come to school at 10:30am through the front office only. ¡ATENCIÓN SULTANOS! Asegúrese de consultar esta información IMPORTANTE sobre el horario de los dos primeros días de clases. Si llega tarde, vendrá a la escuela a las 10:30 am solo por la oficina principal.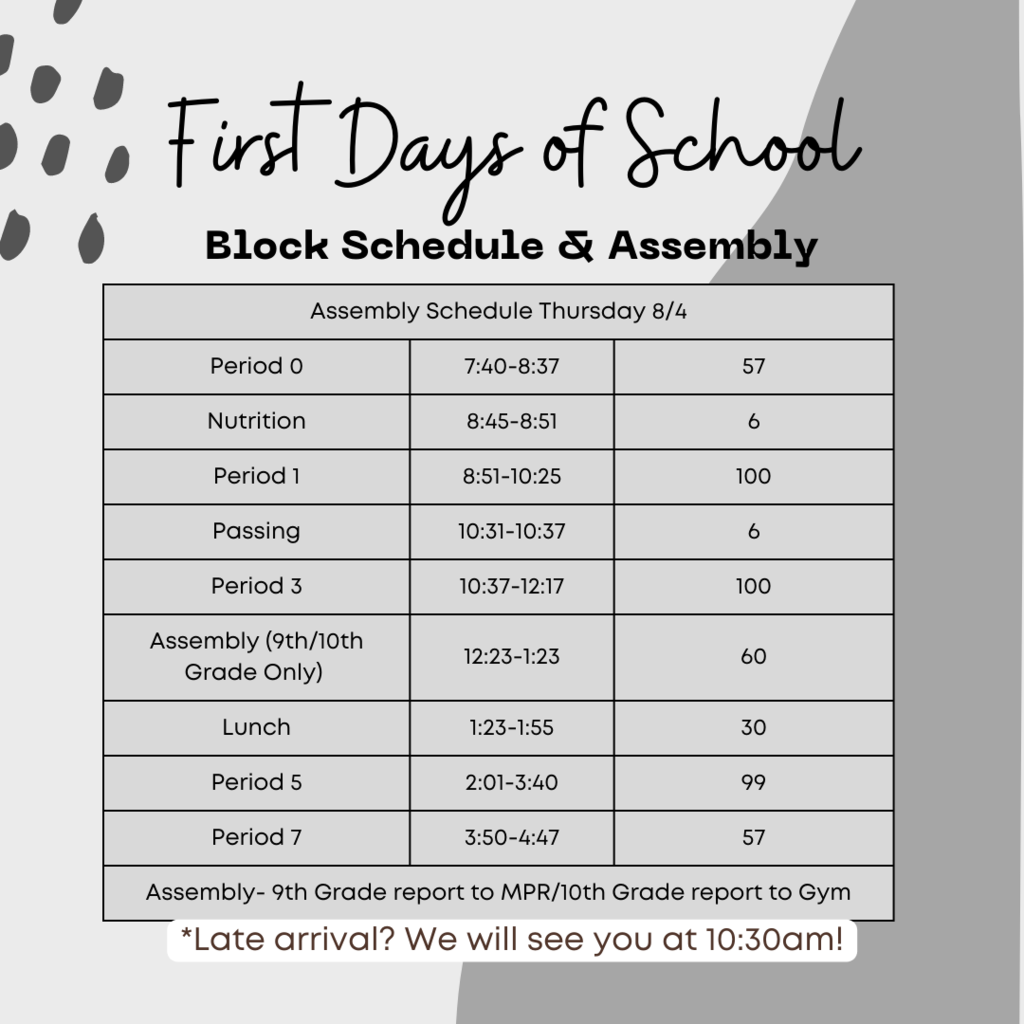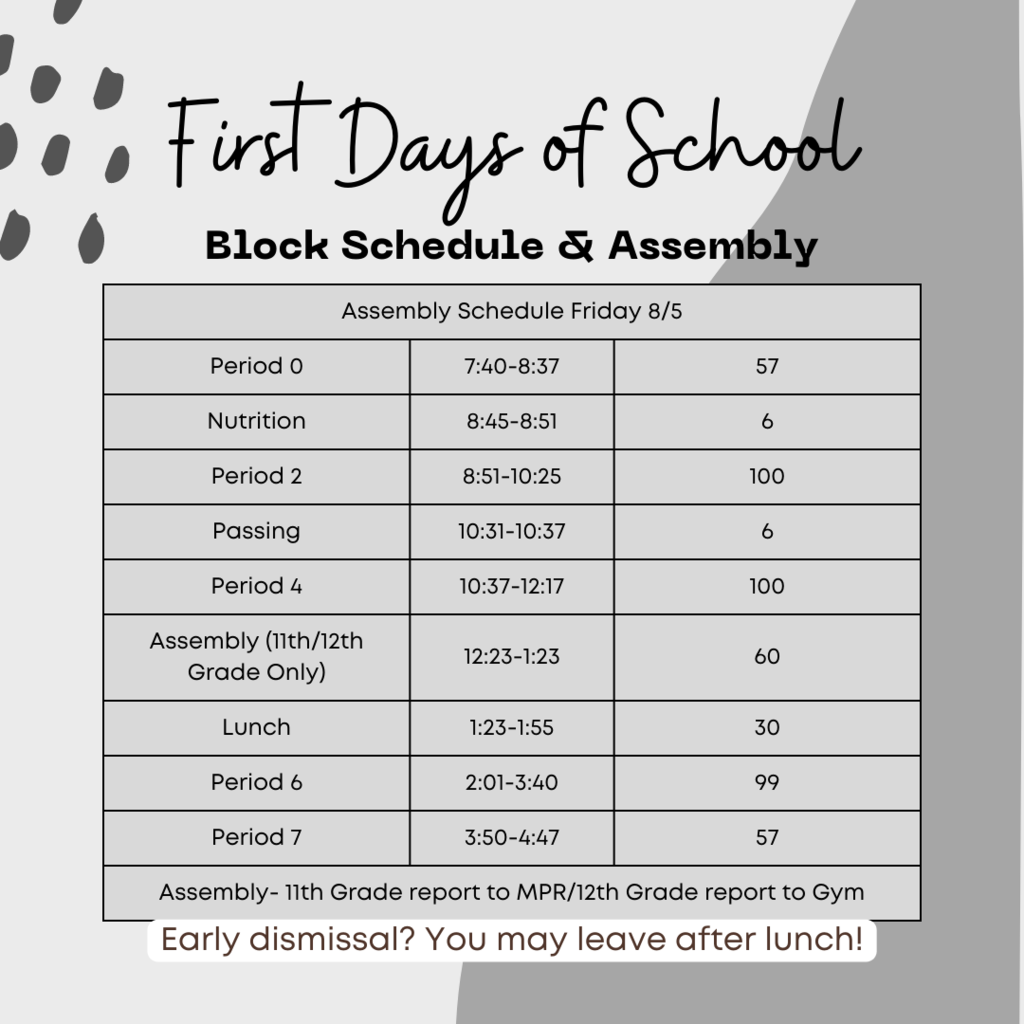 Hey Sultans! We can't wait to see you at back to school night. Make sure you bring cash or your checkbook to purchase school supplies from the Student Store! #wearesultana ¡Hola Sultanes! No podemos esperar a verlos en la noche de regreso a la escuela. ¡Asegúrese de traer dinero en efectivo o su chequera para comprar útiles escolares en la Tienda de Estudiantes!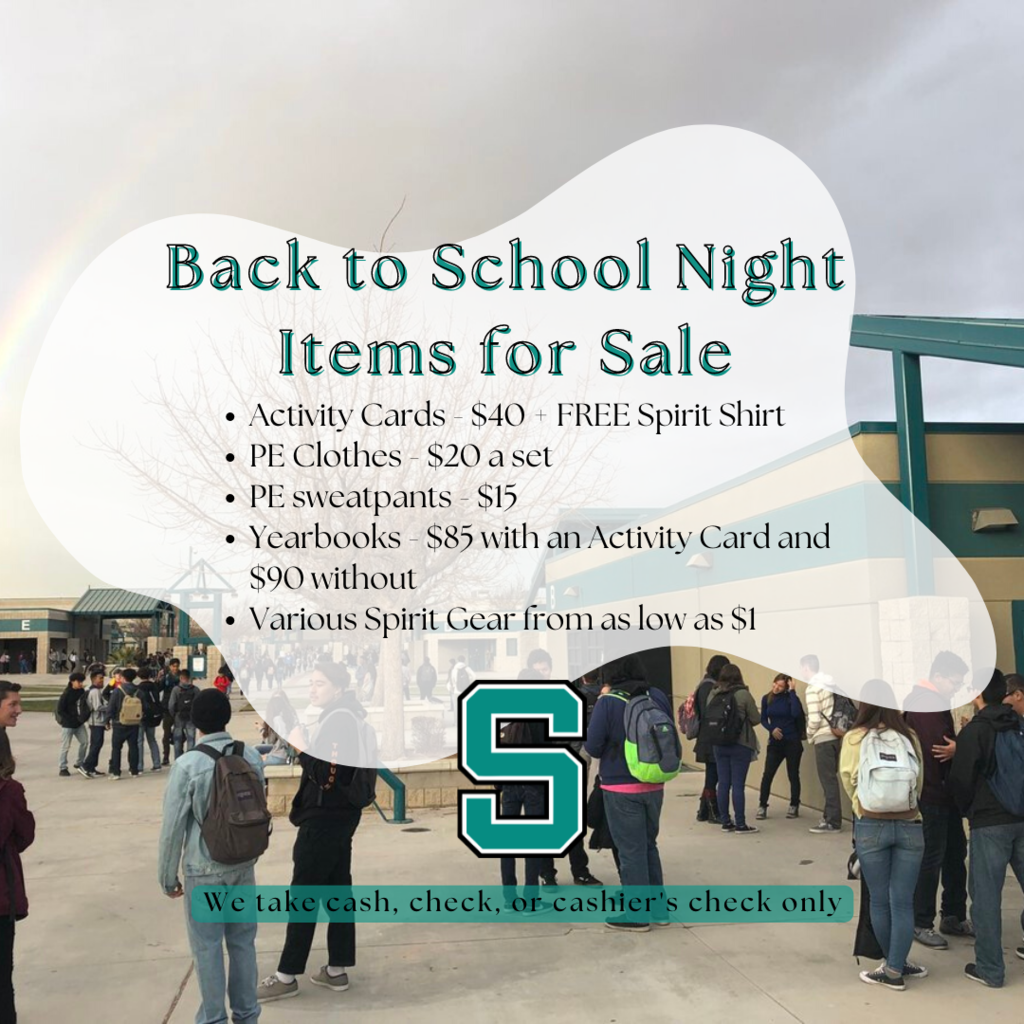 We are Back to School! Here are some frequently asked questions. If you have another question, don't hesitate to reach out! #tealtakeoff #wearesultana Estamos de vuelta a la escuela! Aquí hay algunas preguntas frecuentes. Si tienes otra pregunta, ¡no dudes en contactarnos!

Join us for our 2022-2023 back to school night tomorrow, August 2 beginning at 5:30pm. The student store will be open as early as 4:30pm to purchase your activities card, yearbook, and PE clothes. Únase a nosotros para nuestra noche de regreso a la escuela 2022-2023 mañana, 2 de agosto, a partir de las 5:30 p.m. La tienda para estudiantes estará abierta desde las 4:30 p. m. para comprar su tarjeta de actividades, anuario y ropa de educación física.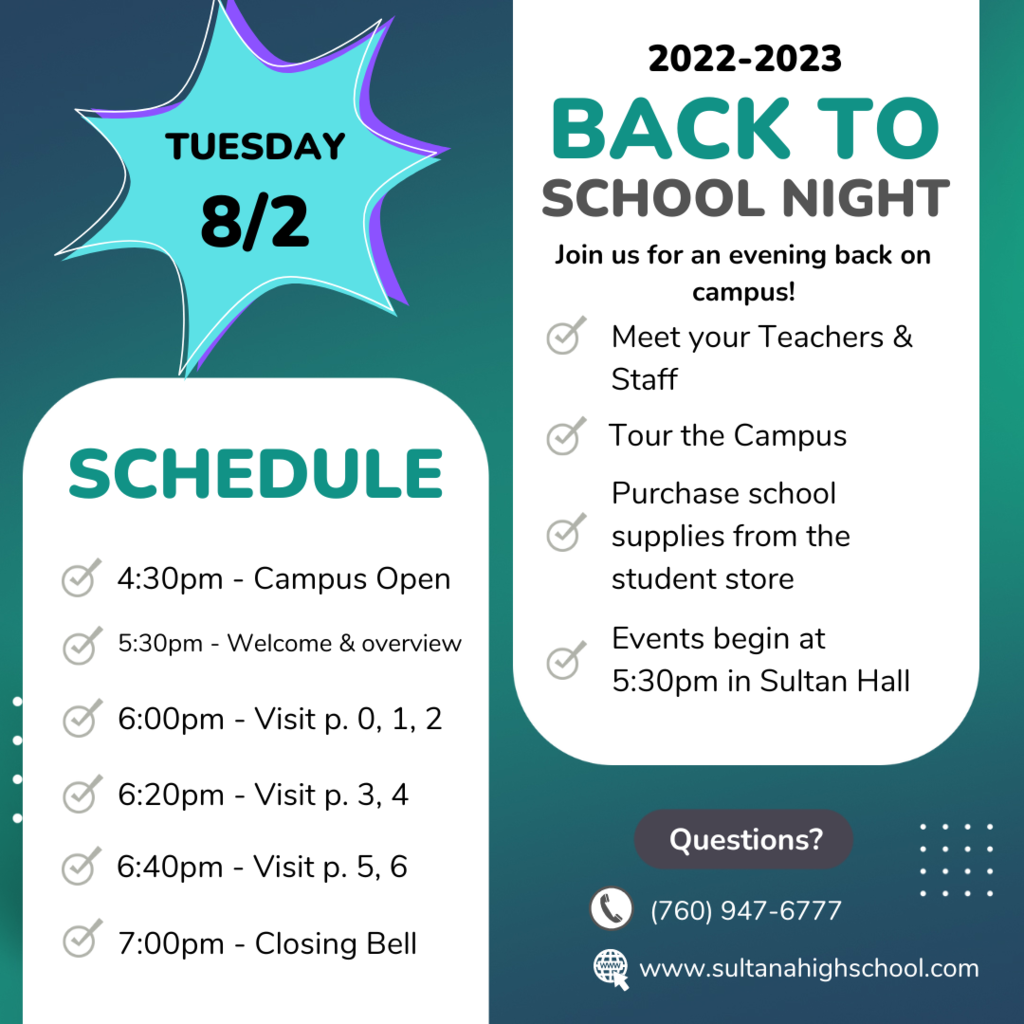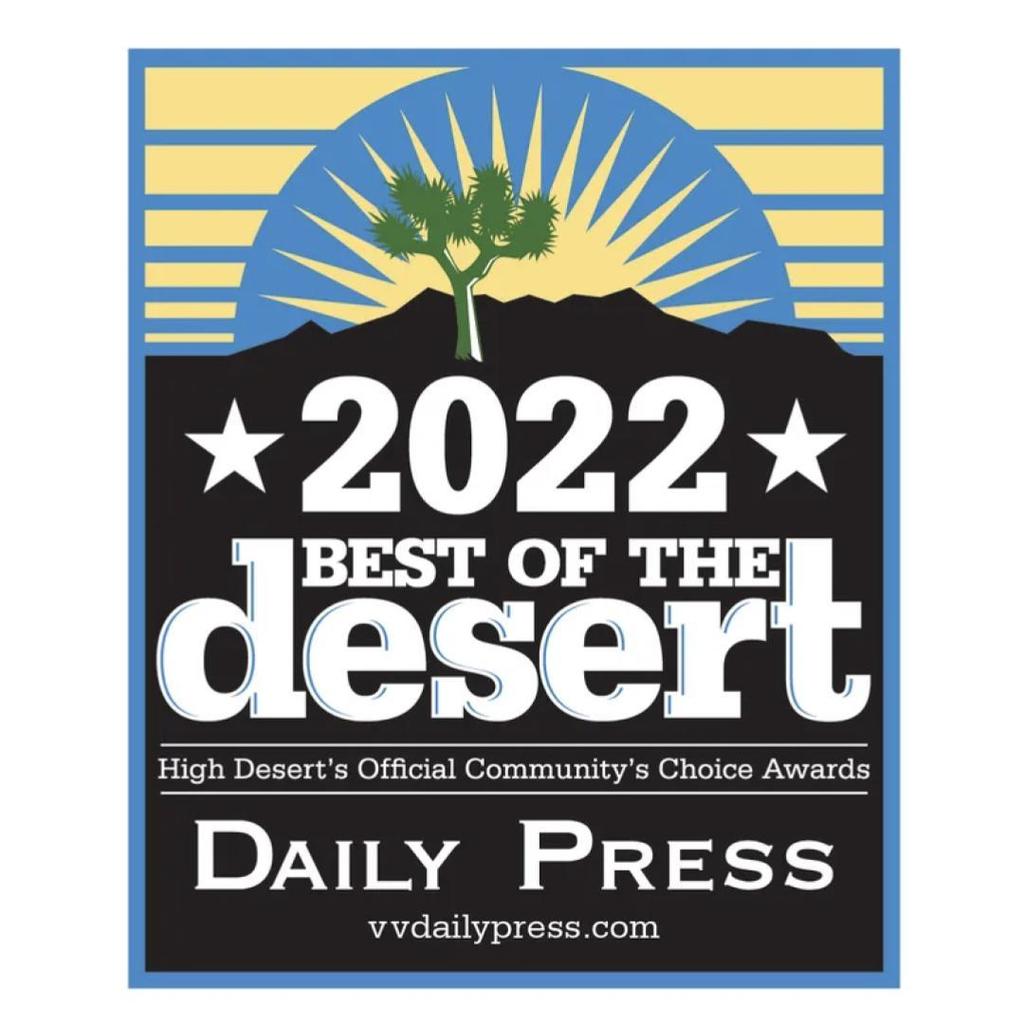 Attention Sultana Families! Are you in need of supplies for this upcoming school year? Join us in our student parking lot to receive a free backpack full of supplies. Hosted by Sultana Football and RMS ASB. ¡Atención Familias Sultanas! ¿Necesita útiles para este próximo año escolar? Únase a nosotros en nuestro estacionamiento para estudiantes para recibir una mochila gratis llena de útiles. Organizado por Sultana Football y RMS ASB.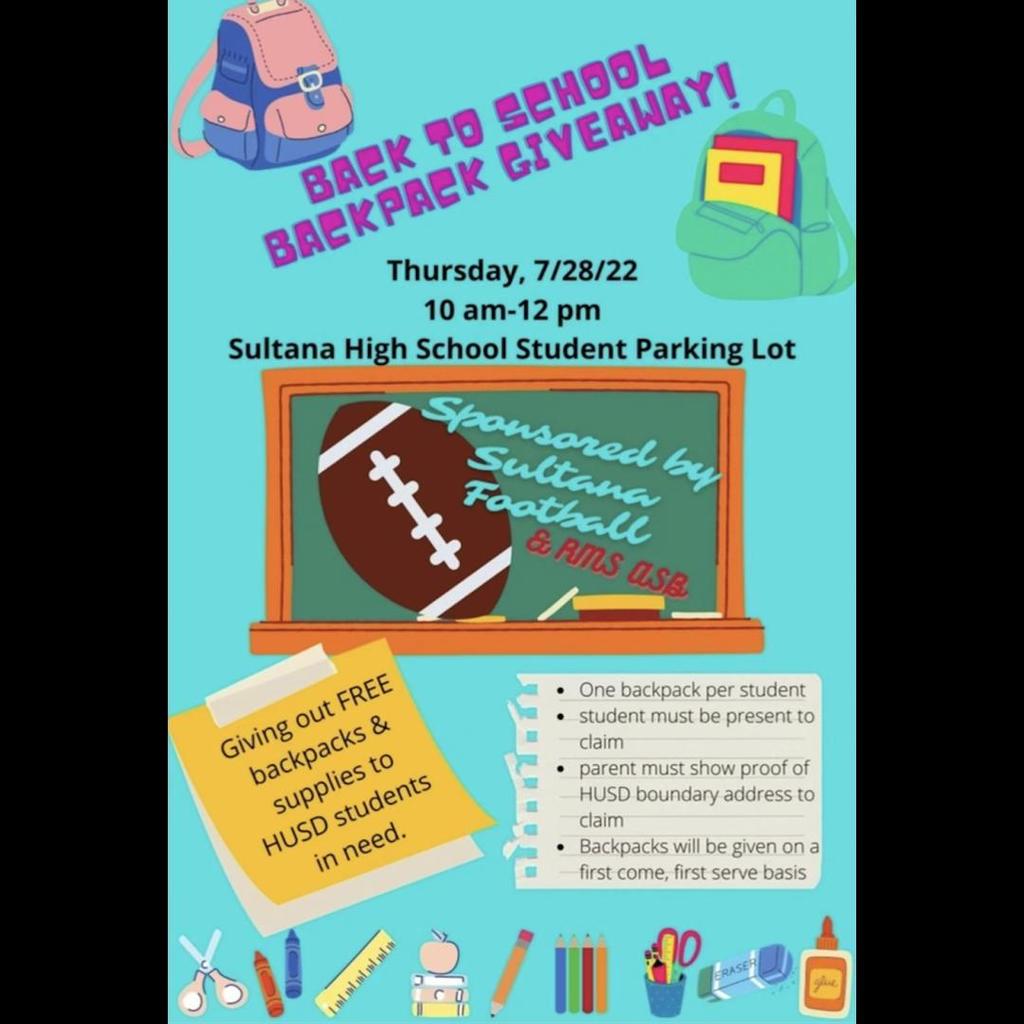 Visit bit.ly/shsbusroutes to see the time, location, and route for all SHS bus routes for the 2022-2023 school year. This can also be found on our website! Visite bit.ly/shsbusroutes para ver la hora, la ubicación y la ruta de todas las rutas de autobús de SHS para el año escolar 2022-2023. Esto también se puede encontrar en nuestro sitio web!