Attention Sultans! New volleyball tryout dates are as follows: June 7, 8, 9th. TIME CHANGE! 1:00pm - 3:30pm ¡Atención Sultanes! Las nuevas fechas de prueba de voleibol son las siguientes: 7, 8 y 9 de junio.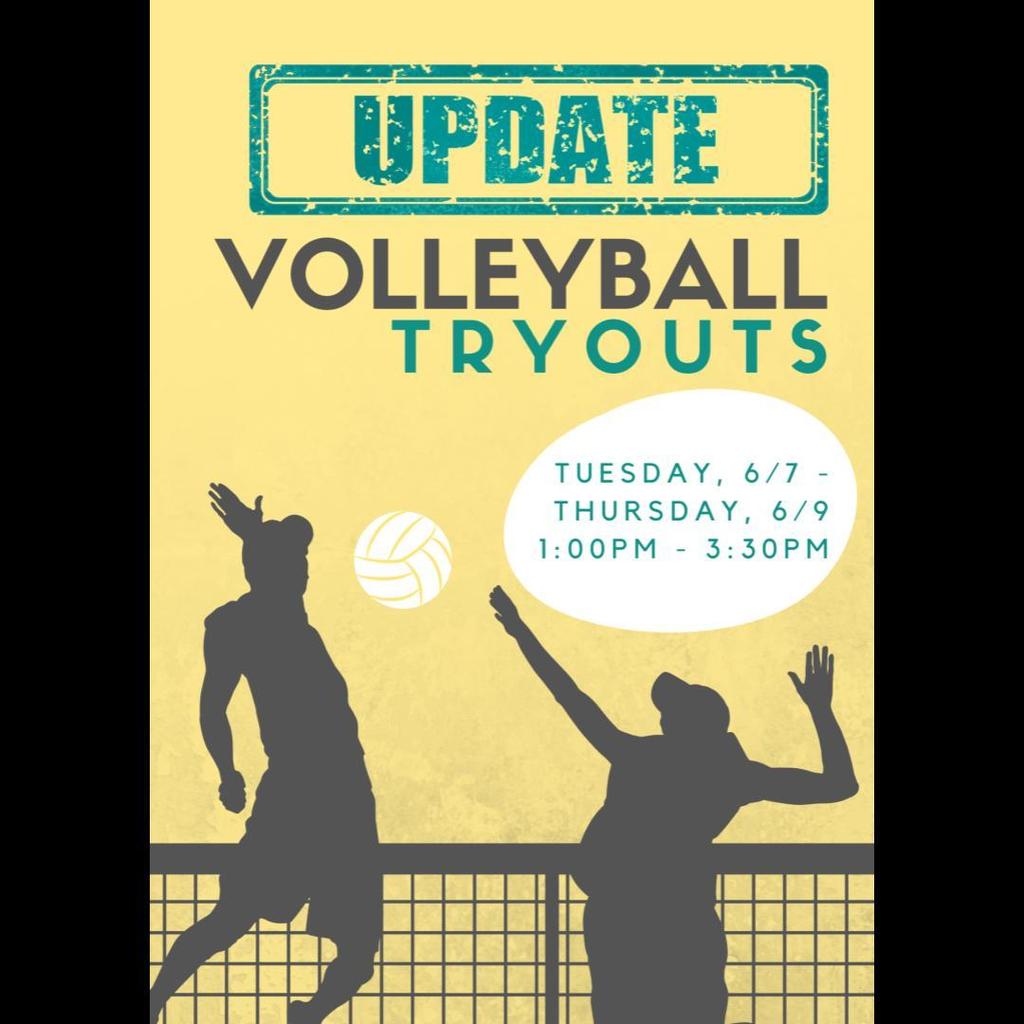 Hey Seniors! Do you have a passion for public speaking? Maybe you just want to address your class of 2022 at graduation on May 25th. Submit your speeches to
erika.gray@hesperiausd.org
for consideration! Speeches are due May 11. ¡Hola seniors! ¿Tienes pasión por hablar en público? Tal vez solo quiera dirigirse a su clase de 2022 en la graduación el 25 de mayo. ¡Envíe sus discursos a
erika.gray@hesperiausd.org
para su consideración! Los discursos deben presentarse el 11 de mayo.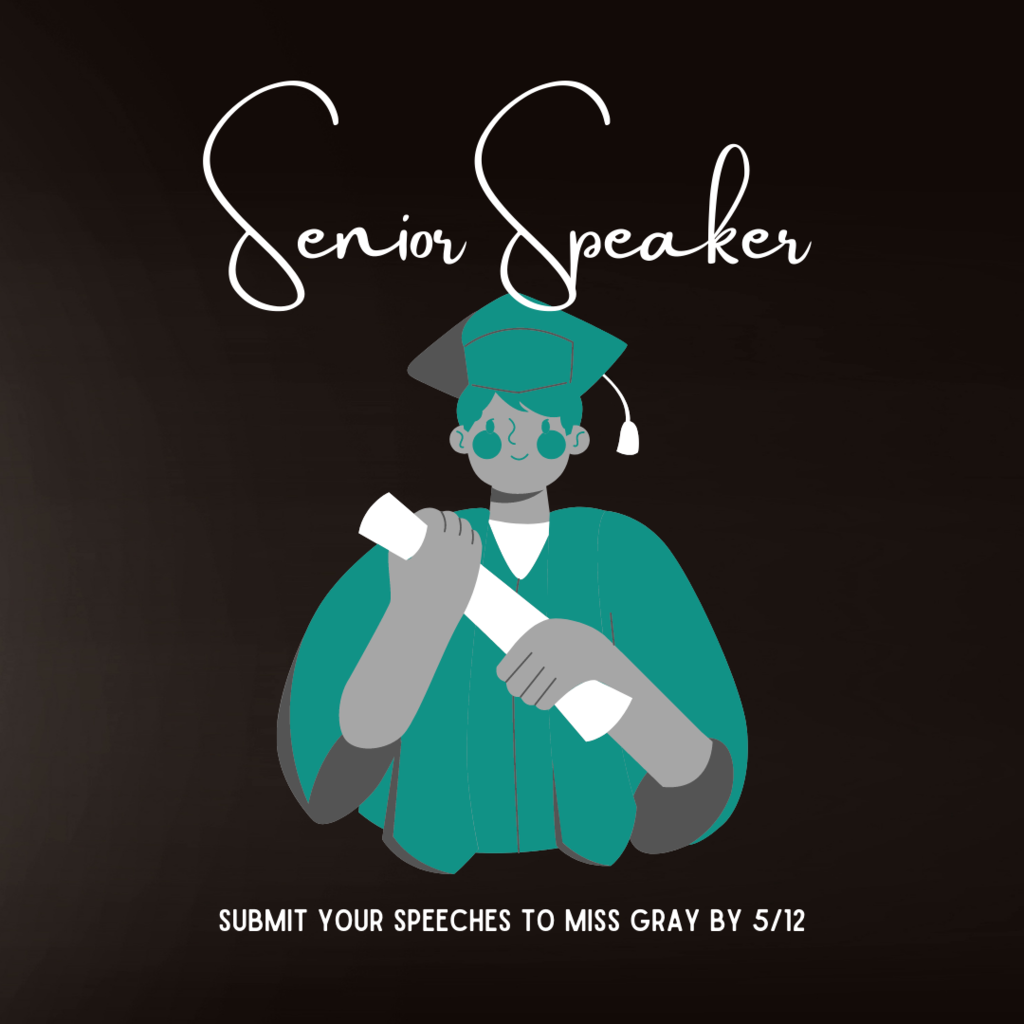 Celebrate our AMAZING Sultana staff by participating in a teacher-created spirit week! #wearesultana #screamteal ¡Celebre a nuestro INCREÍBLE personal de Sultana participando en una semana de espíritu creada por maestros!

Check out this week's specials! Come on by and give it a try, it's delicious! ¡Echa un vistazo a las ofertas especiales de esta semana! ¡Pasa y pruébalo, está delicioso!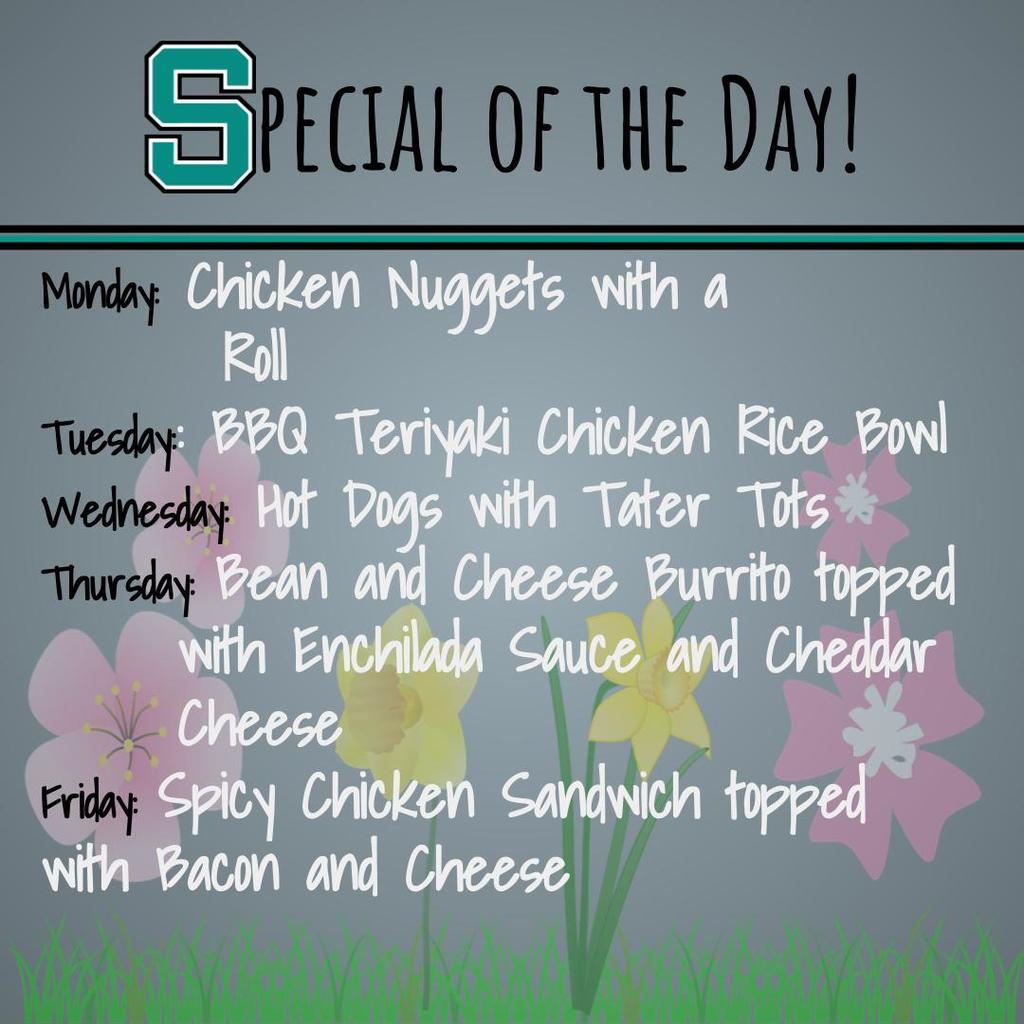 Anyone interested in being on the Yearbook Staff for the 2022-23 school year, applications are available in C-309. Any questions, please see Mrs. Wiedeman Cualquier persona interesada en formar parte del personal del anuario para el año escolar 2022-23, las solicitudes están disponibles en C-309. Si tiene alguna pregunta, consulte a la Sra. Wiedeman.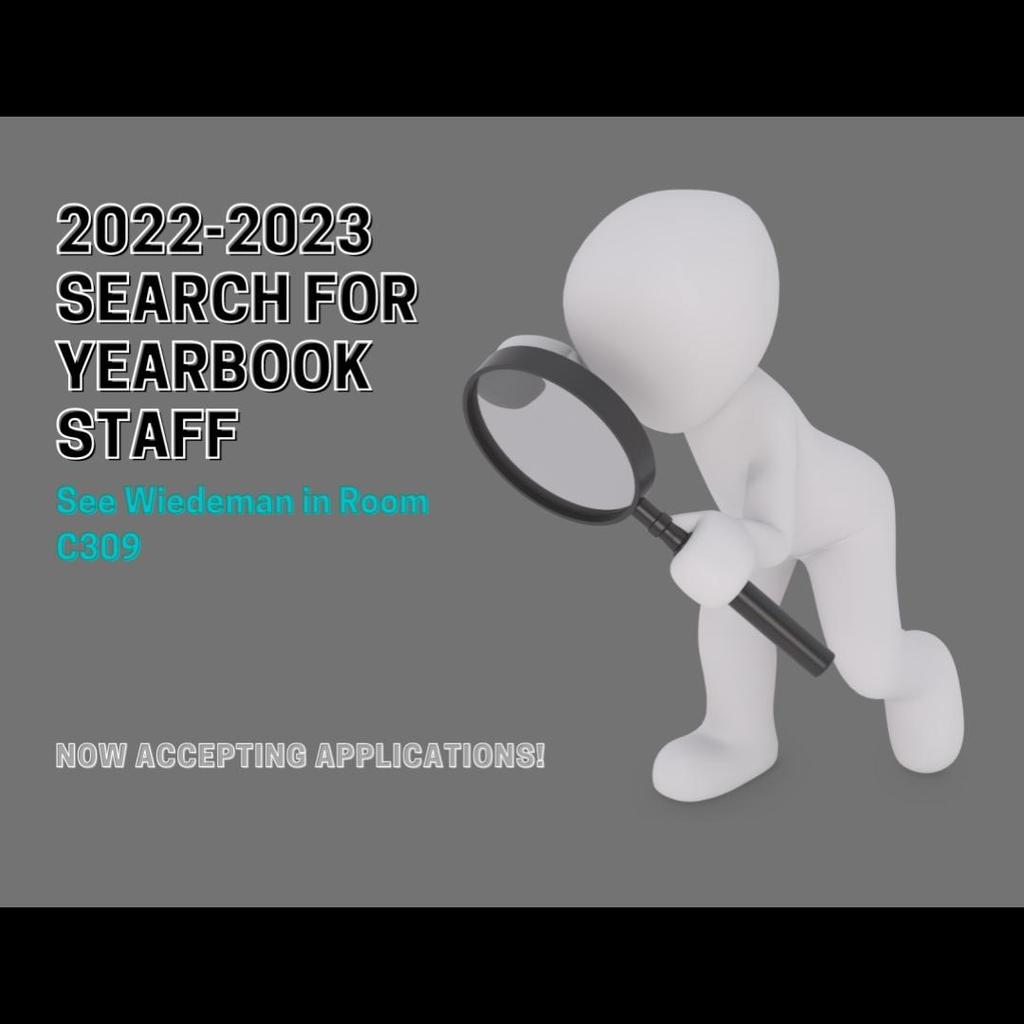 Congratulations to our 2022-2023 Executive Council! ASB President, Anessa Zapata, ASB Vice President, Peyton Marshall, ASB Secretary, Nataley Boone, and ASB Treasurer, Annie Valenzuela. We are looking forward to an incredible year! ¡Felicitaciones a nuestro Consejo Ejecutivo 2022-2023! Anessa Zapata, presidenta de ASB, Peyton Marshall, vicepresidenta de ASB, Nataley Boone, secretaria de ASB, y Annie Valenzuela, tesorera de ASB. ¡Esperamos un año increíble!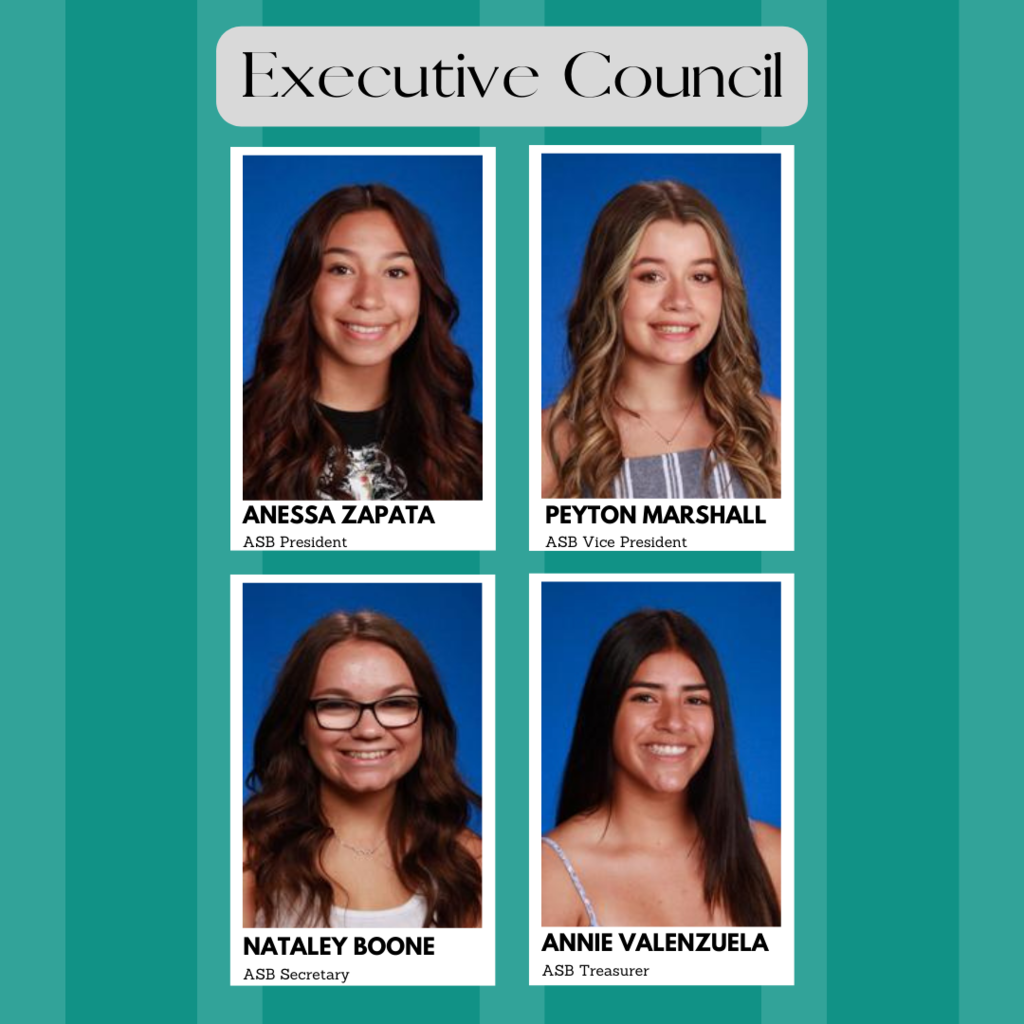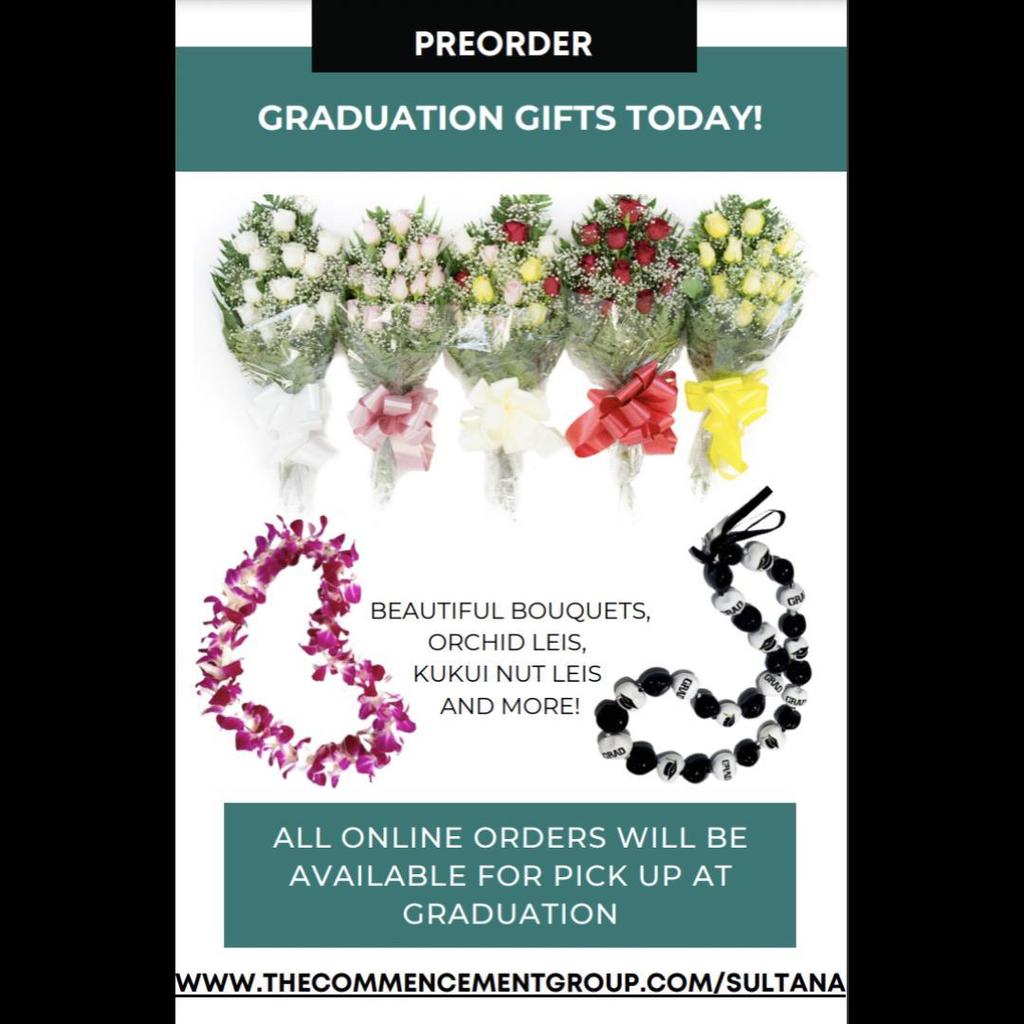 Attention Sultans and future Sultans! Interested in joining our ASB Leadership Family? Apply online using google classroom! Code: m2wc42w Applications close on Friday 4/29. ¡Atención Sultanes y futuros Sultanes! ¿Está interesado en unirse a nuestra familia de liderazgo ASB? ¡Solicite en línea usando el aula de Google! Código: m2wc42w Las solicitudes cierran el viernes 4/29.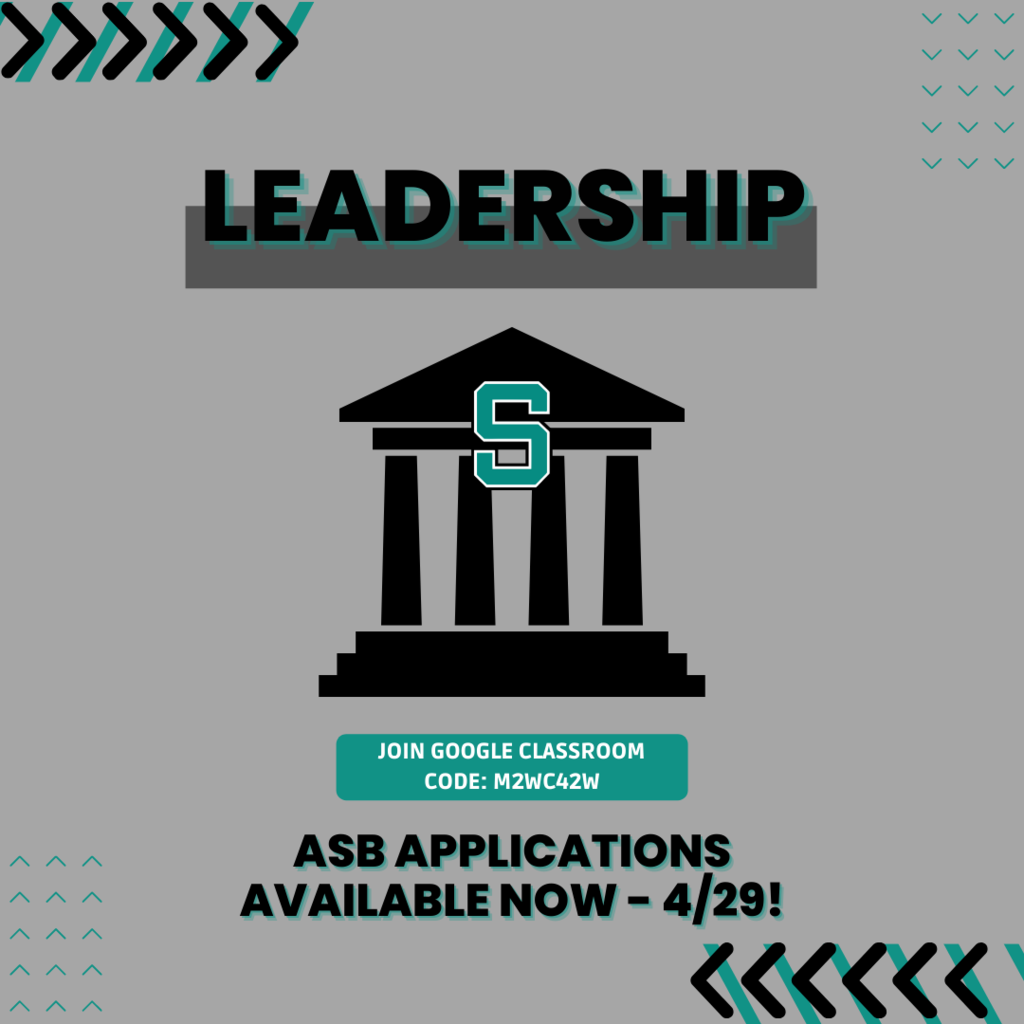 Attention Seniors! Interested in performing at Graduation? Sign up for an audition spot in the student store! Auditions are Friday after school in the Choir room. ¡Atención Seniors! ¿Interesado en actuar en Graduation? ¡Regístrese para obtener un lugar de audición en la tienda para estudiantes! Las audiciones son los viernes después de la escuela en el salón del coro.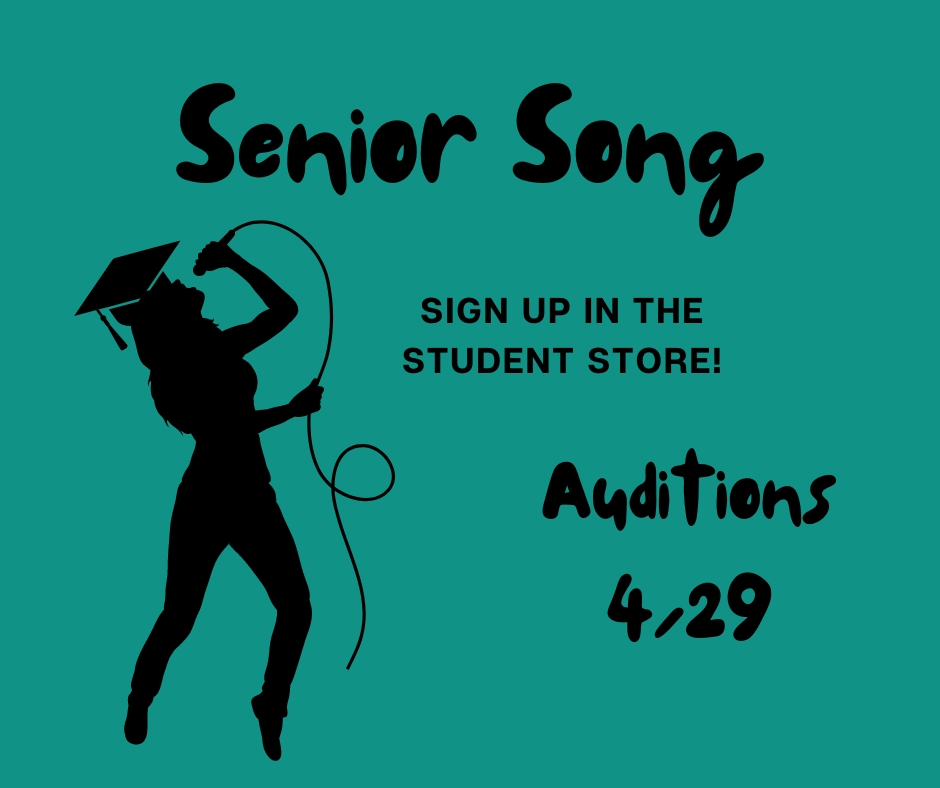 Congratulations to our incredible drumline! On Saturday they took 1st place at semi finals with an 89.1. They will be competing next Saturday, 4/30 at Colony High School in Ontario. Congratulations and best of luck! ¡Felicitaciones a nuestra increíble batería! El sábado ocuparon el 1er lugar en semifinales con un 89.1. Estarán compitiendo el próximo sábado 4/30 en Colony High School en Ontario. ¡Felicitaciones y la mejor de las suertes!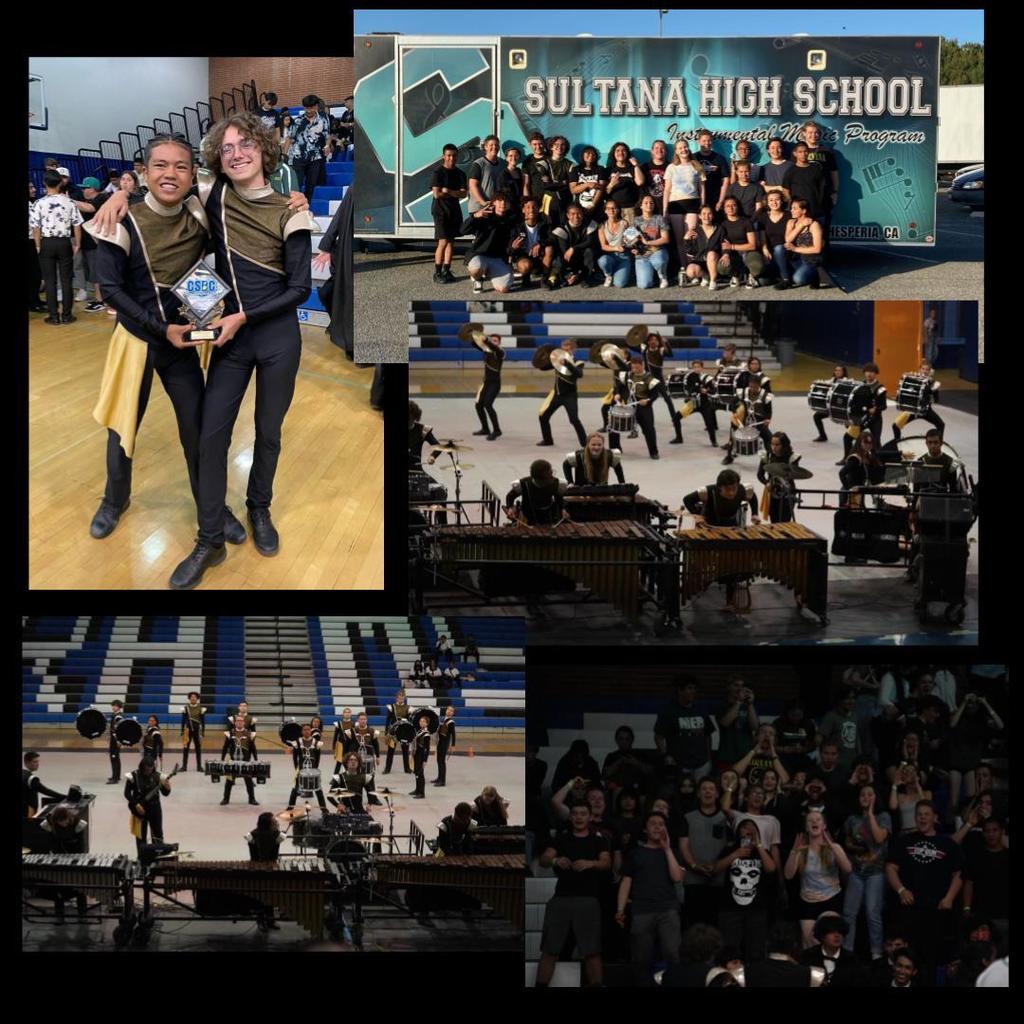 Check out this week's specials! Come on by and give it a try, it's delicious! ¡Echa un vistazo a las ofertas especiales de esta semana! ¡Pasa y pruébalo, está delicioso!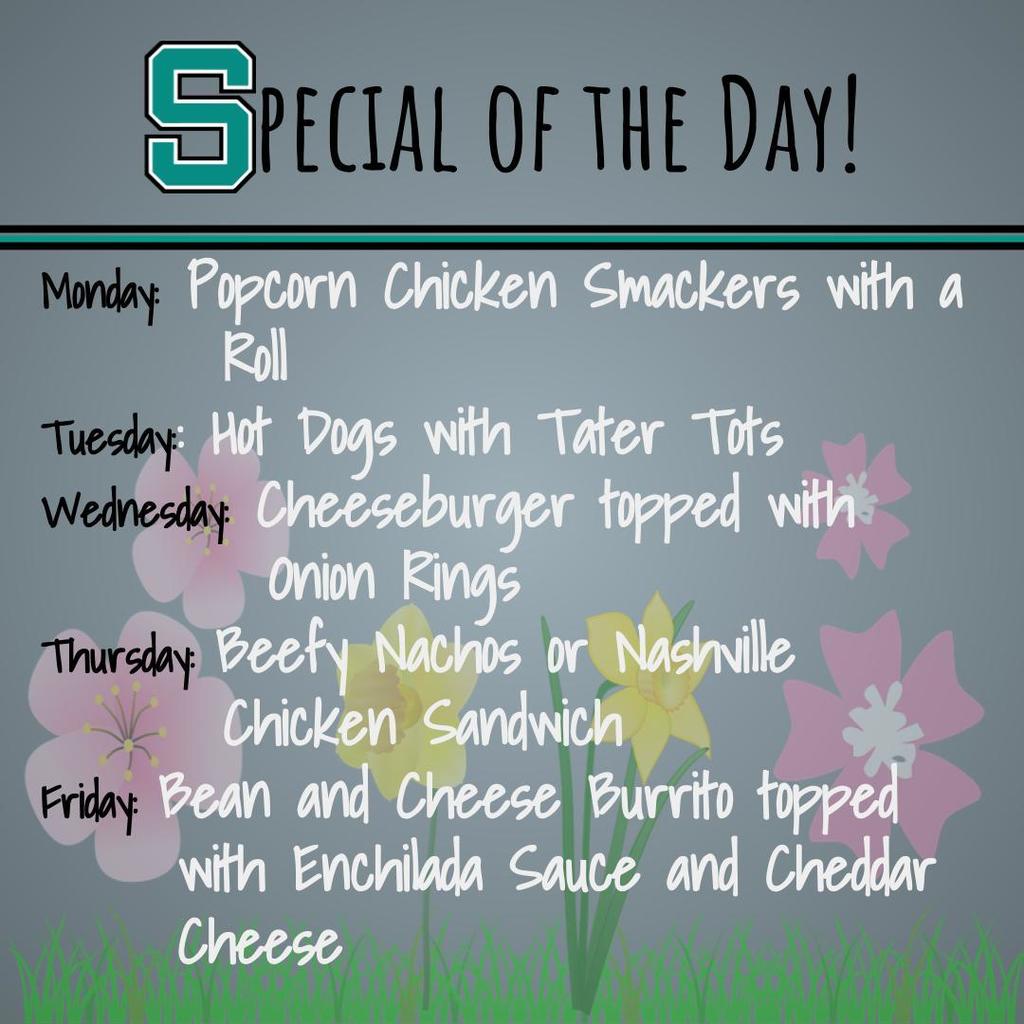 Getting excited for Prom? So are we!! There will be an early bird photo option in the MPR starting at 4pm BEFORE we leave to prom! Don't worry, the photographers will also be on site at prom. ¿Emocionado por el baile de graduación? ¡¡Así somos nosotros!! ¡Habrá una opción de foto de reserva anticipada en el MPR a partir de las 4 p. m. ANTES de que nos vayamos al baile de graduación! No se preocupe, los fotógrafos también estarán presentes en el baile de graduación.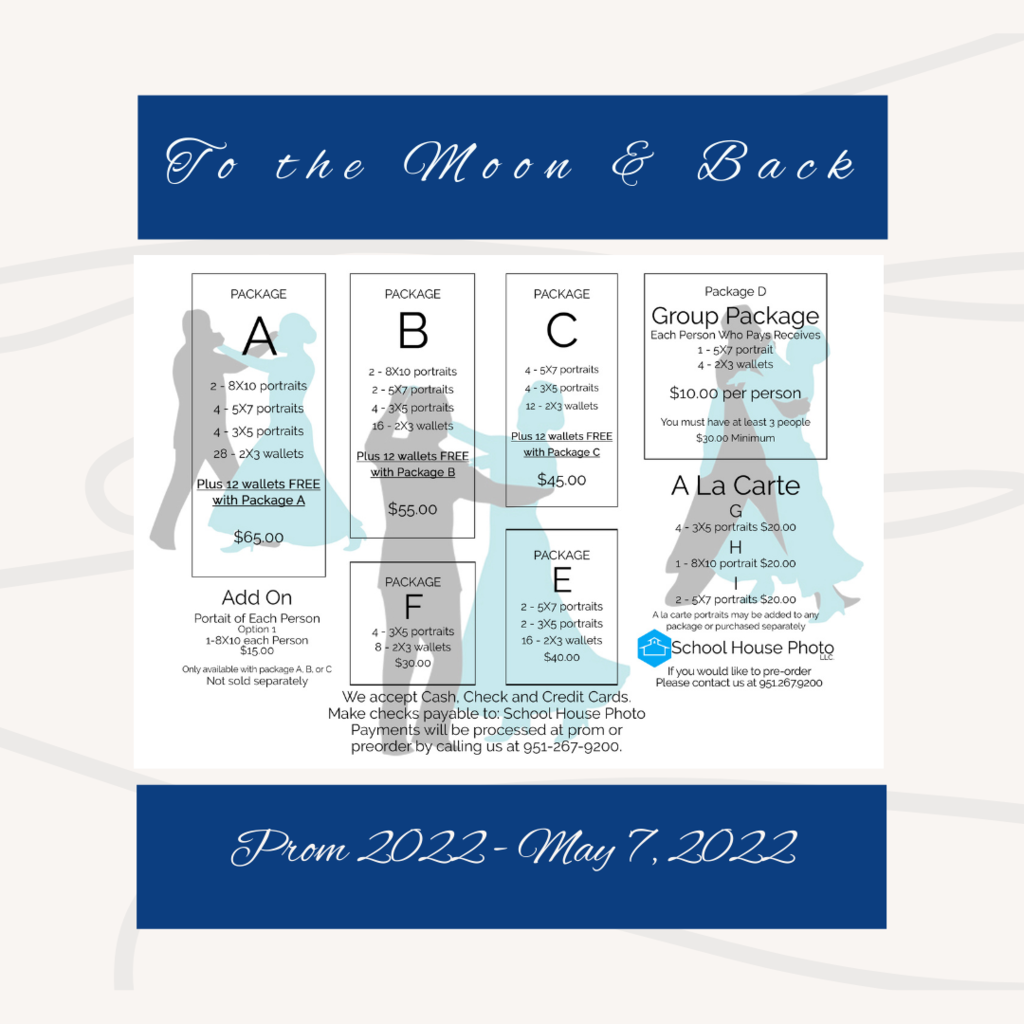 Hey Sultans! Interested in playing volleyball? Tryouts are Tuesday, May 31 - Thursday, June 2 from 8-11am in the gym. Students will need an updated physical to tryout! ¡Hola Sultanes! ¿Interesado en jugar voleibol? Las pruebas son del martes 31 de mayo al jueves 2 de junio de 8 a 11 a. m. en el gimnasio. ¡Los estudiantes necesitarán un examen físico actualizado para la prueba!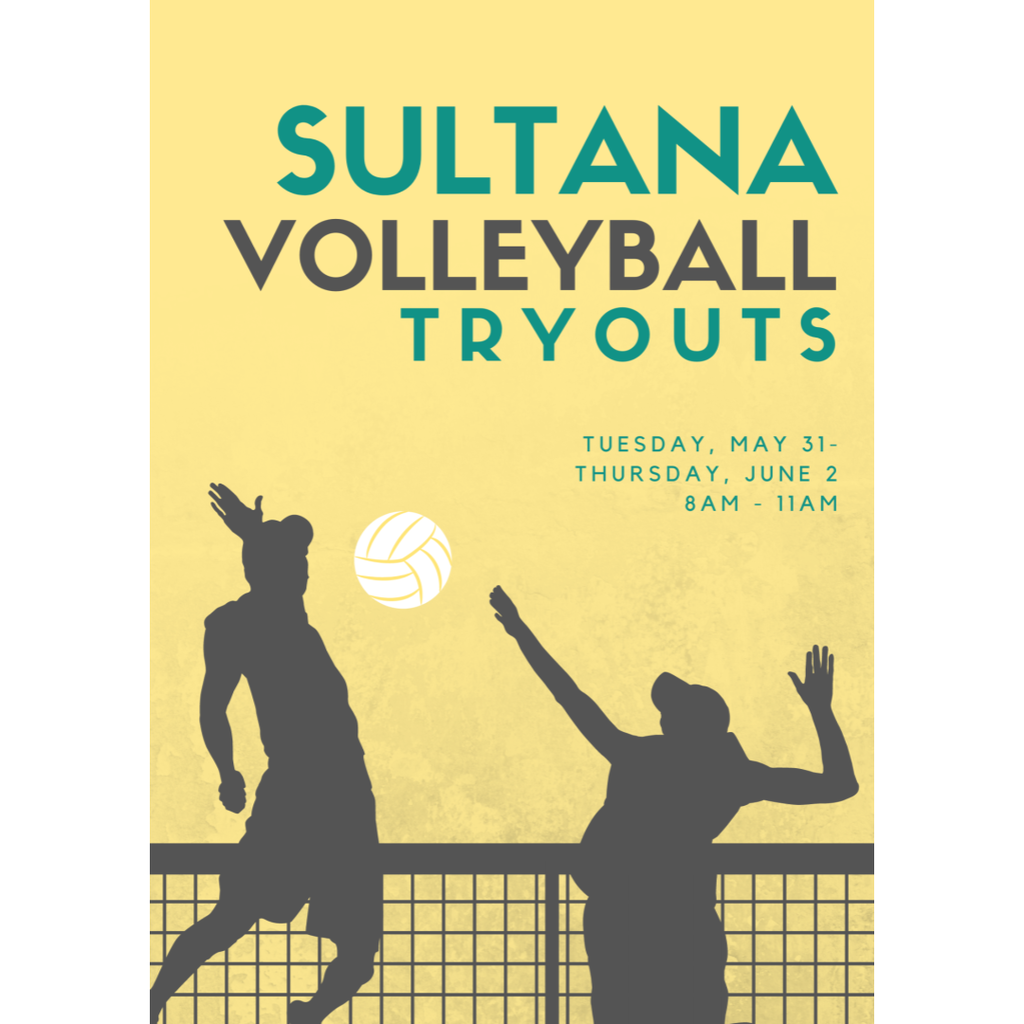 This is an incredible opportunity for any Sultans that may be interested in truck driving, it's free aside from some licensing and dmv fees. Check out
https://bit.ly/commercialdriverVVC
for more information! Esta es una oportunidad increíble para cualquier sultán que pueda estar interesado en conducir camiones, es gratis, aparte de algunas tarifas de licencia y dmv.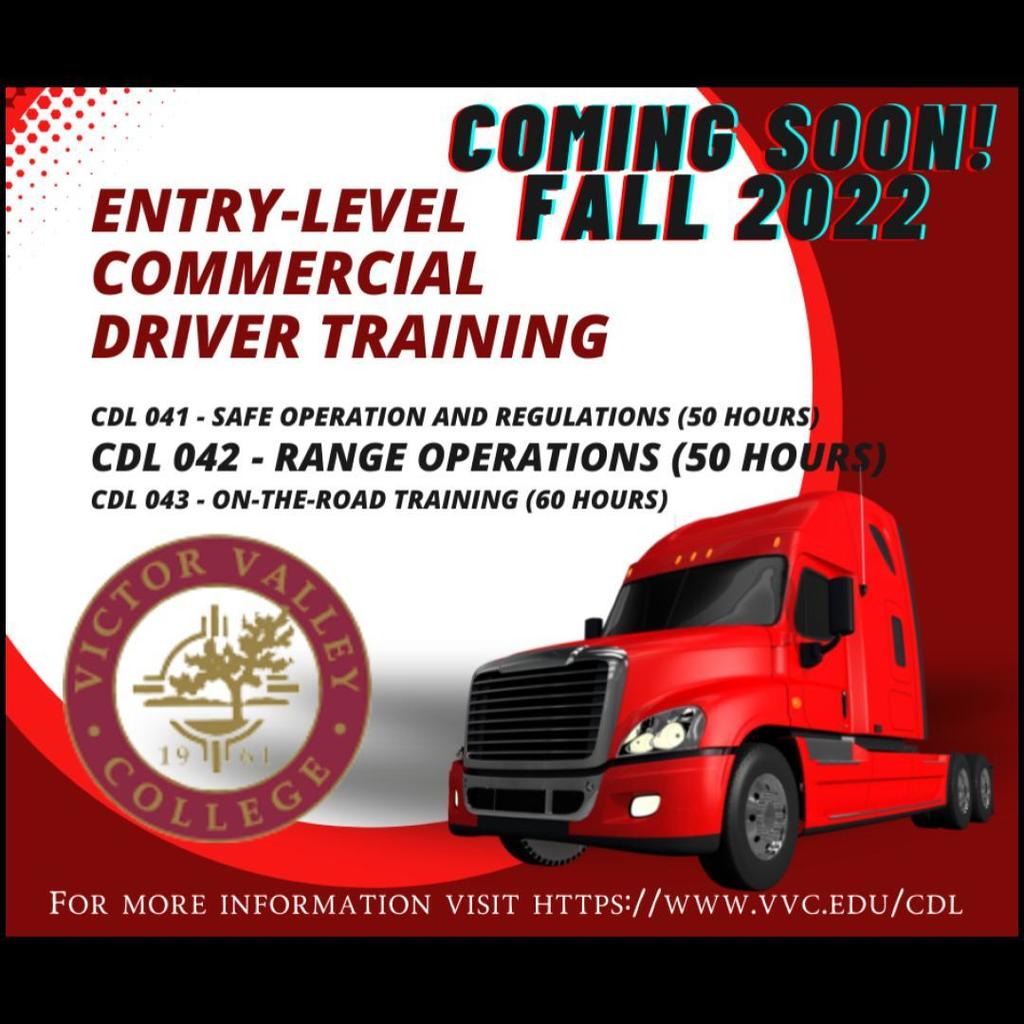 This just in! Did you miss yesterday's deadline for prom tickets? There are 40 seats left! Race down to the student store during lunch to claim yours! This is a night you won't want to miss. ¡Esto acaba de entrar! ¿Se te pasó la fecha límite de ayer para las entradas para el baile de graduación? ¡Quedan 40 plazas! ¡Corre a la tienda de estudiantes durante el almuerzo para reclamar el tuyo! Esta es una noche que no querrás perderte.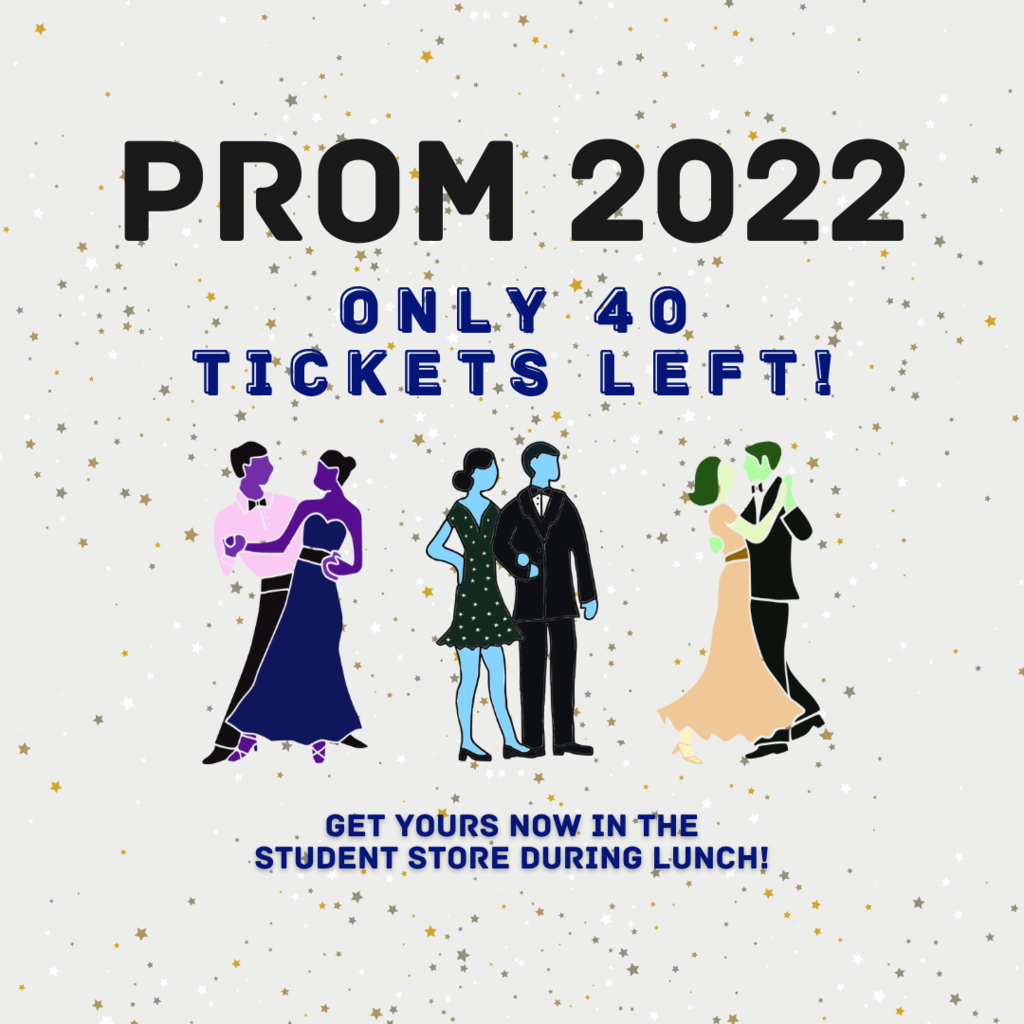 Hey seniors! Interested in running for prom court? Come to an informational meeting tomorrow at lunch in room P-19 ¡Hola mayores! ¿Interesado en postularse para la corte de baile? Venga a una reunión informativa mañana durante el almuerzo en el salón P-19

Calling all leaders! ASB Applications are available now! Simply add yourself to the google classroom and apply for an interview. ¡Llamando a todos los líderes! ¡Las aplicaciones ASB ya están disponibles! Simplemente agréguese al aula de Google y solicite una entrevista.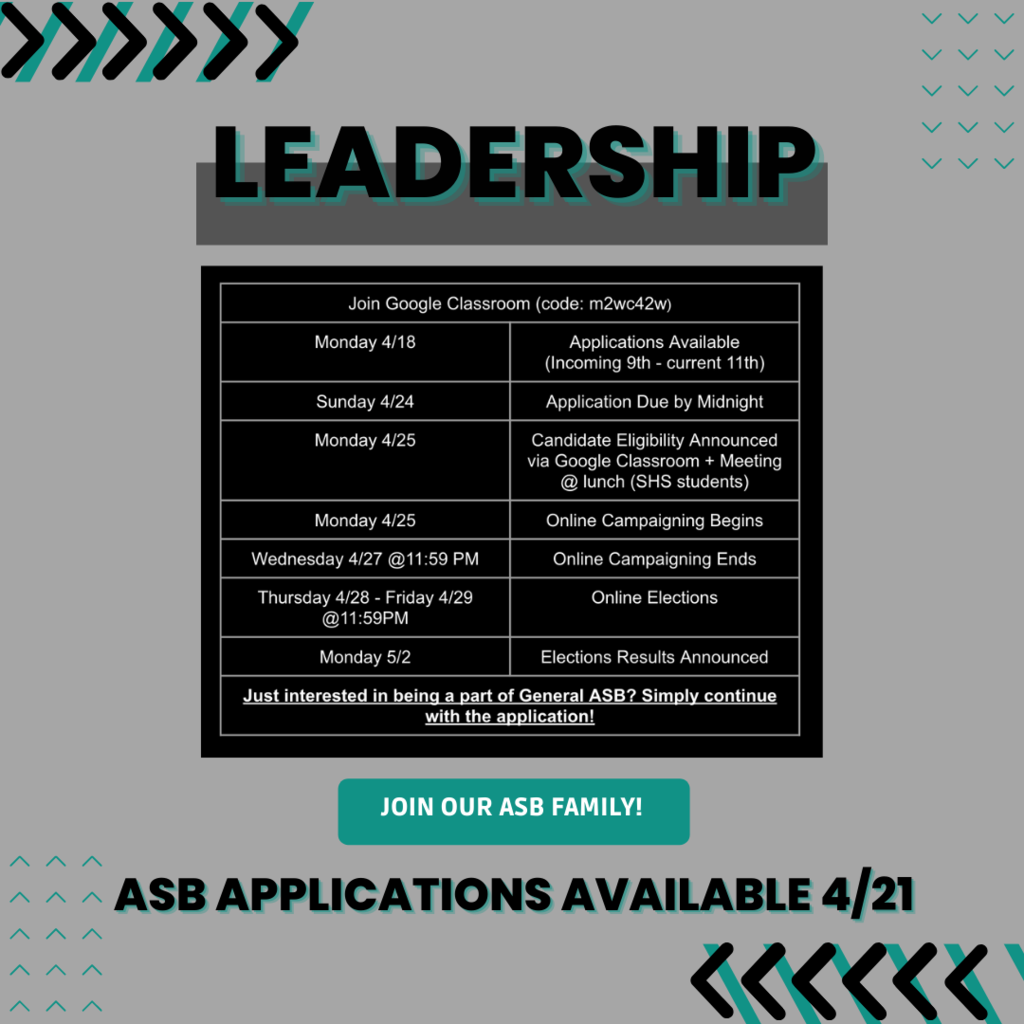 Hey Sultans, are you planning to tryout for cheer? Come to our parent meeting tonight from 6-8 PM underneath the awning next to the gym. Be sure to bring your parent or guardian to get all the information needed to tryout! Completed tryout packets can be turned in to Ms. Murphy in P-10 at lunch! Hola, Sultanes, ¿planeáis hacer una prueba de porristas? Venga a nuestra reunión de padres esta noche de 6 a 8 p. m. debajo del toldo al lado del gimnasio. ¡Asegúrese de traer a su padre o tutor para obtener toda la información necesaria para la prueba! ¡Los paquetes de prueba completos se pueden entregar a la Sra. Murphy en P-10 en el almuerzo!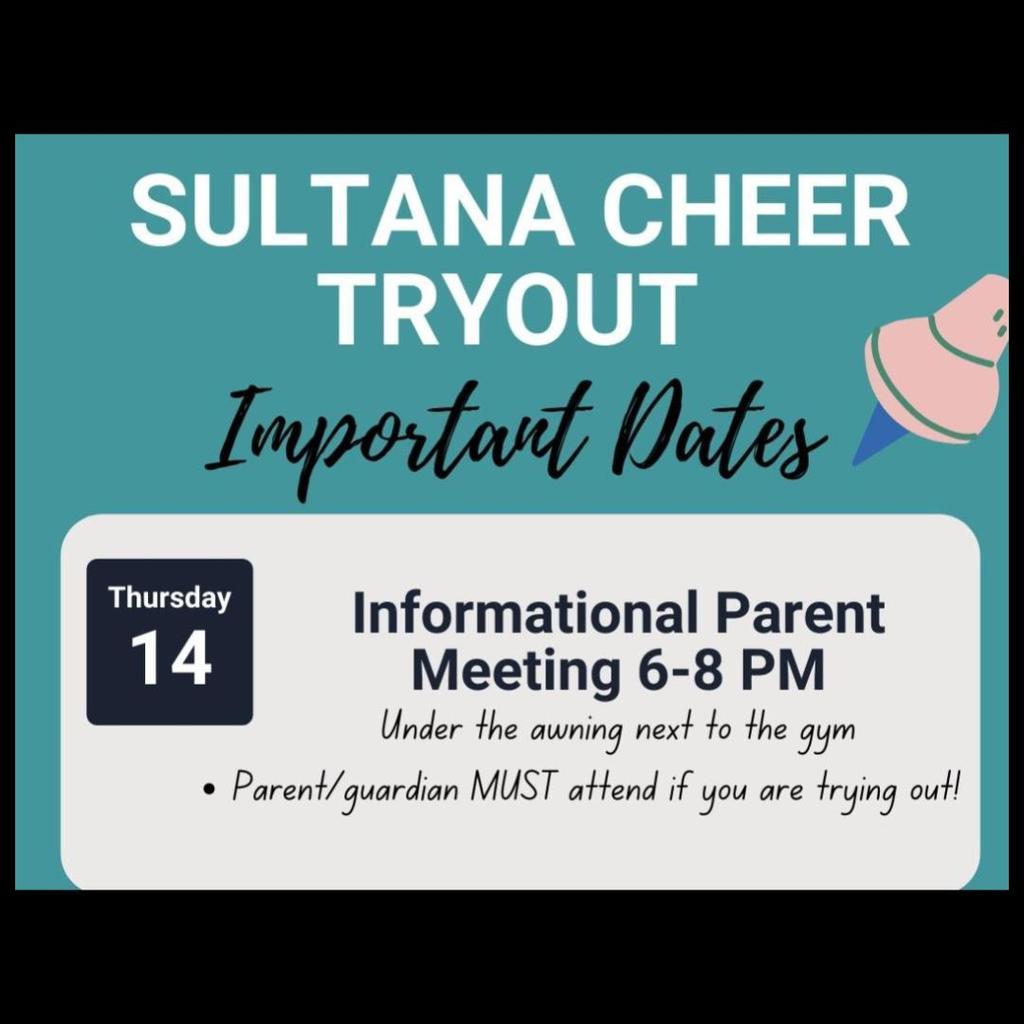 Sultana Leaders! ASB Executive Council applications are available now! What's executive council? This is the ASB President, ASB Vice President, ASB Treasurer, and ASB Secretary. Interested in being a class officer? Stay tuned, those applications are coming soon! ¡Líderes de la Sultana! ¡Las solicitudes para el Consejo Ejecutivo de ASB ya están disponibles! ¿Qué es el consejo ejecutivo? Este es el presidente de ASB, el vicepresidente de ASB, el tesorero de ASB y el secretario de ASB. ¿Interesado en ser un oficial de clase? ¡Estén atentos, esas aplicaciones llegarán pronto!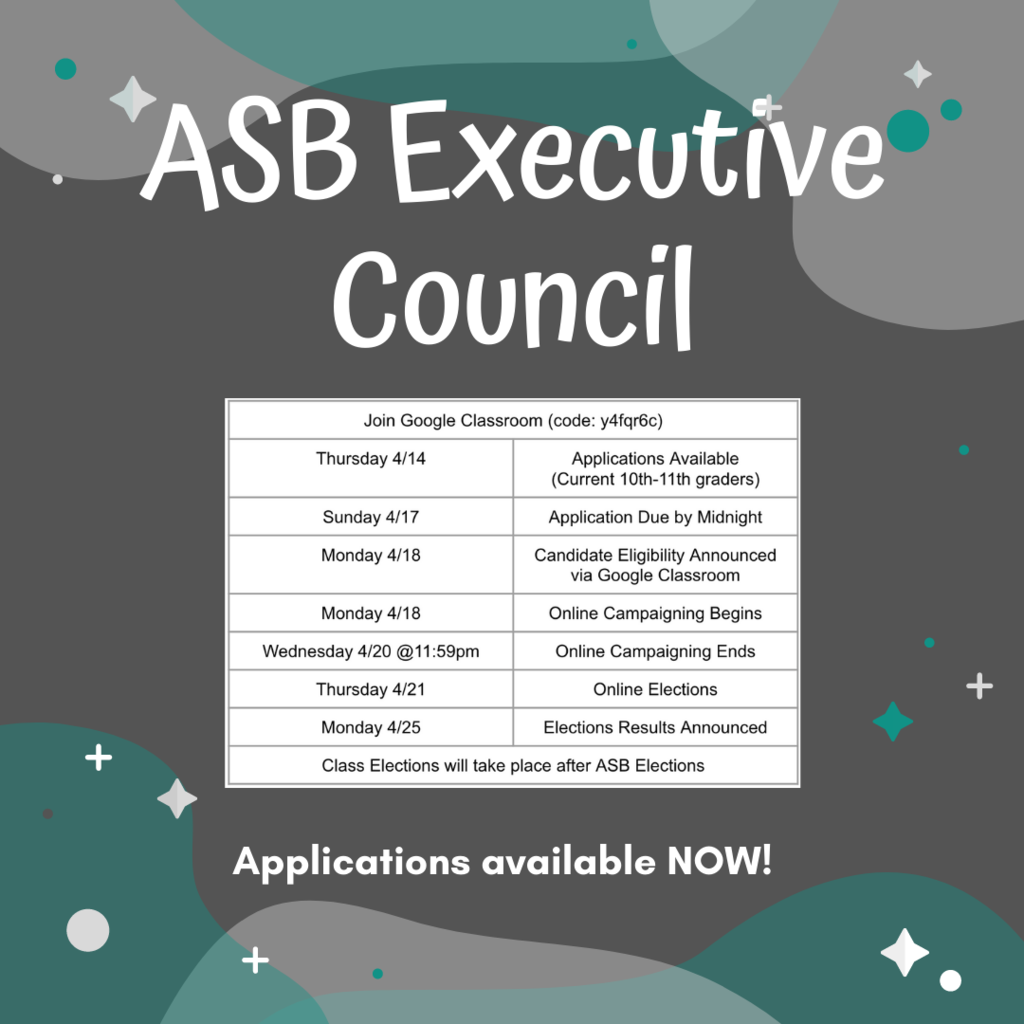 Sultana Families! Here are some important reminders for the next few weeks of the school year. Graduation and senior activities are soon approaching, you won't want to miss out. ¡Familias Sultanas! Aquí hay algunos recordatorios importantes para las próximas semanas del año escolar. Las actividades de graduación y de senior se acercan pronto, no querrá perdérselas.