Senior Reminder- Tomorrow is the Financial Aid Workshop. All seniors are invited, even if you did not RSVP. Remember FAFSA/CADA=Graduation. The FAFSA is a state graduation requirement, so take advantage of the support to complete your FAFSA/CADA.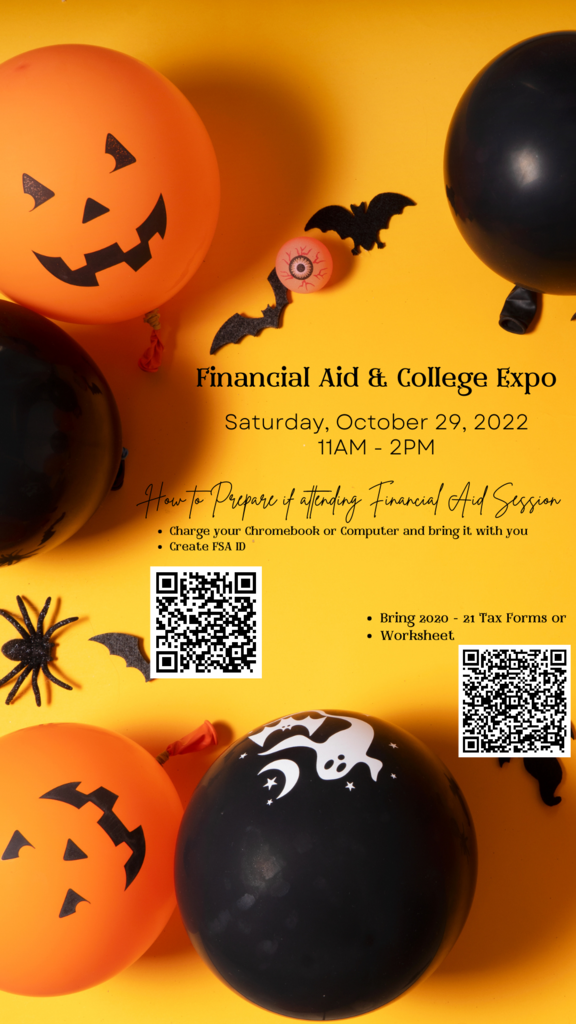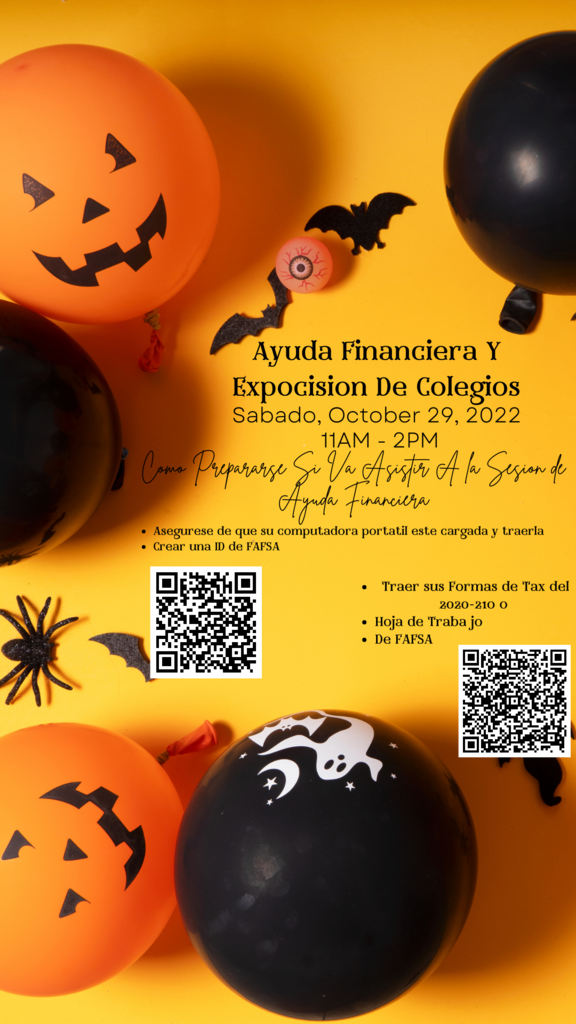 Hey Seniors & Senior Parents! Haven't taken your senior portraits with School House Photo yet? On Wednesday, 11/2, you will have the opportunity to take your photo to be included in the yearbook! **This is NOT a full senior portrait session. For more information on full sessions, please contact School House Photo.** ¡Hola, personas seniors y padres seniors! ¿Aún no ha tomado sus retratos de último año con School House Photo? ¡El miércoles 11/2, tendrá la oportunidad de tomar su foto para incluirla en el anuario! **Esta NO es una sesión completa de retratos de personas mayores. Para obtener más información sobre las sesiones completas, comuníquese con School House Photo.**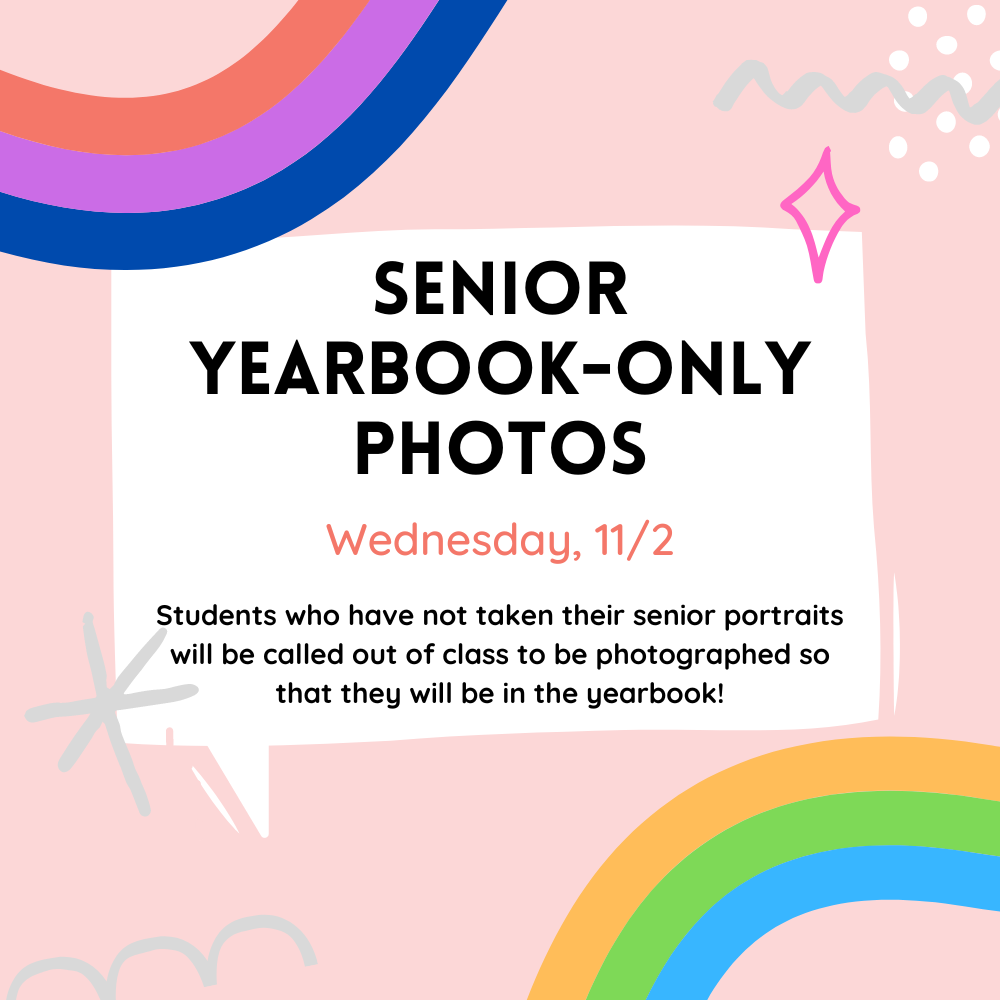 ATTENTION FOOTBALL FANS! Please review SHS's policies regarding Varsity Football Games. Skip the line and buy online! Visit gofan.co and search Sultana High School! 1. ALL STUDENTS MUST HAVE A STUDENT ID TO ENTER 2. K-8TH STUDENTS MUST BE ACCOMPANIED BY AN ADULT 3. NO BACKPACKS WILL BE PERMITTED INTO THE STADIUM, STUDENTS ARE SUBJECT TO SEARCH 4. THERE ARE NO IN AND OUT PRIVILEGES FOR STUDENTS 5. NO LOITERING IN THE SNACK BAR AREA - ALL GUESTS WILL BE ASKED TO SIT IN THE STANDS 6. All Oak Hills fans will enter through the visitors side only. ¡ATENCIÓN FANÁTICOS DEL FÚTBOL! Revise las políticas de SHS con respecto a los juegos de fútbol universitario. 1. TODOS LOS ESTUDIANTES DEBEN TENER UNA ID DE ESTUDIANTE PARA ENTRAR 2. LOS ESTUDIANTES DE K-8 DEBEN SER ACOMPAÑADOS POR UN ADULTO 3. NO SE PERMITIRÁN MOCHILAS EN EL ESTADIO, LOS ESTUDIANTES ESTÁN SUJETOS A REGISTRO 4. NO HAY PRIVILEGIOS DE ENTRADA Y SALIDA PARA ESTUDIANTES 5. PROHIBICIÓN DE HOLGAZAR EN EL ÁREA DEL SNACK BAR - TODOS LOS INVITADOS DEBERÁN SENTARSE EN LAS GRADAS 6. Todos los fanáticos de Oak Hills ingresarán solo por el lado de los visitantes.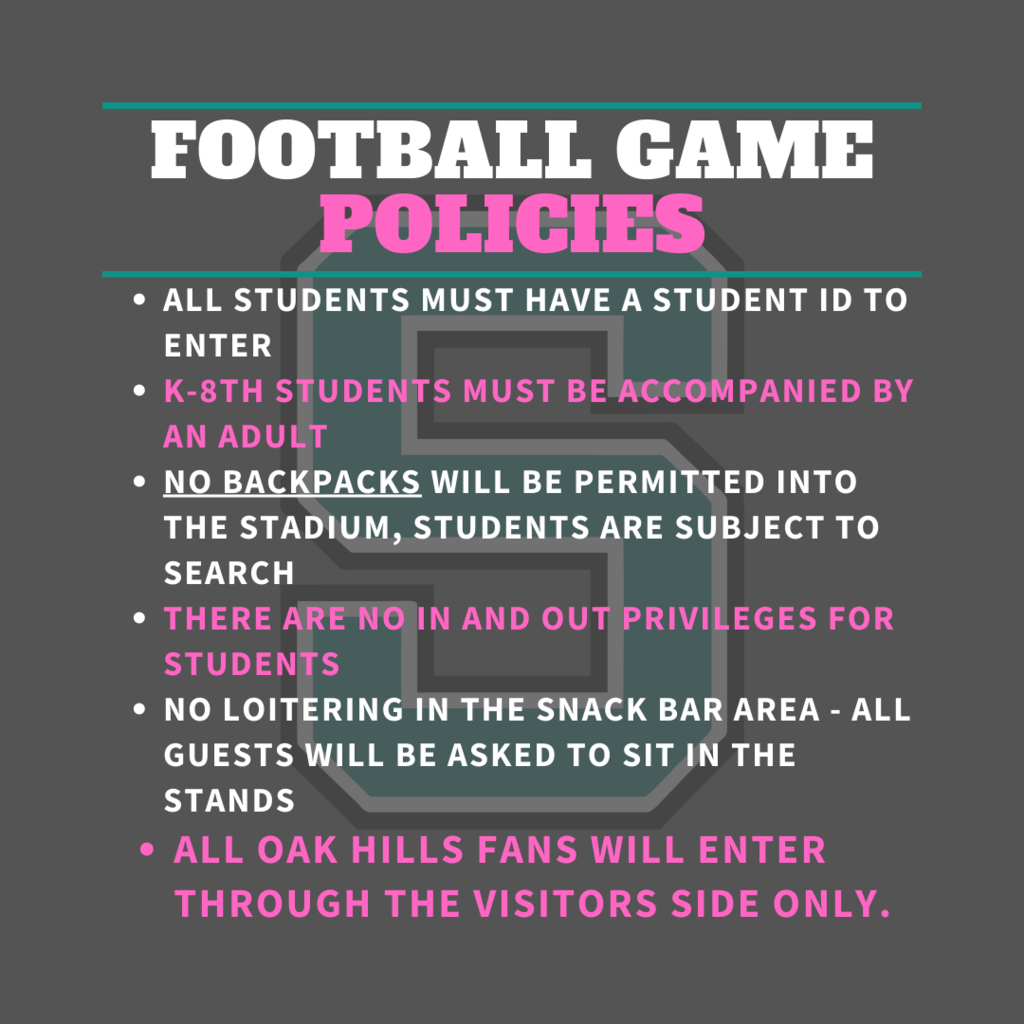 Tomorrow is SENIOR NIGHT! We will take on the Oak Hills Bulldogs for an MRL Title! Planning to come? Make sure you are decked out in PINK! It's going to be a BUSY night, save time and buy your tickets online! Visit gofan.co and search Sultana High School. Senior Night celebrations will start at 6:15pm! See you there! ¡Mañana es NOCHE DE SENIOR! ¡Nos enfrentaremos a los Bulldogs de Oak Hills por un título de MRL! ¿Estás planeando venir? ¡Asegúrate de estar vestido de ROSA! ¡Va a ser una noche MUY MUY MUY MUY MUY MUY AGRADABLE, ahorre tiempo y compre sus boletos en línea! Visita gofan.co y busca Sultana High School. ¡Las celebraciones de la Noche para personas mayores comenzarán a las 6:15 p. m.! ¡Te veo allí!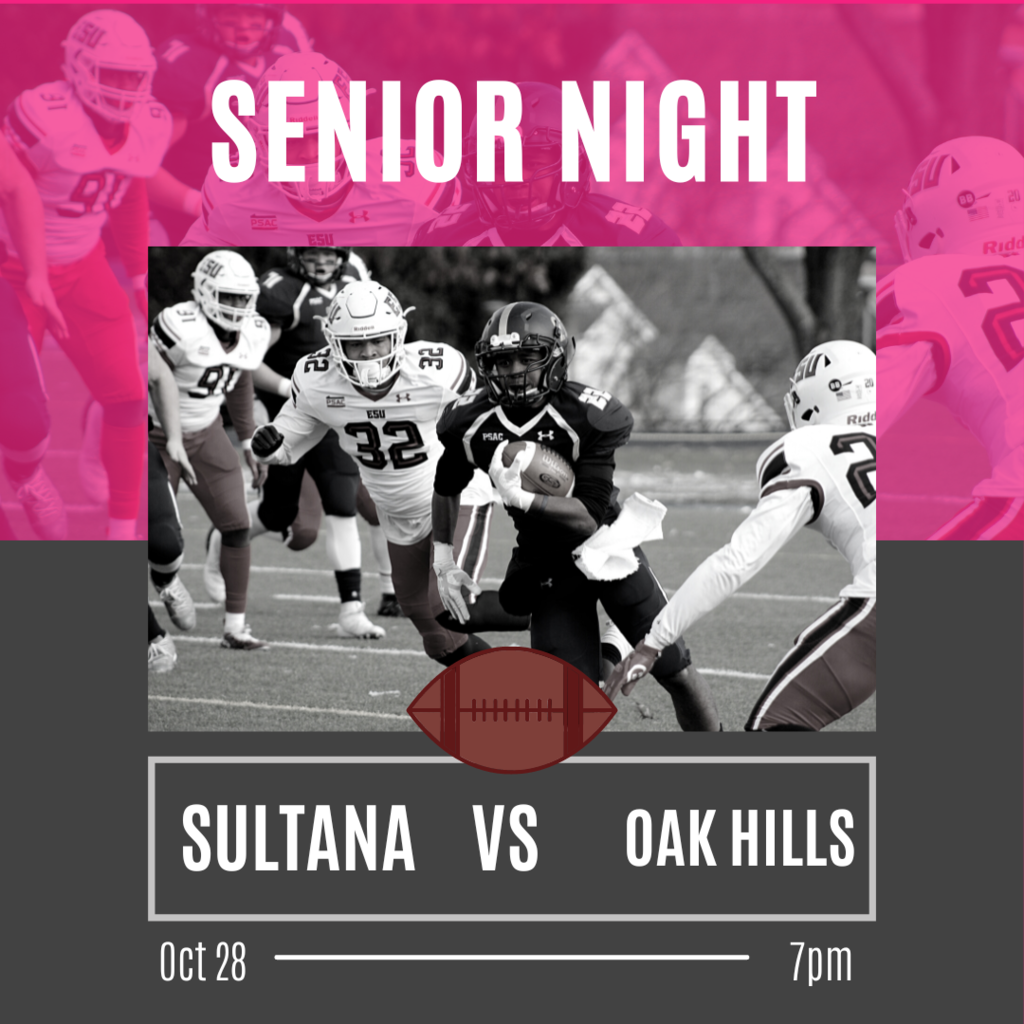 Our Financial Aid and College Expo this Saturday is going to have something for everyone. We will have financial aid support with Counselors and staff on site to help students complete their application, Colleges/Universities for students and their families to explore, music, face painting, photo booth, giveaways, candy, food and so much more!!! Join us for this fun Fall event! Nuestra Exposición de Ayuda Financiera y Universidad este sábado tendrá algo para todos. Tendremos apoyo de ayuda financiera con consejeros y personal en el sitio para ayudar a los estudiantes a completar su solicitud, colegios/universidades para que los estudiantes y sus familias exploren, música, pintura de caras, fotomatón, obsequios, dulces, comida y ¡mucho más! ¡Únase a nosotros para este divertido evento de otoño!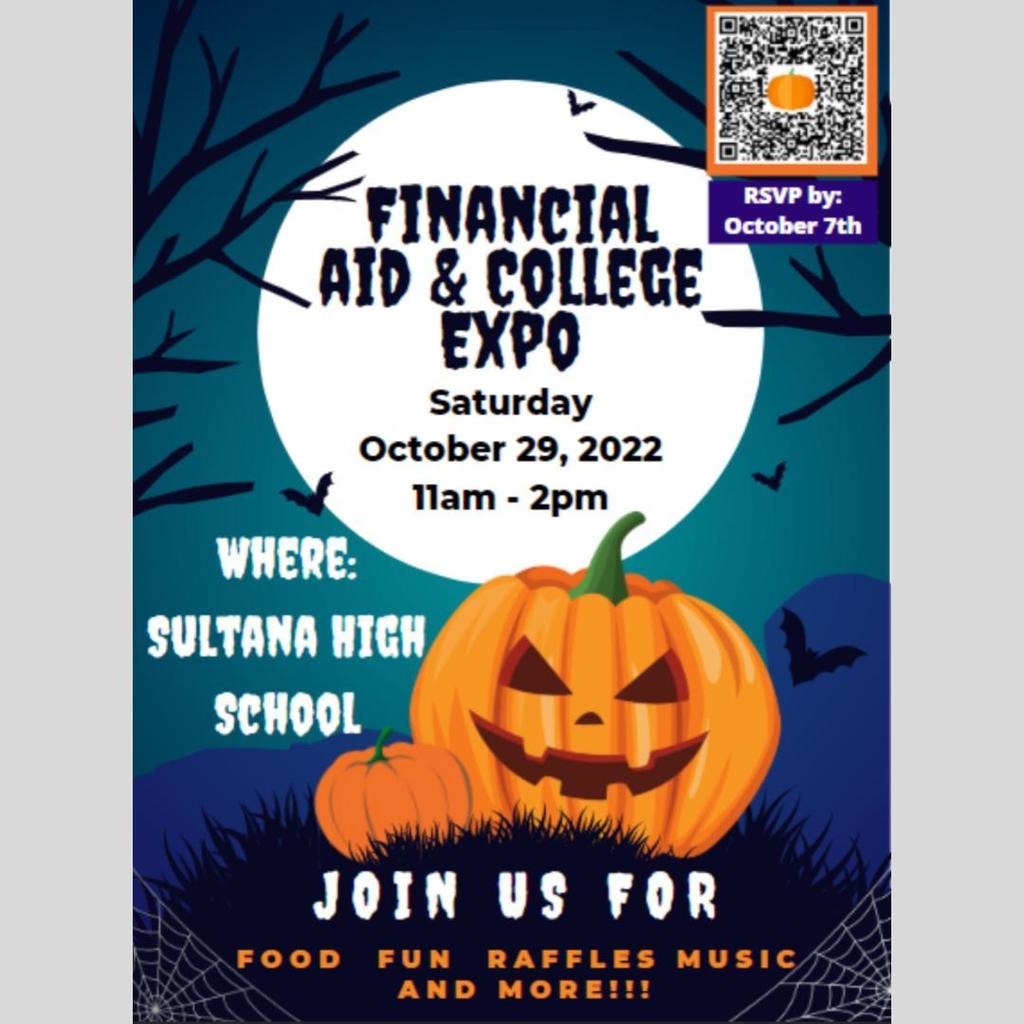 Attention Sultans! Planning to wear your Halloween Costume to school on Monday, 10/31? Check out these policies! 1. Must be school appropriate 2. No full face masks 3. no inflatable costumes will be allowed We look forward to celebrating with you! ¡Atención Sultanes! ¿Planeas usar tu disfraz de Halloween en la escuela el lunes 31/10? ¡Consulta estas políticas! 1. Debe ser apropiado para la escuela 2. Sin máscaras faciales completas 3. No se permitirán disfraces inflables. ¡Esperamos celebrarlo contigo!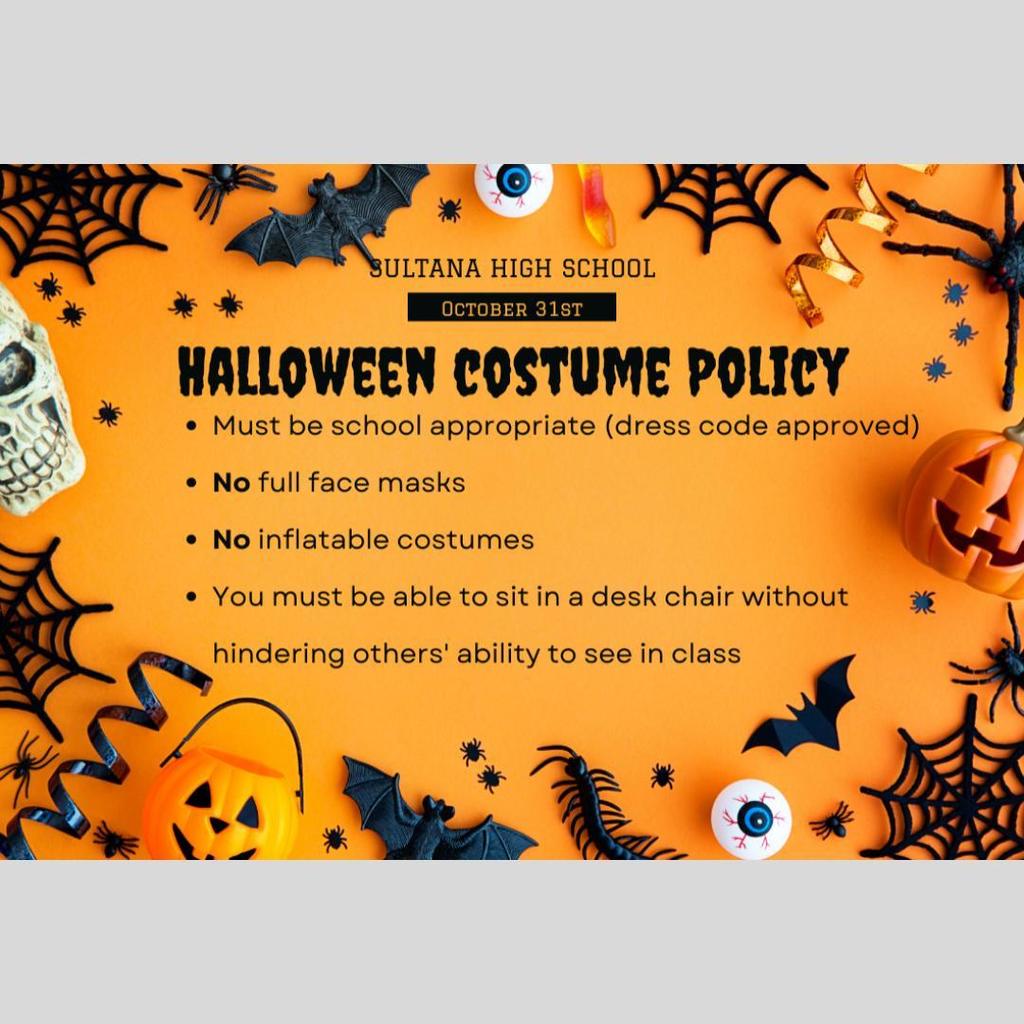 Reminder, our schoolwide Annual Career Day will be this Wednesday, October 26th. We are finalizing the schedules by tomorrow. If you have completed the survey, thank you. For those who have not completed the survey, there is still time. We will schedule all students with 3 presenters, so if you would like a choice, please complete this survey immediately. Scan the QR code or click this link to complete the survey. (You must complete from your school account)
https://docs.google.com/forms/d/e/1FAIpQLSc2acTsxktwgvcAf1flNo7vLYqCcyLgKn-8PvIKK1oTFoLkPQ/viewform?usp=pp_url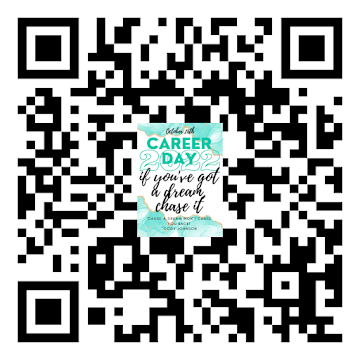 Help us get funding! Visit 
http://lunches.hesperiausd.org
  and click the orange "Titan" logo to complete an Income Survey. It can help fund field trips and more!

Brightly-colored fentanyl (referred to as rainbow fentanyl) has been identified as a new trend according to the United States (U.S.) Drug Enforcement Agency (DEA). Rainbow fentanyl can be found in many forms, including pills, powder, and blocks that can resemble sidewalk chalk or candy. Any pill (regardless of its color, shape, or size) that does not come from a health care provider or pharmacist can contain fentanyl and can be deadly. For more information you can visit the DEA website here:
https://www.dea.gov/press-releases/2022/08/30/dea-warns-brightly-colored-fentanyl-used-target-young-americans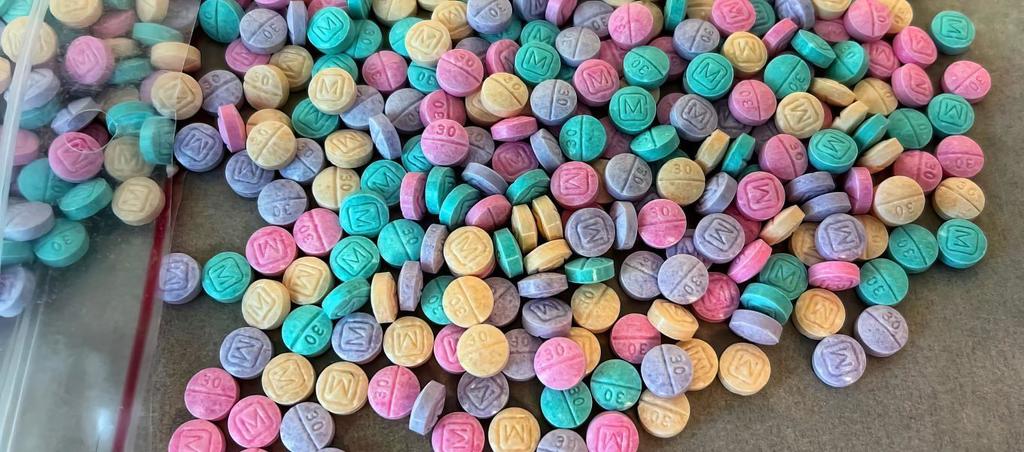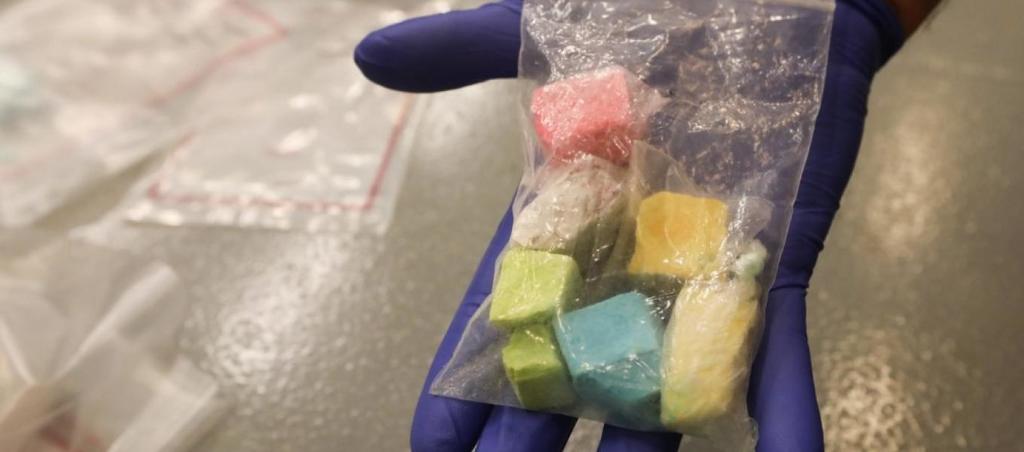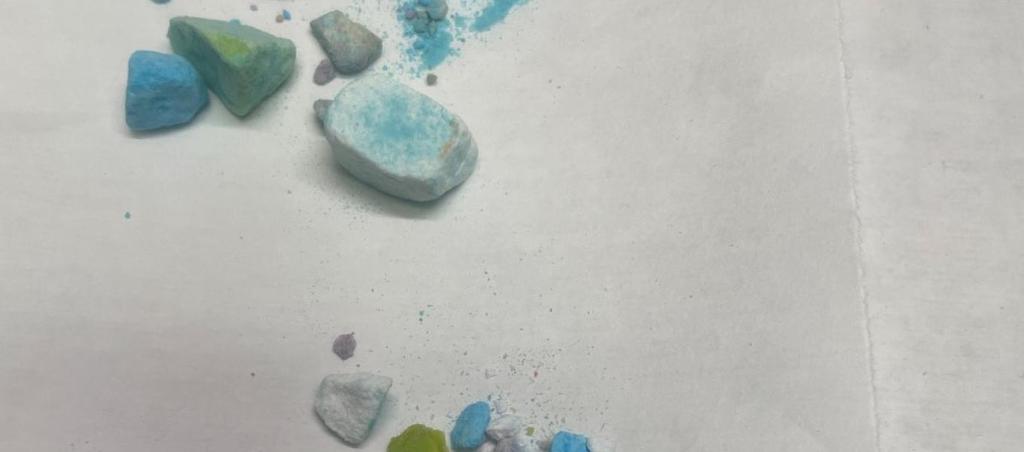 Cyber Watchdog! The IE's new, free-to-play cybersecurity mobile game that takes cybersecurity to a "hire" level. Literally. Do a good job in the game and you could get yourself a REALLY good job in real life. Download the app today for FREE on all of the app stores. #cyberwatchdog @SBC_Alliance #sbcss ¡Perro guardián cibernético! El nuevo juego móvil de seguridad cibernética gratuito de IE que lleva la seguridad cibernética a un nivel de "contratación". Literalmente. Haz un buen trabajo en el juego y podrías conseguir un MUY buen trabajo en la vida real. Descarga la aplicación hoy GRATIS en todas las tiendas de aplicaciones.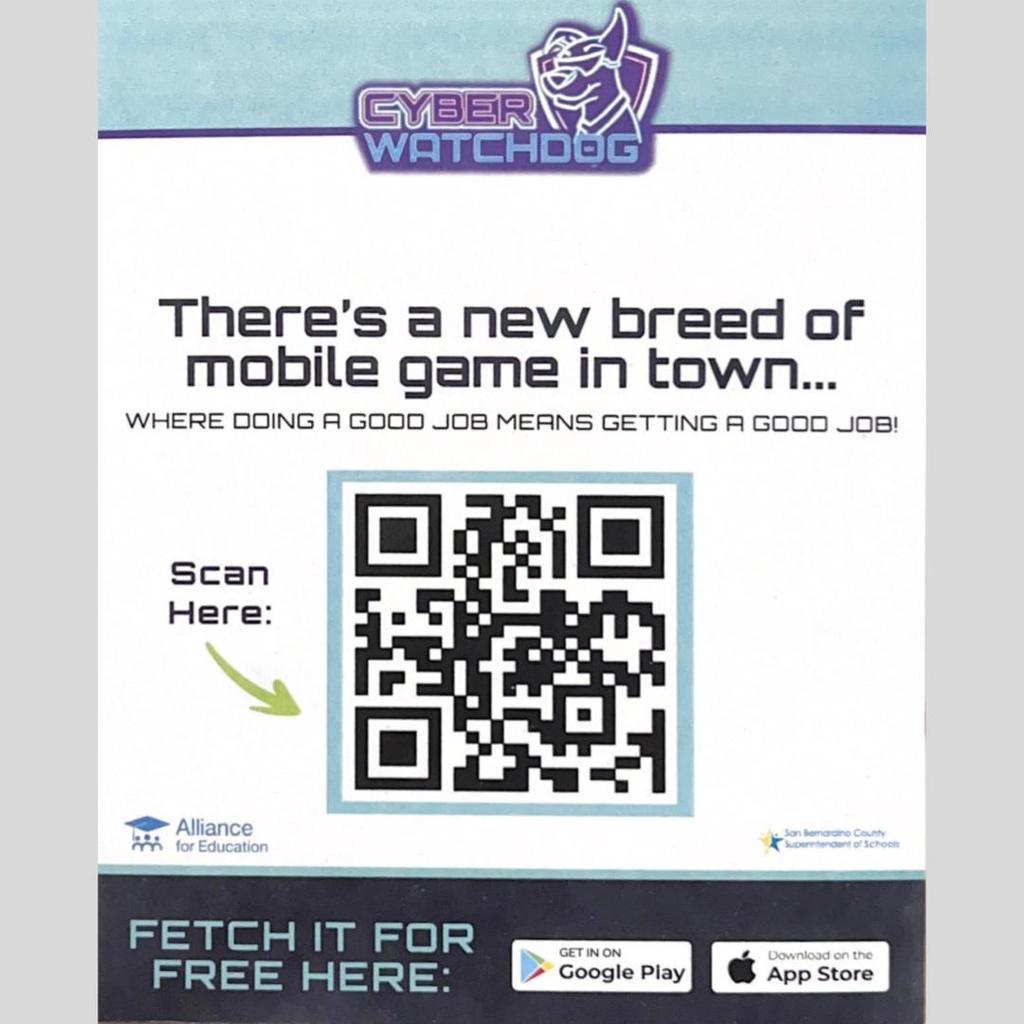 LA FECHA LÍMITE PARA RSVP ES EL 7 DE OCTUBRE. Expo de ayuda financiera y universidad el sábado 29 de octubre, de 11:00 a. m. a 2:00 p. m. Estudiantes de grado 12, completen su solicitud de ayuda financiera y exploren universidades, programas CTE y opciones postsecundarias! Juniors, Sophomores y Freshman - ¡Únase a nosotros para nuestra Expo Universitaria! ¡Explore las universidades, el programa CTE y la opción postsecundaria! 2 boletos de comida gratis serán entregados por estudiante de la Escuela Secundaria Sultana. El estudiante de Sultana High School debe estar presente para recibir boletos de comida. Complete la siguiente encuesta de Google para confirmar su asistencia a este evento... .
https://docs.google.com/forms/d/e/1FAIpQLSd0mEm0J7AT8WtaSbM7Kuz2uCrkF3lvoLrIrO_dEVtfG-OmRA/viewform?usp=pp_url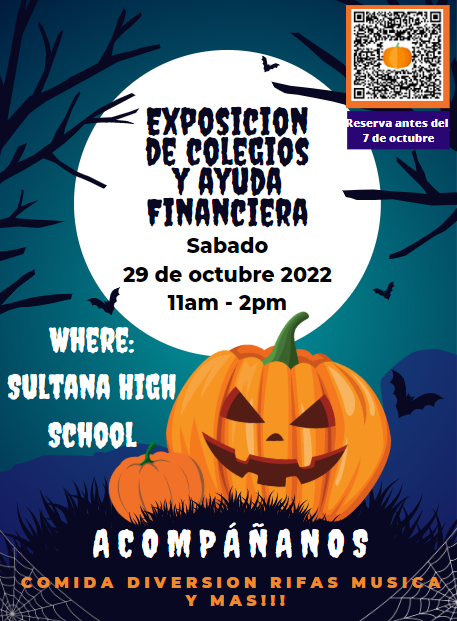 DEADLINE TO RSVP IS OCTOBER 7TH. Financial Aid and College Expo on Saturday, October 29th, from 11AM - 2PM. Seniors, complete your Financial Aid application and explore colleges, CTE programs and post-secondary options! Juniors, Sophomores, and Freshman - Join us for our College Expo! Explore colleges, CTE program, and post-secondary option! 2 free food tickets given per Sultana High School student. Sultana High School student must be present to receive food tickets. Please complete the following google survey to RSVP to this event...
https://docs.google.com/forms/d/e/1FAIpQLSd0mEm0J7AT8WtaSbM7Kuz2uCrkF3lvoLrIrO_dEVtfG-OmRA/viewform?usp=pp_url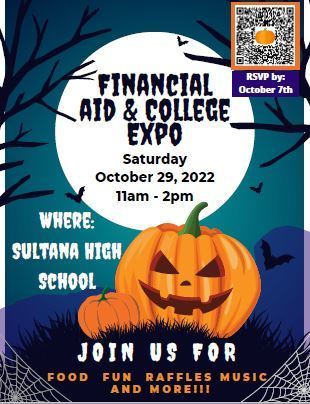 Yesterday, 20 incredible Sultans were selected by their teacher to receive the prestigious Sultan of the Quarter award! These students were hand selected based off of their attitude on campus, grades, kindness, and grit. Students and staff alike shared a catered lunch together in Sultan Pepper Cafe. Congratulations, Sultans! ¡Ayer, 20 increíbles Sultanes fueron seleccionados por su maestro para recibir el prestigioso premio Sultan of the Quarter! Estos estudiantes fueron seleccionados a mano en función de su actitud en el campus, calificaciones, amabilidad y determinación. Los estudiantes y el personal compartieron un almuerzo en Sultan Pepper Cafe. ¡Felicidades Sultanes!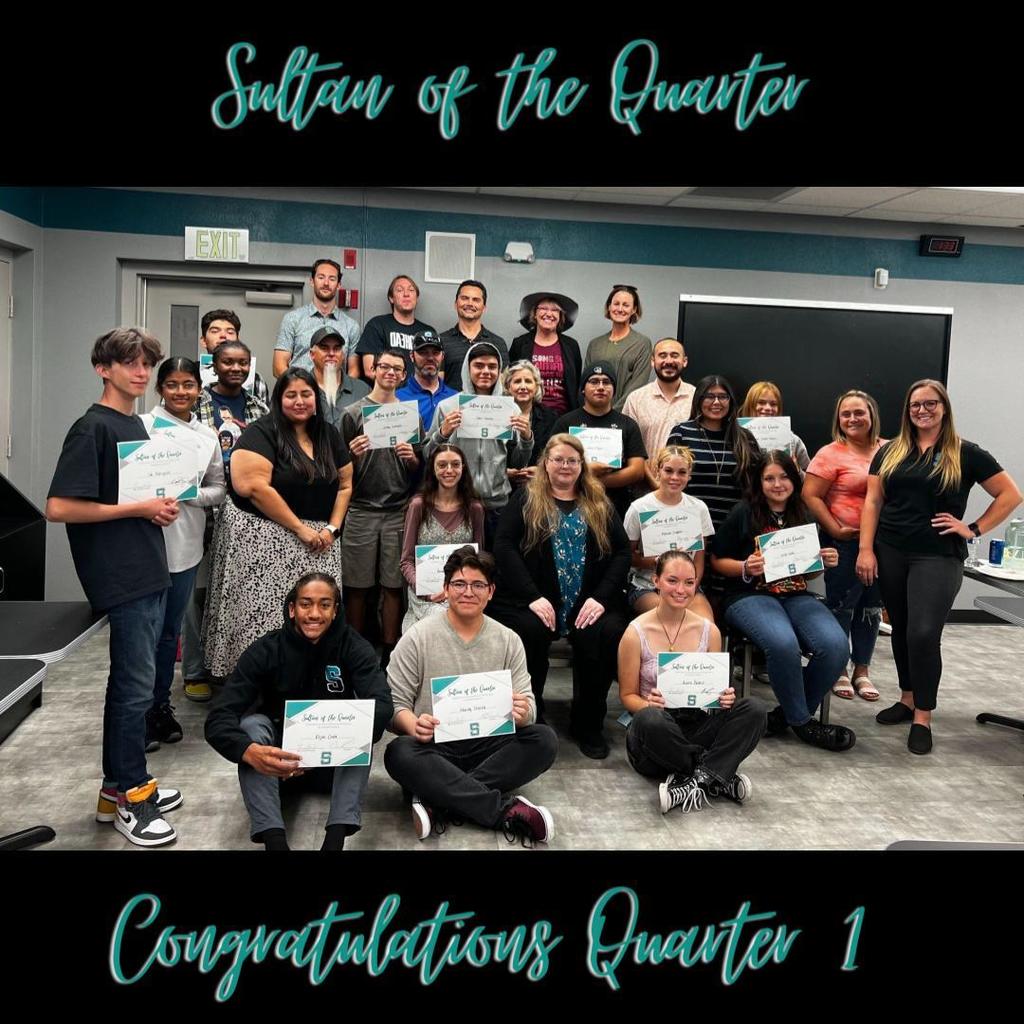 Hey Sultans! Friday right after school we will have a FREE tailgate! Come on by, get free hotdogs, make a poster, get your face painted, play games, and get KEY GAME READY!!! ¡Hola Sultanes! ¡El viernes justo después de la escuela tendremos un portón trasero GRATIS! ¡Ven, obtén perritos calientes gratis, haz un póster, pinta tu cara, juega y prepárate para el JUEGO CLAVE!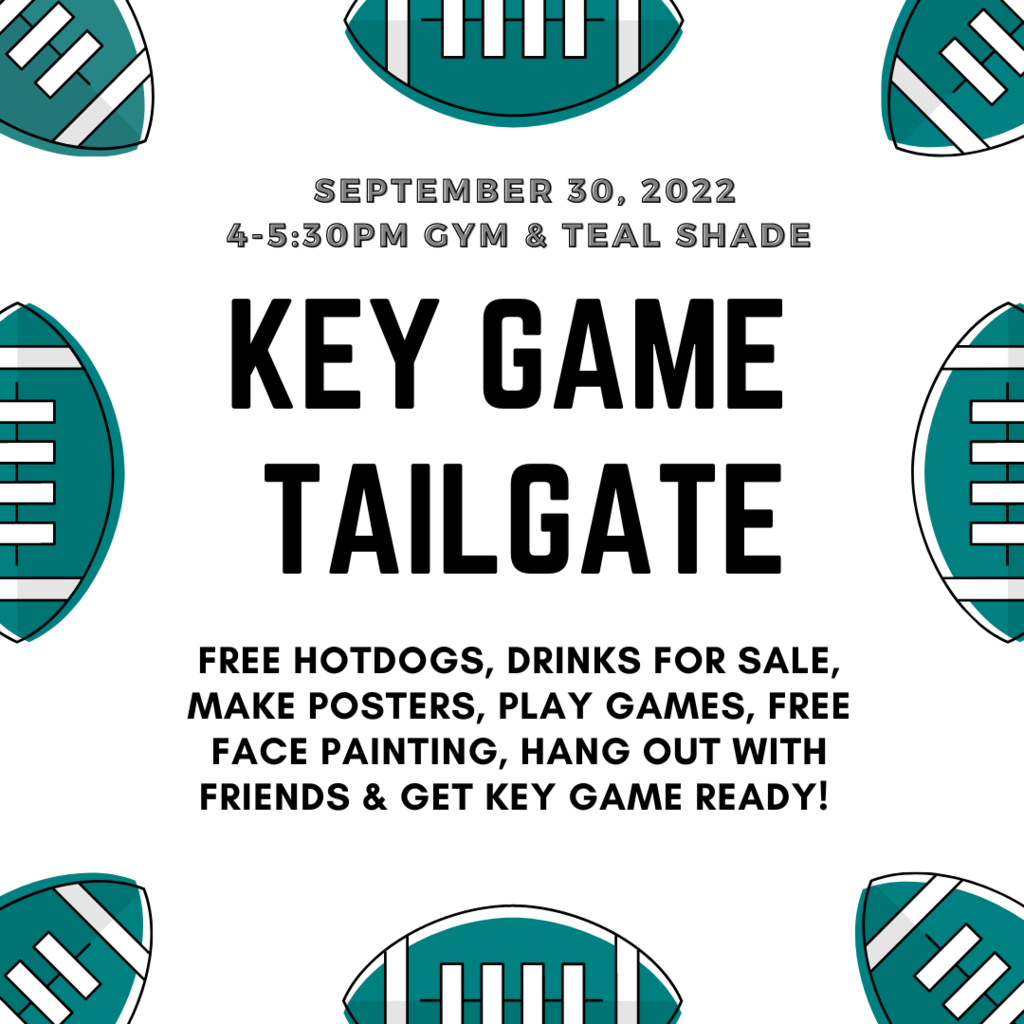 Tomorrow's spirit day is Baseball vs Football! Represent your favorite team! Join us at lunch in the GYM for staff vs students VOLLEYBALL!!! ¡El día del espíritu de mañana es Béisbol vs Fútbol! ¡Representa a tu equipo favorito! Únase a nosotros en el almuerzo en el GIMNASIO para personal vs estudiantes VOLEIBOL!!!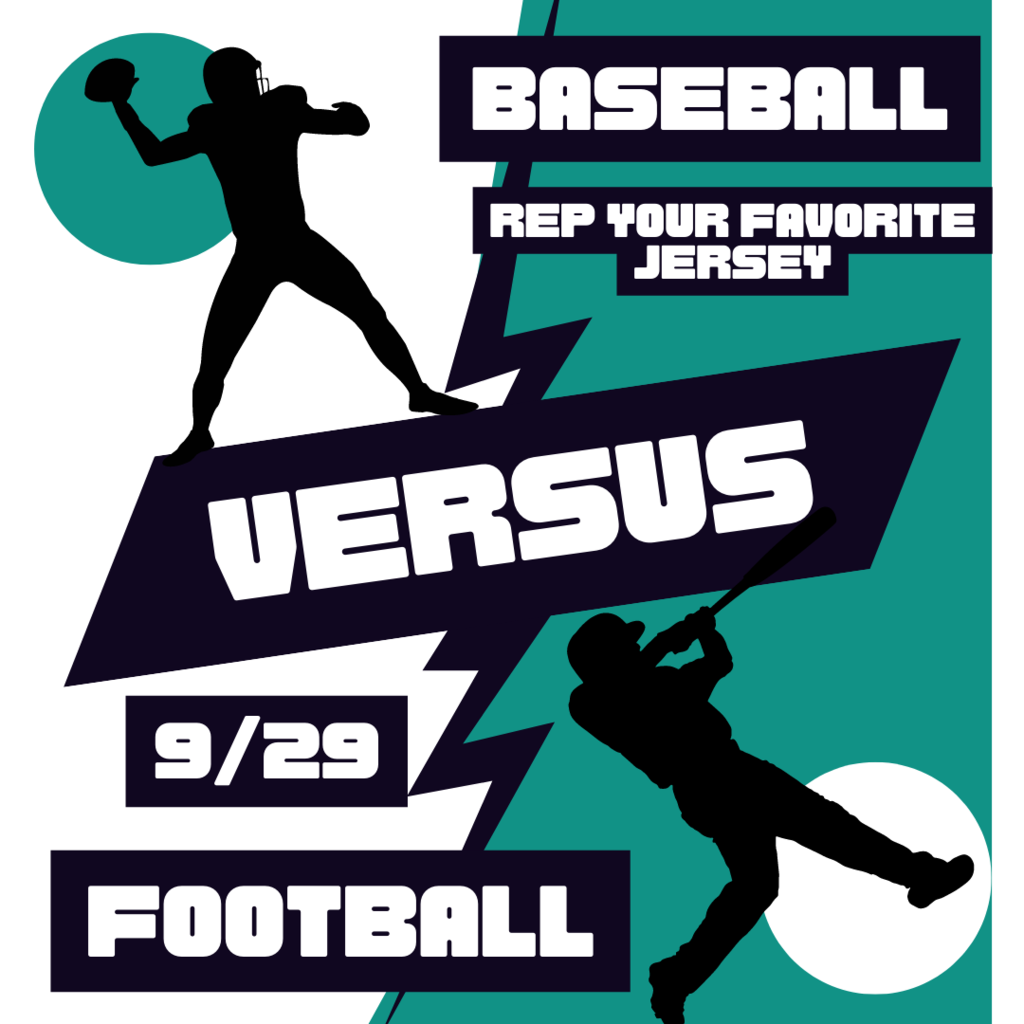 Tomorrow's spirit day is Class Colors! Show your spirit! Seniors: Pink, Juniors: Black, Sophomores: White, Freshmen: Blue! Join us Thursday at lunch in the GYM for staff vs students VOLLEYBALL!!! ¡El día del espíritu de mañana es Class Colors! ¡Muestra tu espíritu! Seniors: Pink, Juniors: Black, Sophomores: White, Freshmen: ¡Azul! Únase a nosotros el jueves en el almuerzo en el GIMNASIO para el VOLEIBOL de personal vs estudiantes!!!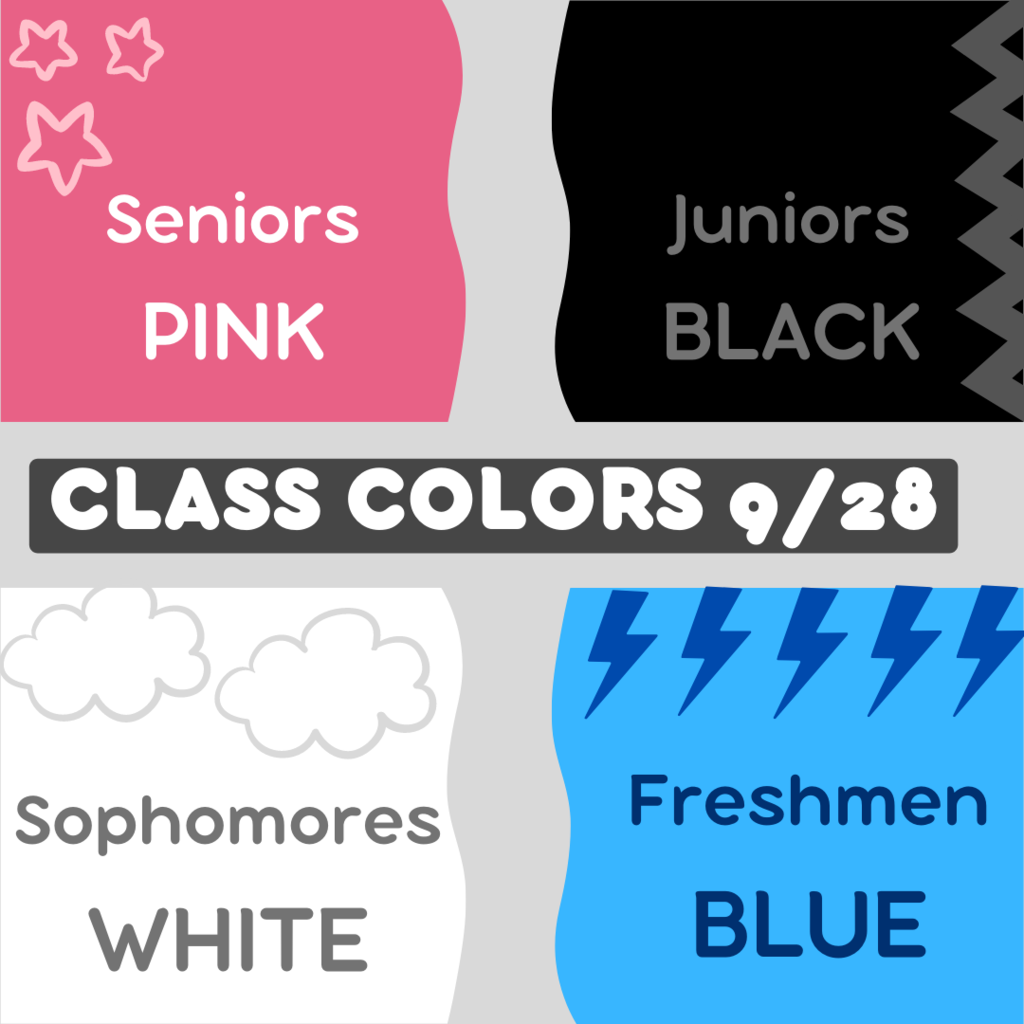 Sultans! Planning to go to the Key Game but have no transportation? No problem! We've got you covered! Head on over to Mr. Sotelo in G712 for more information & the permission slip. *The bus ride is free, but you will still need to pay to get into the game: $5 with activities and $10 without! Sultanes! ¿Planeas ir al Juego Clave pero no tienes transporte? ¡No hay problema! ¡Te tenemos cubierto! Diríjase al Sr. Sotelo en G712 para obtener más información y la hoja de permiso. *El viaje en autobús es gratis, pero igual tendrás que pagar para entrar al juego: ¡$5 con actividades y $10 sin ellas!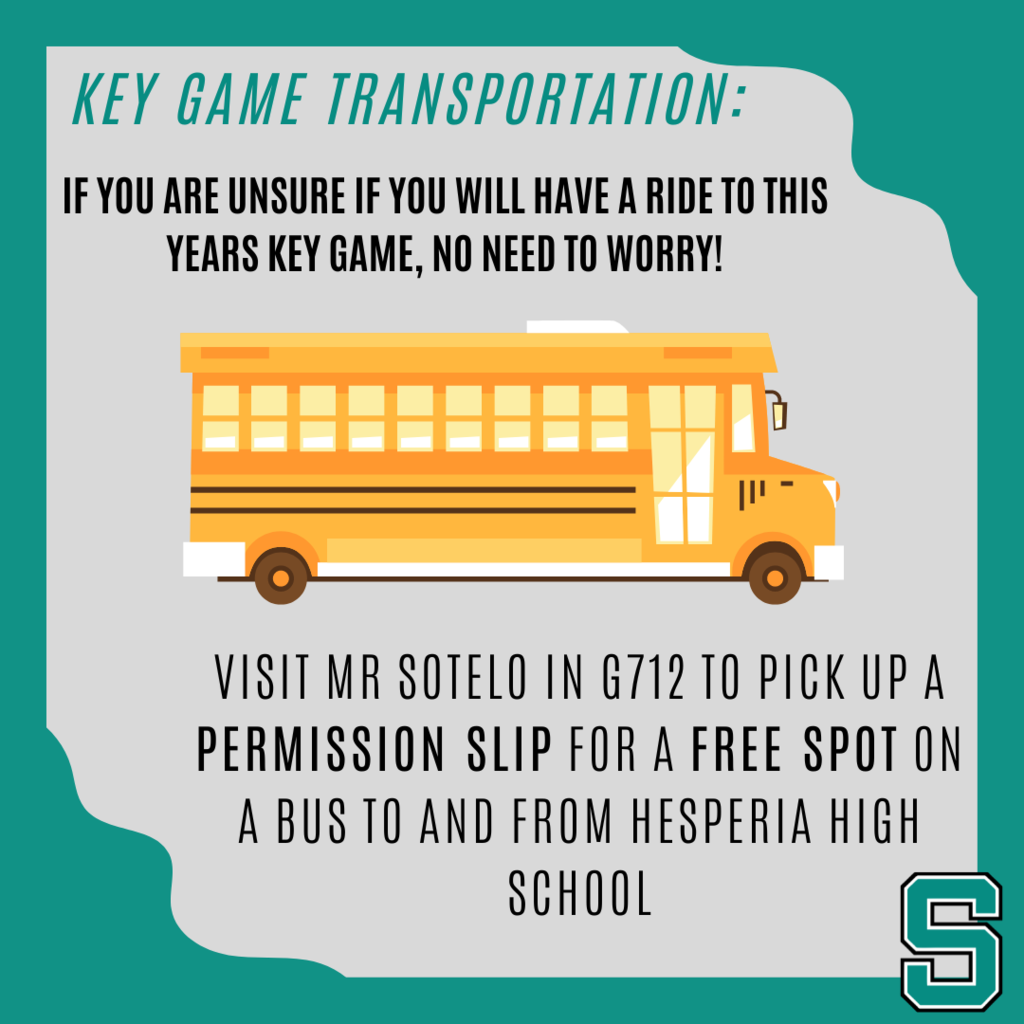 Sultans, on October 5th you will a part of our Application Day where you will get support completing your VVC and any other college applications. Haven't started yet? We're here to help and look forward to seeing you. Sultanes, el 5 de octubre formarán parte de nuestro Día de solicitud en el que recibirán apoyo para completar su VVC y cualquier otra solicitud universitaria. ¿Aún no has empezado? Estamos aquí para ayudar y esperamos verte.