Hello SHS Families here is the new monthly newsletter to keep you updated on what is going on throughout the month. Don't forget to look at our new Sultan's News website to stay informed.
http://bitly.ws/zEIe
Hola familias de SHS, aquí está el nuevo boletín mensual para mantenerlos actualizados sobre lo que sucede durante todo el mes. No olvide visitar nuestro nuevo sitio web Sultan's News para mantenerse informado.
http://bitly.ws/zEIe

Sultans! You all have done a great job at capturing a snowy day here on campus! Tomorrow, Thursday 2/2, we travel back in time for 80s day! Dress up in your favorite attire from the decade. Swipe to see an example! Sultanes! ¡Todos ustedes han hecho un gran trabajo al capturar un día de nieve aquí en el campus! ¡Mañana, jueves 2/2, viajamos en el tiempo para el día de los 80! Vístete con tu atuendo favorito de la década. ¡Desliza para ver un ejemplo!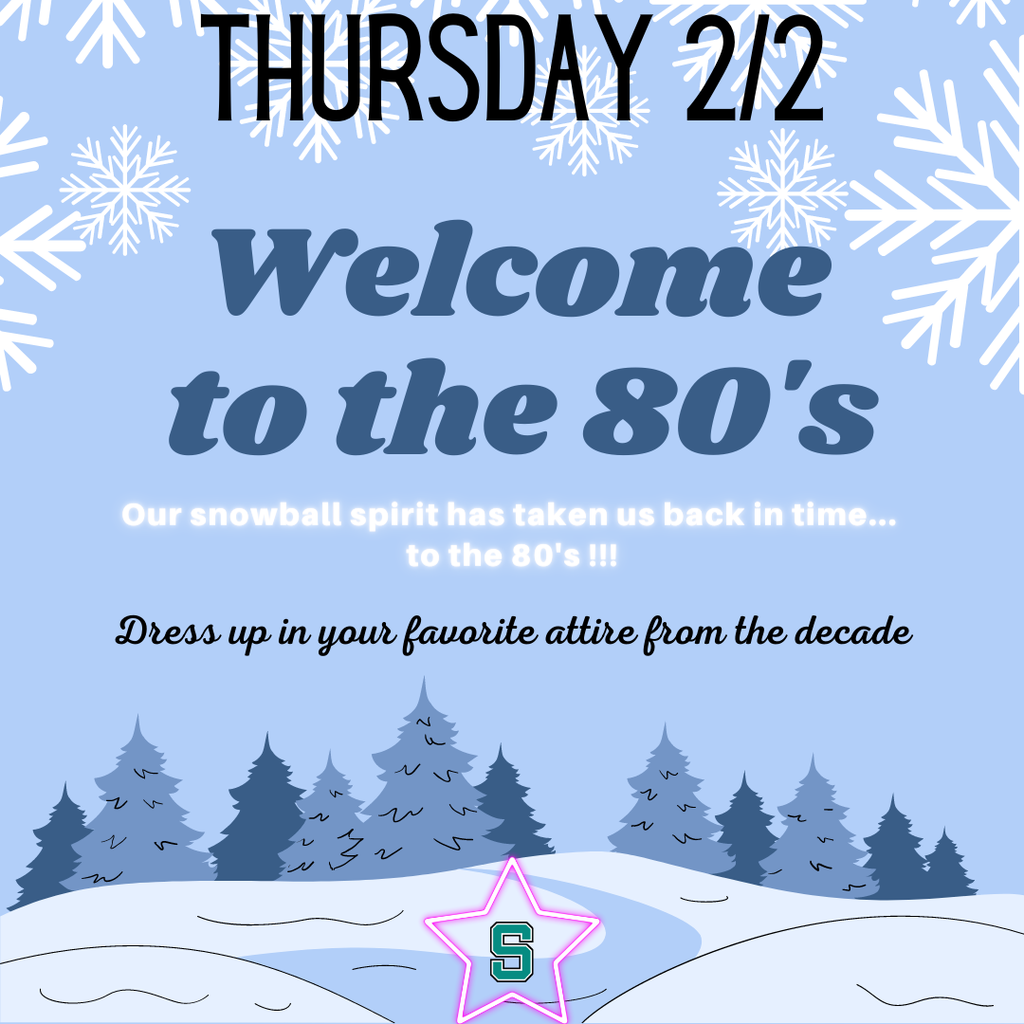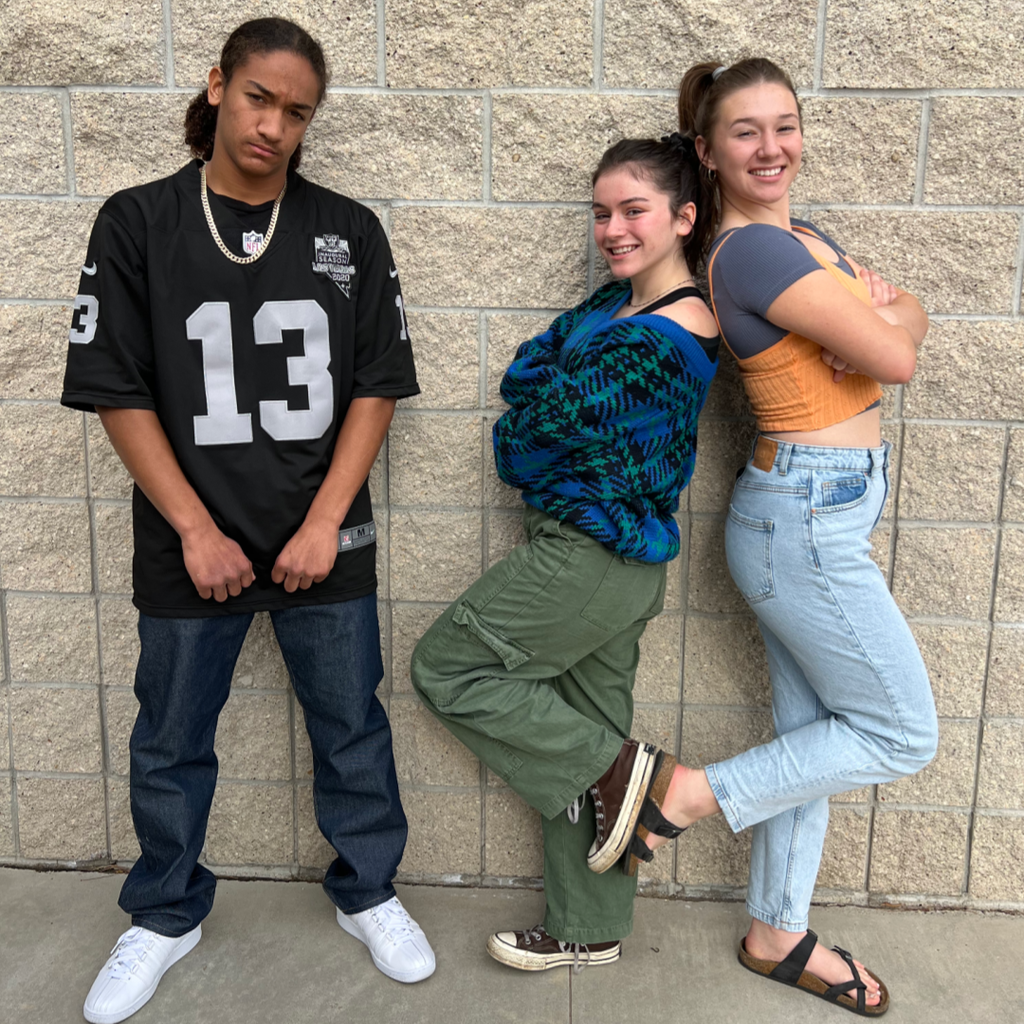 Sultans! These are the picture packages for our 2023 Snow Ball Dance. Pictures will be taken in the choir room. Listen for the announcement during the dance to know when they start! Sultanes! Estos son los paquetes de imágenes para nuestro baile de bolas de nieve 2023. Las fotografías se tomarán en la sala del coro. ¡Escucha el anuncio durante el baile para saber cuándo comienzan!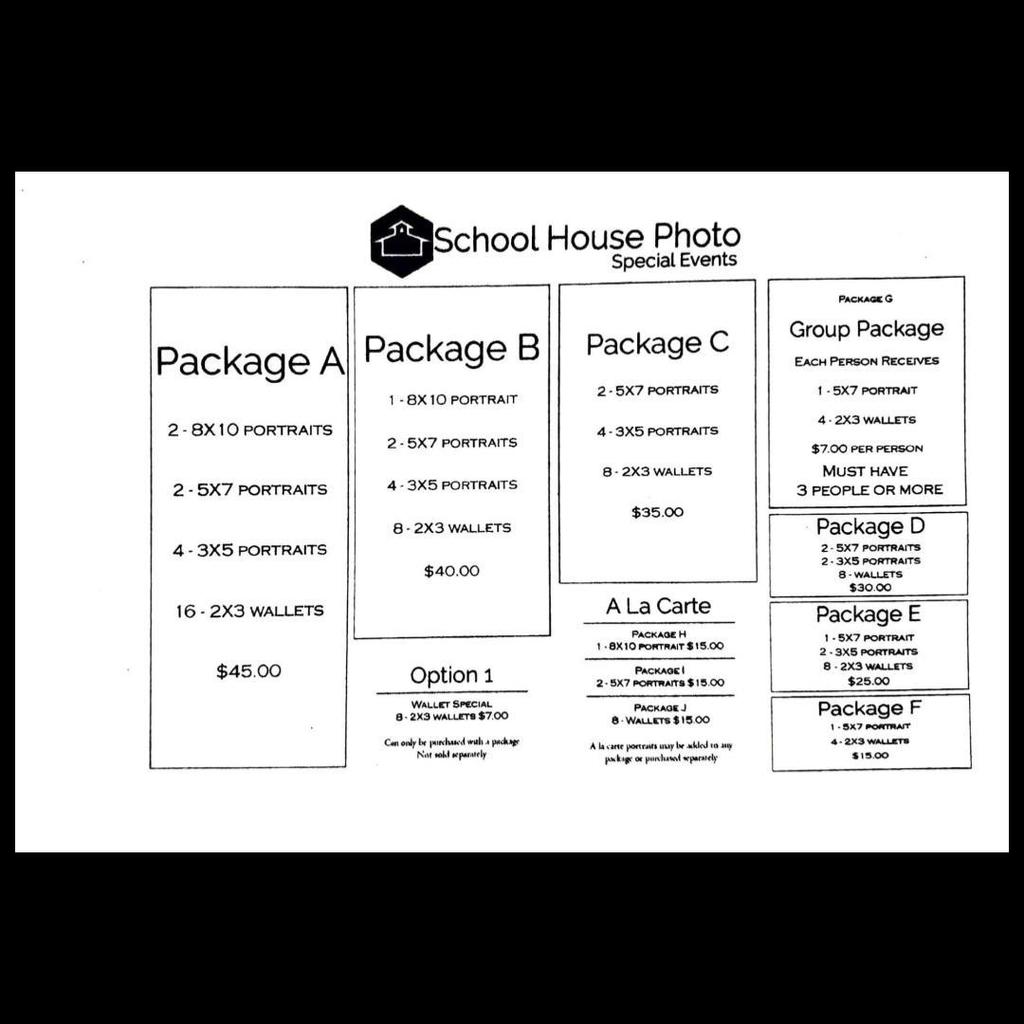 Familias de SHS. Mire nuestra póliza actualizada de participación familiar, parte de nuestro compromiso con nuestra increíble comunidad.
http://bitly.ws/zCen
SHS Families. Please take a look at our updated family engagement policy, part of our commitment to our amazing community.
http://bitly.ws/zCen

Sultans tomorrow we are at our halfway point of snowball spirit week and one day closer to our Snowball Dance! Wednesday 2/1 is snow day, Come to school dressed in your favorite pajamas or comfy attire! Swipe to see an example! Sultanes mañana estamos en nuestro punto medio de la semana del espíritu de bola de nieve y un día más cerca de nuestro baile de bolas de nieve! El miércoles 2/1 es día de nieve. ¡Ven a la escuela vestido con tu pijama favorito o ropa cómoda! ¡Desliza para ver un ejemplo!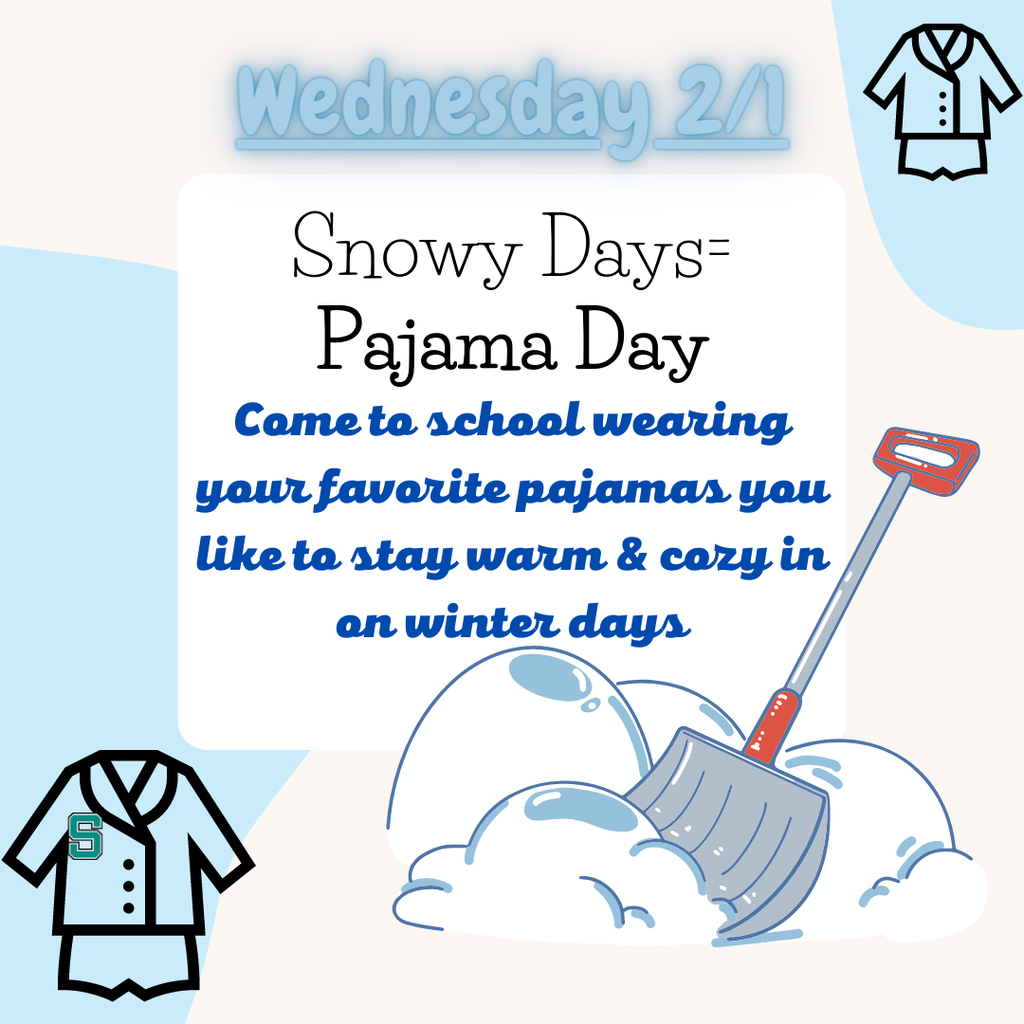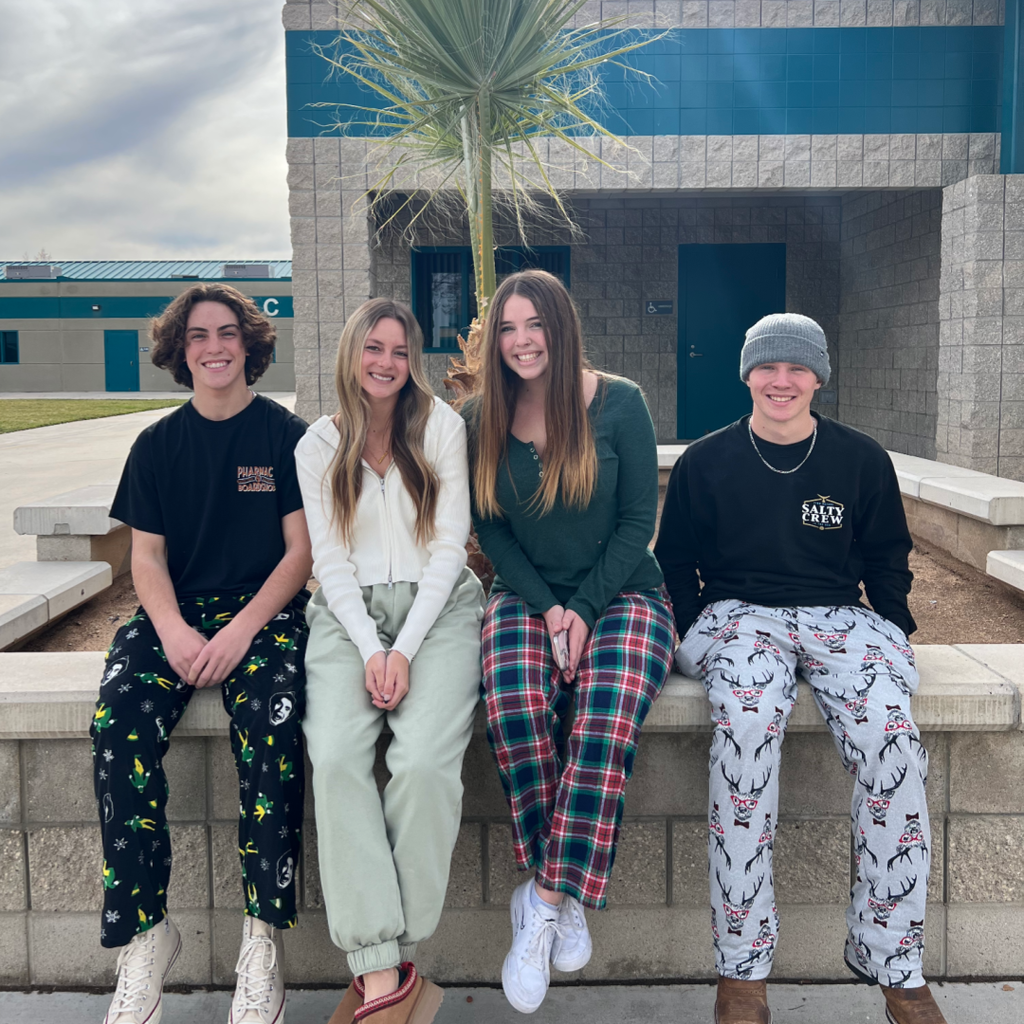 Sultans! It has been great to see so many twins on campus today! Tomorrow, Tuesday 1/31, is our second day into our snowball spirit week. Tuesday is the nerds and the jocks, come to school dressed as part of the dynamic duo! Swipe to see an example! Sultanes! ¡Ha sido genial ver a tantos gemelos en el campus hoy! Mañana, martes 31/1, es nuestro segundo día en nuestra semana de espíritu de bola de nieve. El martes son los nerds y los deportistas, ¡ven a la escuela vestidos como parte del dúo dinámico! ¡Desliza para ver un ejemplo!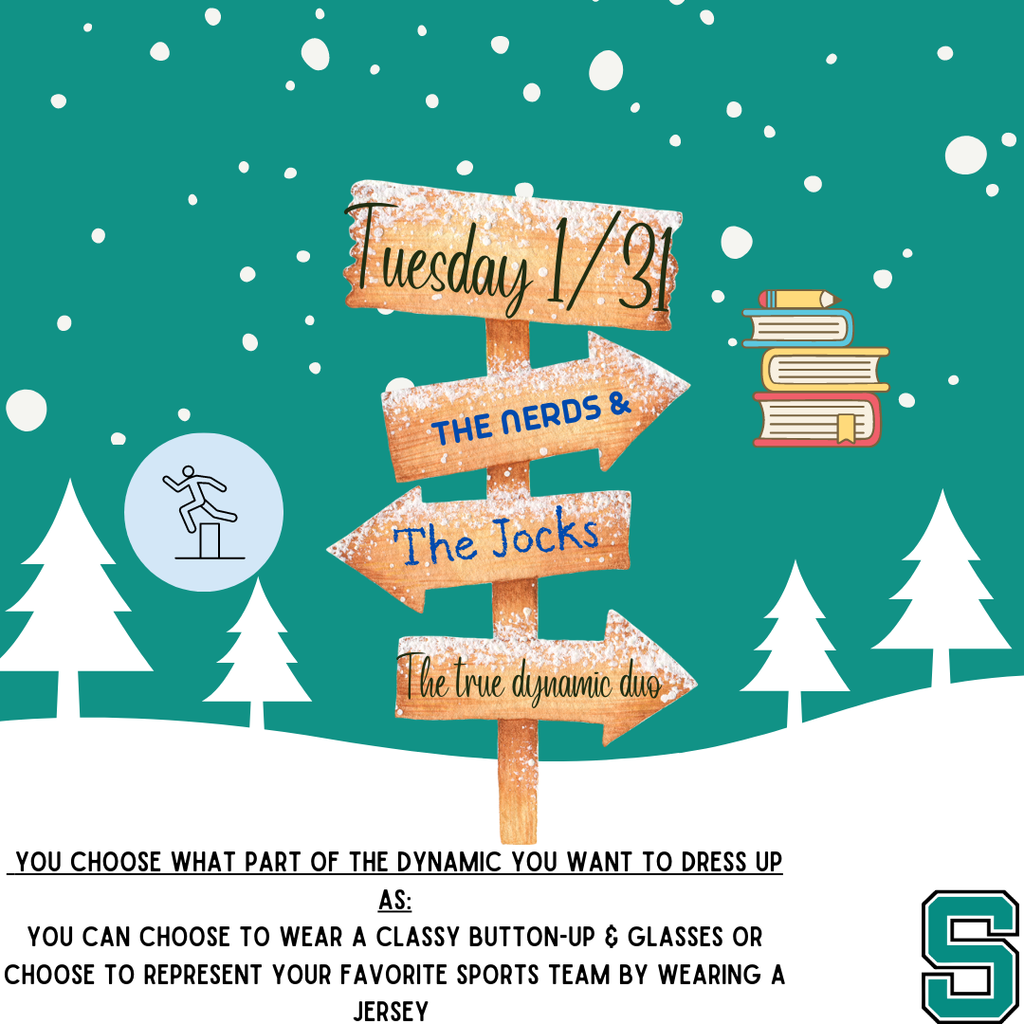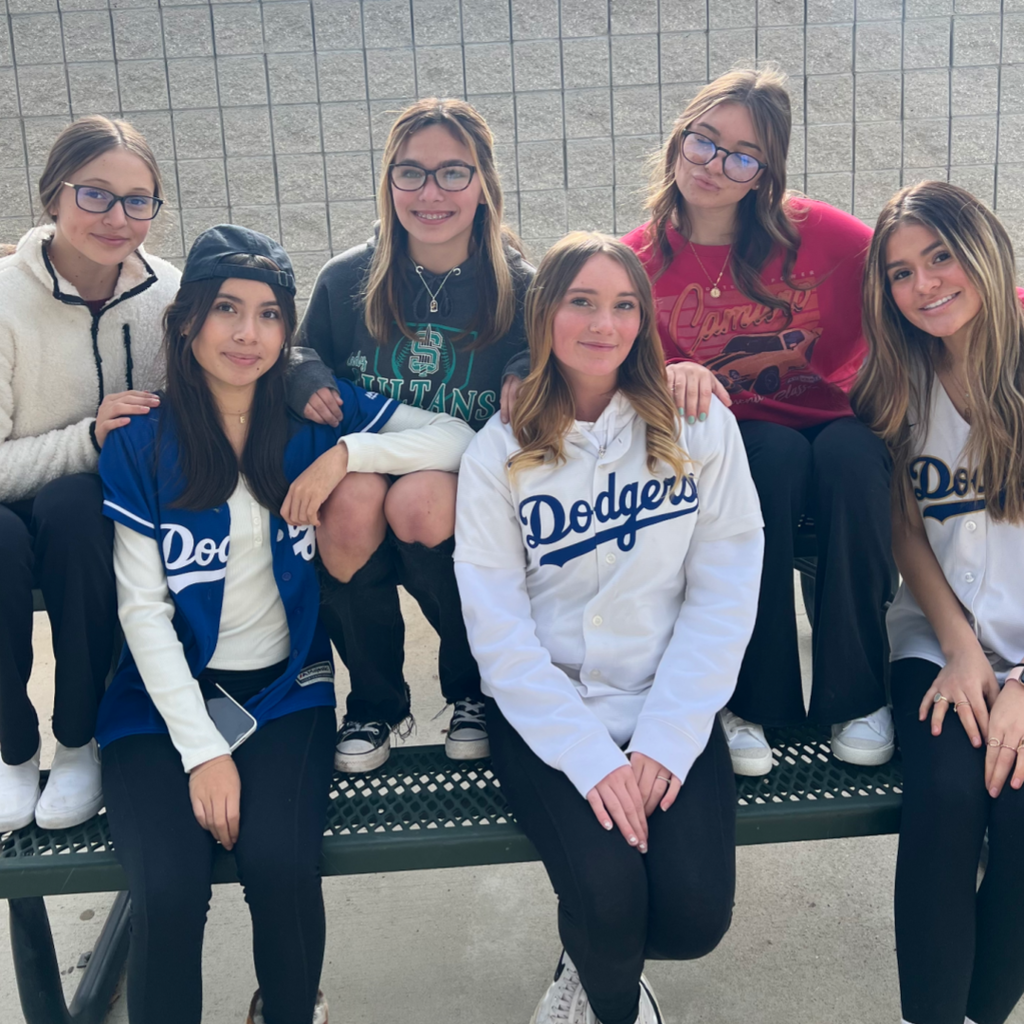 Hello Sultans! Tomorrow is our first day to our snowball spirit week! Monday 1/30 is twin day, dress with a friend in matching attire! Swipe to see an example! ¡Hola Sultanes! ¡Mañana es nuestro primer día de nuestra semana de espíritu de bola de nieve! El lunes 30 de enero es el día de los gemelos, ¡vístete con un amigo a juego! ¡Desliza para ver un ejemplo!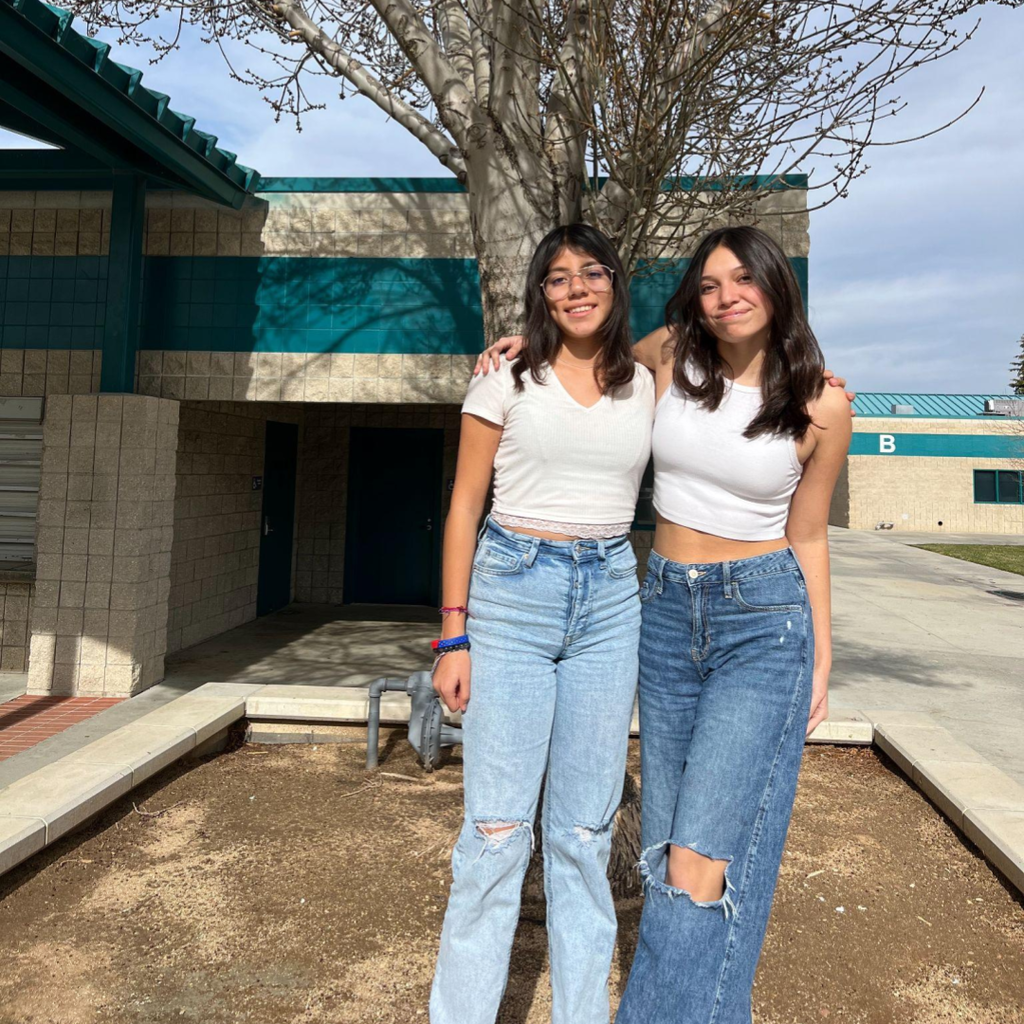 Along with having a fun filled spirit week we will also be having a Snowball Pep Rally! Come and join us on Friday 2/3 during lunch for the reveal of this year's Winter Formal Court Nominations and fun games! ¡Además de tener una semana de espíritu llena de diversión, también tendremos un Snowball Pep Rally! ¡Venga y únase a nosotros el viernes 2/3 durante el almuerzo para la revelación de las nominaciones a la corte formal de invierno de este año y juegos divertidos!

SULTANS! Next week 1/30-2/3 help us celebrate and prepare for our upcoming 2023 Winter Formal Snowball Dance by dressing up all this week for spirit week! Here are the following days and more example pictures will follow though the week, we can't wait to see everyone dressed up! ¡SULTANES! ¡La próxima semana, del 30 de enero al 3 de febrero, ayúdenos a celebrar y prepararnos para nuestro próximo baile formal de bolas de nieve de invierno de 2023 vistiéndonos toda esta semana para la semana del espíritu! Aquí están los siguientes días y más fotos de ejemplo seguirán a lo largo de la semana, ¡estamos ansiosos por ver a todos disfrazados!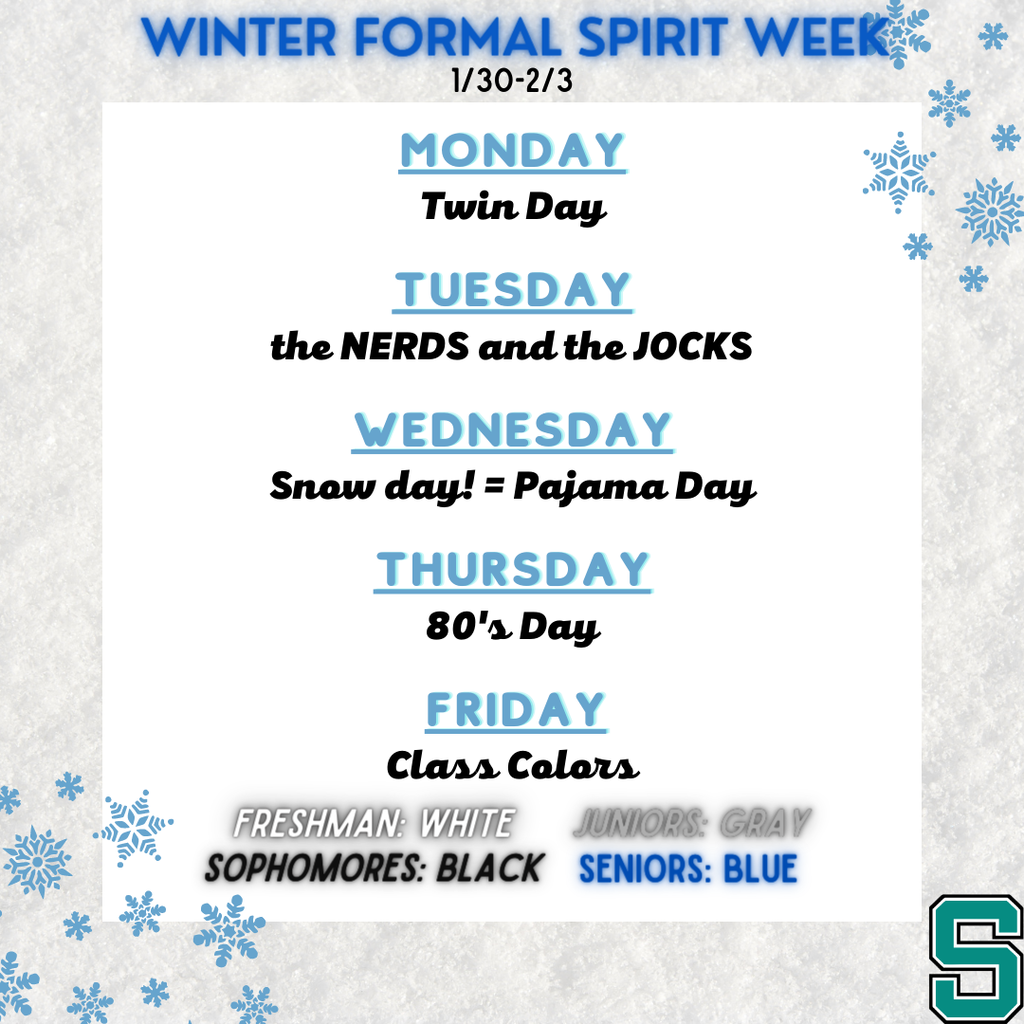 Ready for Winter formal?! Submit your song request NOW! Check out your activities google classroom. Submit as many as you'd like. And don't forget to get your tickets! Guest tickets must be purchased by Wednesday, February 1. #thesnowball2023 Listo para el invierno formal?! ¡Envíe su solicitud de canción AHORA! Consulta tus actividades en el aula de Google. Envía tantos como quieras. ¡Y no te olvides de conseguir tus entradas! Los boletos para invitados deben comprarse antes del miércoles 1 de febrero.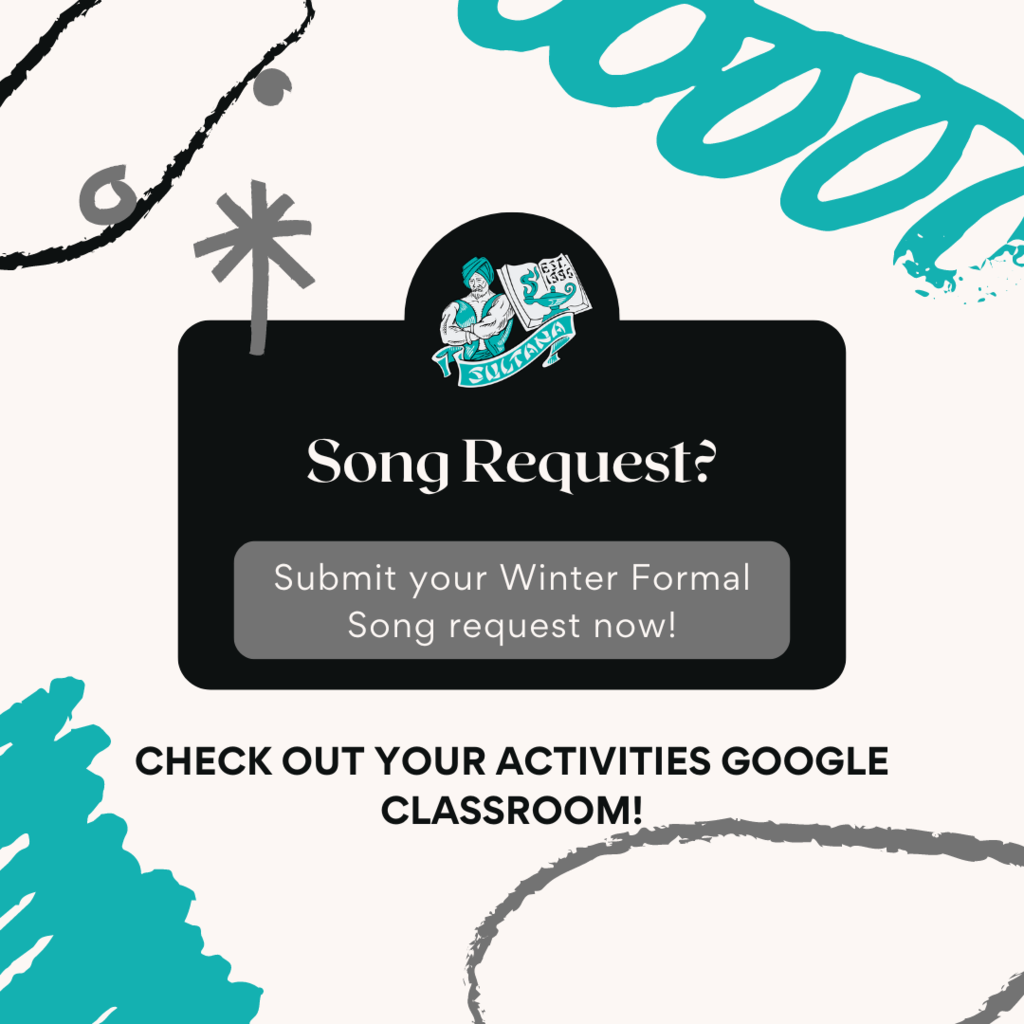 Ready to cast your vote for WInter Formal Court? Check out your activities google classroom now! Voting closes Monday morning. #thesnowball2023 #soarteal #wearesultana ¿Listo para emitir su voto por el Tribunal Formal de Invierno? ¡Mira tus actividades en Google Classroom ahora! La votación cierra el lunes por la mañana.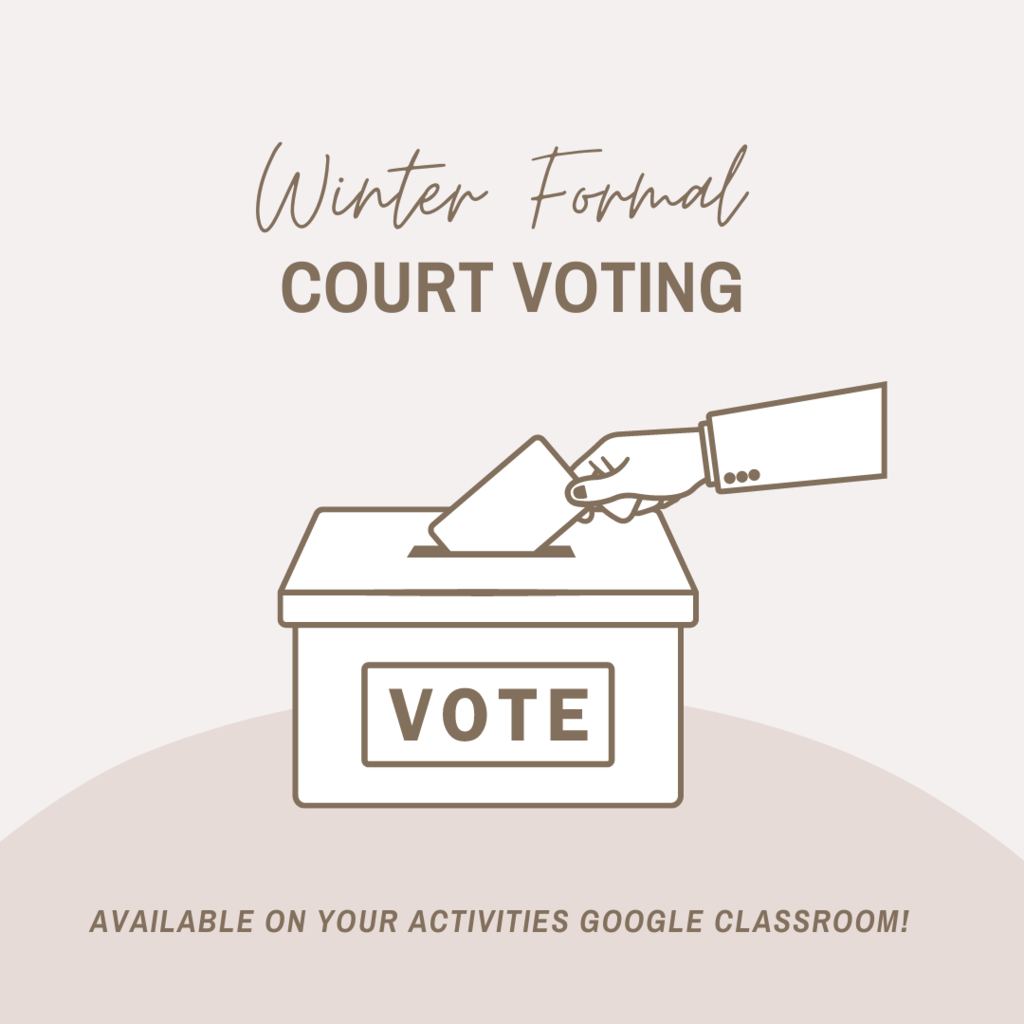 SULTANS! Kick the Winter Formal week off right! Come out next Wednesday evening and determine who's behind the mask! Multiple staff members and administration have signed up to perform a song. It's YOUR job to see "Who's Behind That Mask?!" #wearesultana #soarteal ¡SULTANES! ¡Comienza bien la semana formal de invierno! ¡Sal el próximo miércoles por la noche y determina quién está detrás de la máscara! Múltiples miembros del personal y la administración se han inscrito para interpretar una canción. Es TU trabajo ver "¿Quién está detrás de esa máscara?" #wearesultana #soarteal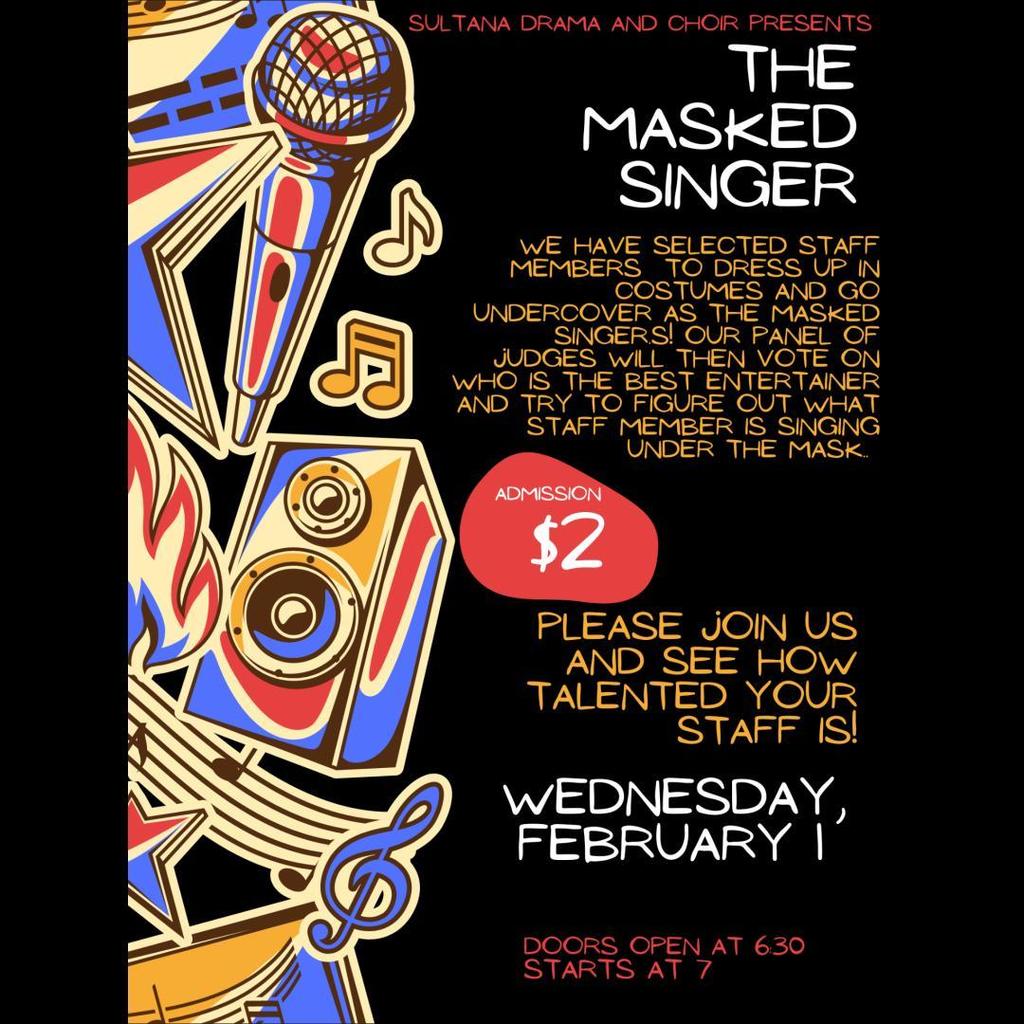 Join us for our next AAPAC meeting on February 23rd from 4-6pm in the Annex and the district office. The focus of the event is: "Striving for Black Excellence in Academics". Parents will have the opportunity to hear directly from HUSD Admin and our HS Head Counselors this evening regarding various important programs. #wearesultana #impactthe futureHUSD Únase a nosotros para nuestra próxima reunión de AAPAC el 23 de febrero de 4 a 6 p. m. en el anexo y la oficina del distrito. El enfoque del evento es: "Esforzarse por la excelencia negra en lo académico". Los padres tendrán la oportunidad de escuchar directamente del administrador de HUSD y de nuestros consejeros principales de HS esta noche con respecto a varios programas importantes. #wearesultana #impactthefuturoHUSD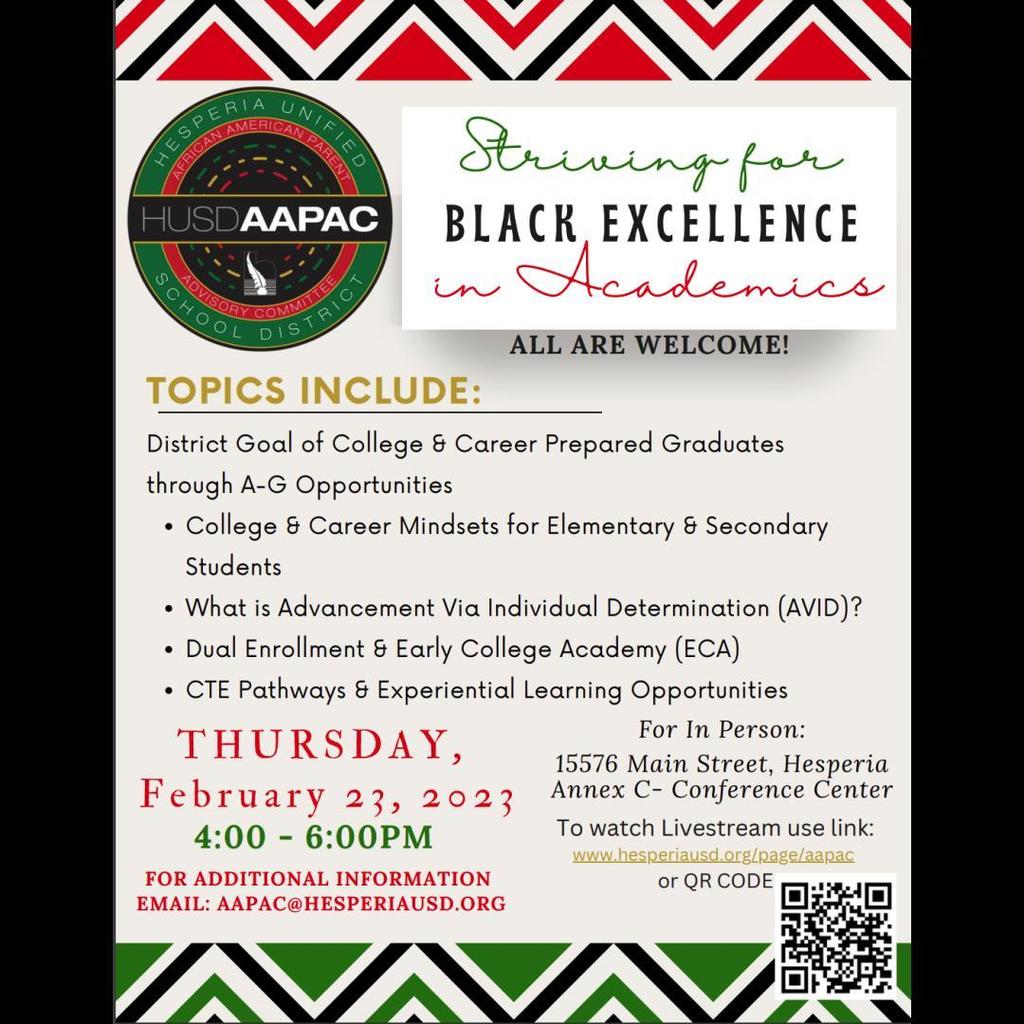 Winter Formal Court nominations are underway! Nominate a fellow Sultan by going to your activities google classroom! Voting will take place next week! Nominations close tomorrow, 1/18. ¡Las nominaciones para el Tribunal Formal de Invierno están en marcha! ¡Nomine a un compañero sultán yendo a sus actividades en el aula de Google! ¡La votación tendrá lugar la próxima semana! Las nominaciones cierran mañana, 18/1.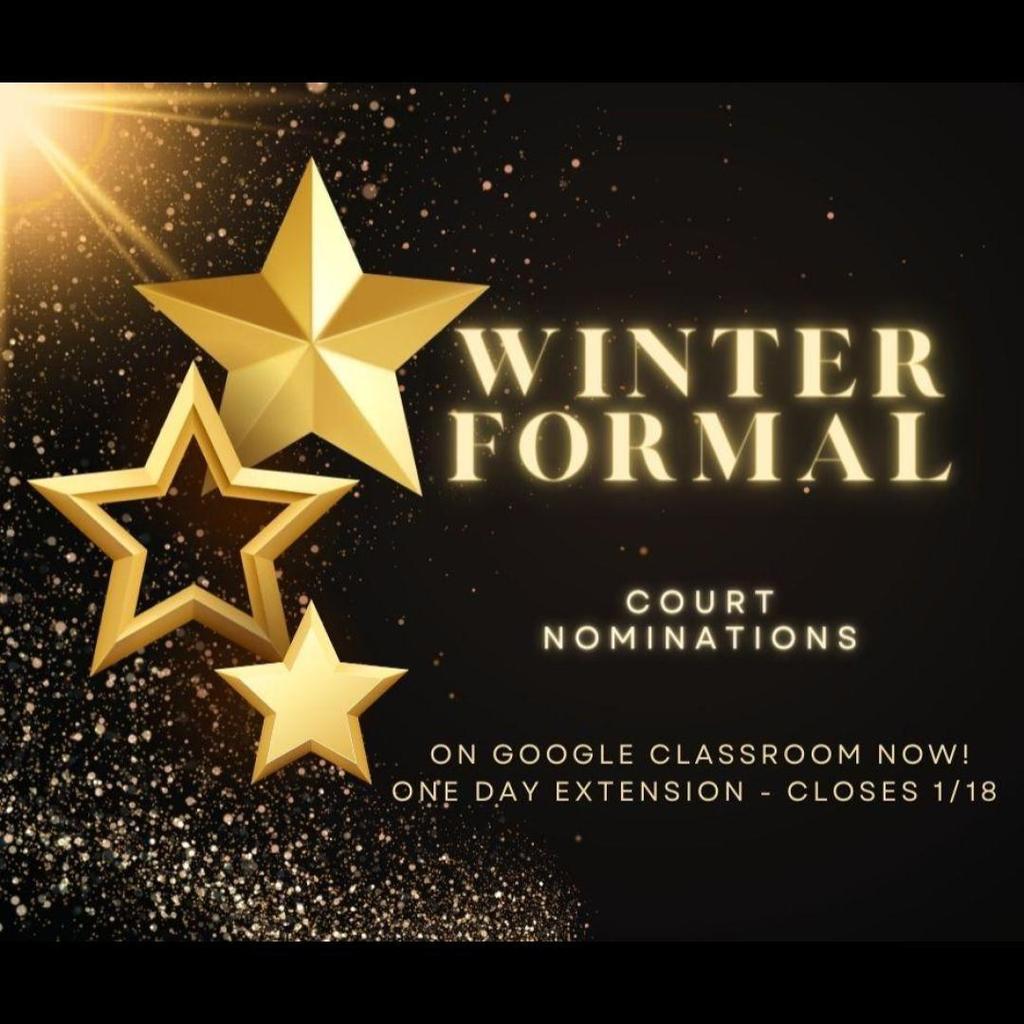 Miss the Flash Sale? Winter Formal Tickets go on sale Friday, 1/13. Prices are $35 with an activities card, $40 without. Approved guests with completed permission slips are $45. By your tickets early! ¿Te perdiste la venta relámpago? Los boletos formales de invierno salen a la venta el viernes 1/13. Los precios son $35 con tarjeta de actividades, $40 sin ella. Los invitados aprobados con formularios de permiso completos cuestan $45. Por sus boletos temprano!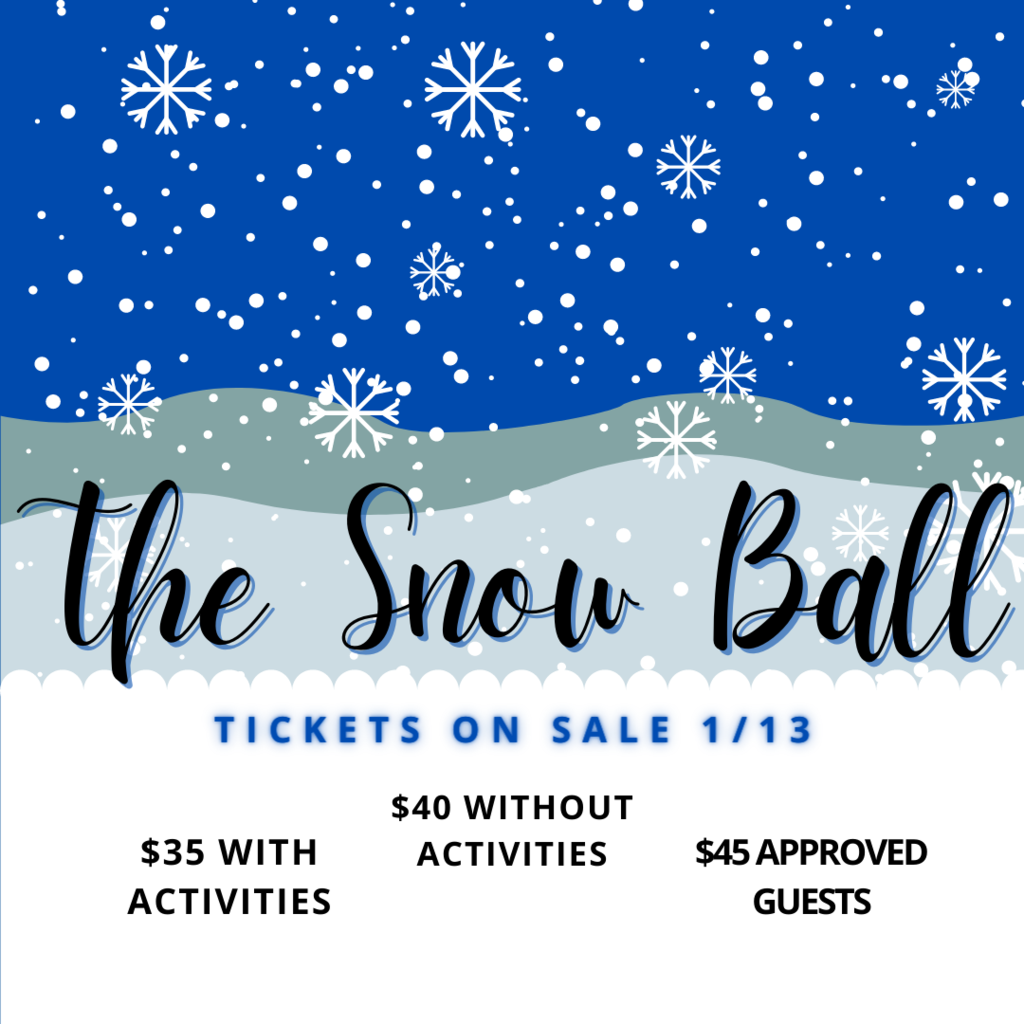 Join us on January 17th for a social media Drug & Alcohol Awareness presentation. Discussion topics include the current dangerous trends on social media, the dangers of drugs & alcohol, and general social media and digital citizenship awareness. All are welcome to attend! Únase a nosotros el 17 de enero para una presentación de concientización sobre drogas y alcohol en las redes sociales. Los temas de discusión incluyen las peligrosas tendencias actuales en las redes sociales, los peligros de las drogas y el alcohol, y la conciencia general sobre las redes sociales y la ciudadanía digital. ¡Todos son bienvenidos para asistir!